Paper with UNIL and HEP Vaud awarded "Most Impactful"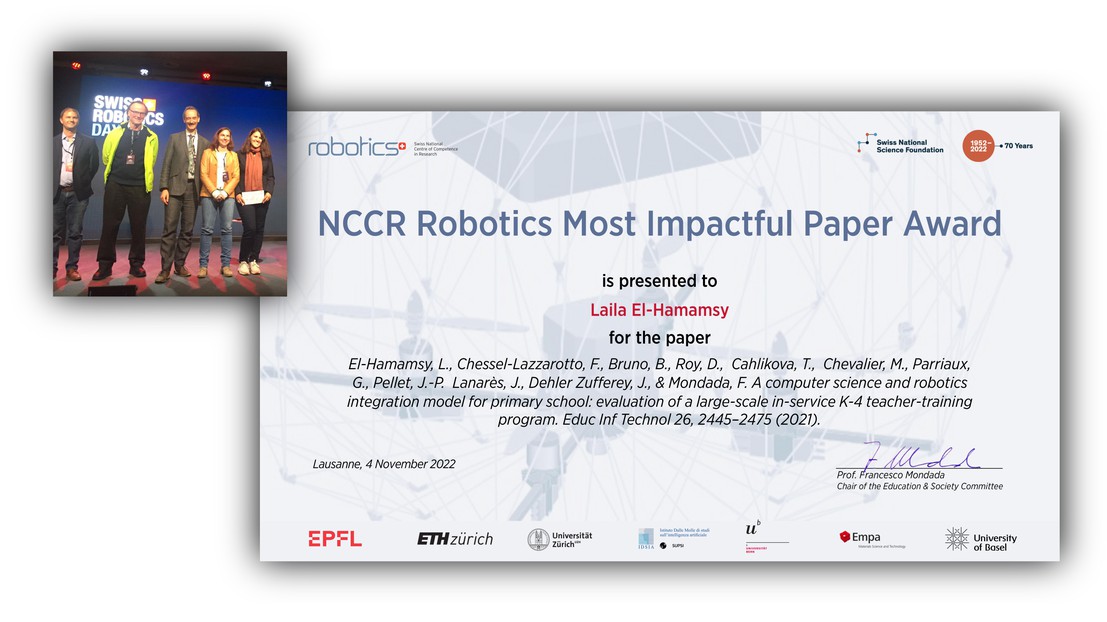 The paper "El-Hamamsy, L., Chessel-Lazzarotto, F., Bruno, B., Roy, D., Cahlikova, T., Chevalier, M., Parriaux, G., Pellet, J.-P., Lanarès, J., Dehler Zufferey, J., Mondada, F. (2021). A computer science and robotics integration model for primary school: evaluation of a large-scale in-service K-4 teacher-training program. Education and Information Technologies, 26(3), 2445-2475." has been awarded as Most Impactful Paper of the NCCR Robotics over the 12 years of the program.

The ceremony took part during the Swiss Robotics Day on November 4, 2022.
Paper abstract: Integrating computer science (CS) into school curricula has become a worldwide preoccupation. Therefore, we present a CS and Robotics integration model and its validation through a large-scale pilot study in the administrative region of the Canton Vaud in Switzerland. Approximately 350 primary school teachers followed a mandatory CS continuing professional development program (CPD) of adapted format with a curriculum scaffolded by instruction modality. This included CS Unplugged activities that aim to teach CS concepts without the use of screens, and Robotics Unplugged activities that employed physical robots, without screens, to learn about robotics and CS concepts. Teachers evaluated positively the CPD and their representation of CS improved. Voluntary adoption rates reached 97% during the CPD and 80% the following year. These results combined with the underpinning literature support the generalisability of the model to other contexts.
---