Paleo's accessibility deemed as satisfactory by festival-goers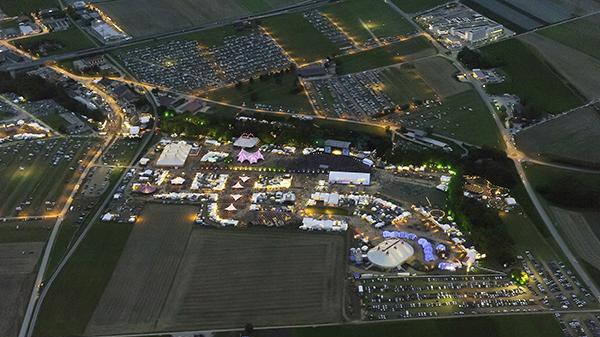 Appointed by the Paleo Festival, EPFL has carried out a survey on the event's accessibility. Flexible hours, alcohol consumption and preservation of the environment are the reasons behind the choice of mode of transport.

Whether arriving by car - driver or passenger - train, motorcycle, bicycle, on foot or by a combination of any of such means, people attending the Paleo festival arrive in high spirits. Departure is sometimes a little less exciting, but overall about 90% of music lovers are satisfied with their evening in terms of transportation. This was revealed by an internet survey conducted in 2012 by the Laboratory of Urban Sociology (LaSUR) at EPFL and coordinated by EPFL's Transportation Center.

In the month following the festival, the survey was conducted on nearly 4,000 participants -enlisted as they purchased their electronic ticket- and on Paleo newsletter subscribers. It reveals that over a third (36%) of festival-goers makes use of public transport to get to the festival venue, of which a 4% combine it with the use of a car. For returning, the same amount of people used public transport, but twice of them (9%) combined it with a car. Both ways, there is a 37% of people behind the wheel, while 19% are passengers.

In general, speed and cost are the most important factors when choosing a mode of transport. As for Paleo, they play a secondary role. In this case, the key factors are its flexible hours (for 80% of drivers and 71% of passengers), alcohol consumption (for 39% of public transport users) and environmental concerns (for 36.5% of public transport users). "It's important to add that Paleo offers exceptional accessibility conditions compared to other cultural and sporting events," said Emmanuel Ravalet, scientific collaborator at EPFL and author of the work: "It is so rare to find parking spaces near the site."

The survey also shows that the average journey time is 68 minutes plus 4.6 minutes of ticket control. On average, spectators take 12.7 minutes to exit the concerts' location and 12.6 minutes to totally leave the festival site, its parking lot or the train station.

At least one empty place in three quarters of the vehicles
One of the aims of this study was to scientifically validate some figures and trends. It also intended to assess the actual possibility of limiting the crowding of the Nyon-St-Cergue train that serves the festival and to encourage carpooling. "With a satisfaction rate of 90% for outbound trips and 87% when returning home, there is little incentive to change," said the researcher. Even crowded, the Nyon-St-Cergue service remains attractive.

As for carpooling, the survey confirms that it is already taking place, with an average occupancy rate of 2.87 persons per vehicle. But even if Paleo encourages rationalizing the use of private vehicles, trips are mainly shared by friends or family members. Three out of four festival-goers have already taken passengers, but trips with strangers only account for 4% of the current carpool tendencies. So, even though the majority (75%) of vehicles counts with least one place available, the car-sharing potential specifically concerns the remaining quarter of drivers who do not practice it. The main obstacles mentioned are the reluctance to wait or causing to wait and the lack of warranties.
---
---