Outdoor exhibition highlights the impact of academic travel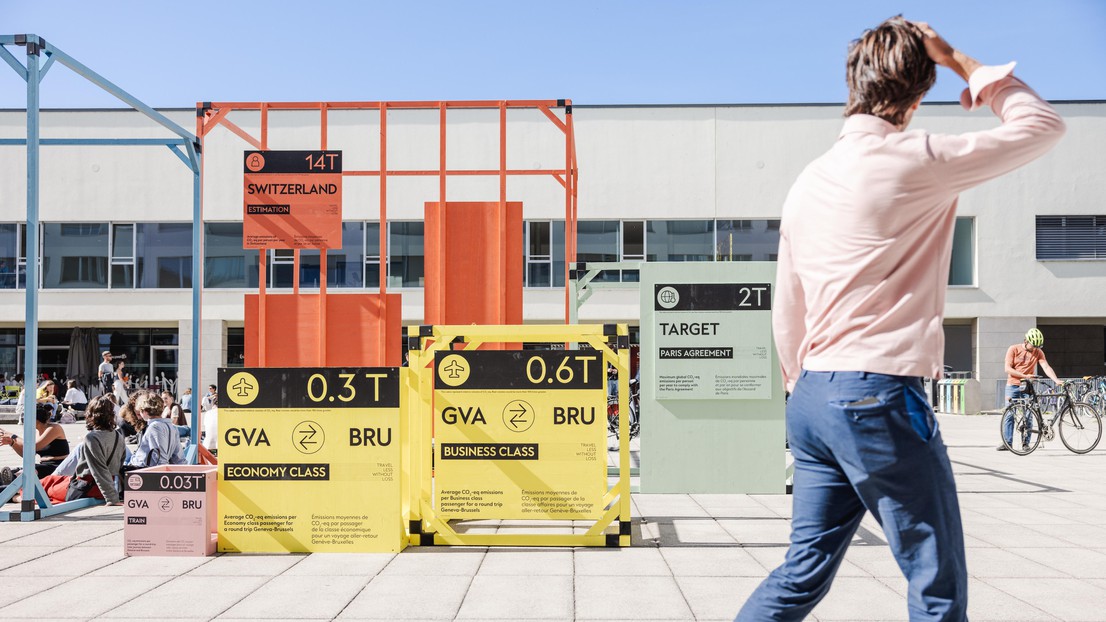 The "Travel Less Without Loss" installation at Place Ada Lovelace examines the environmental impact of air travel and reveals that, as things stand, there's only one way to significantly cut the carbon emissions associated with flying: taking fewer intercontinental flights.

While it might look like an oversize child's toy, it has a much more serious purpose. In September this year, a new exhibition appeared at Place Ada Lovelace on EPFL's Ecublens campus. The outdoor installation, which features giant colored cubes, will remain in situ until the end of the fall semester. The red cube represents the average annual CO2 emissions of a person in Switzerland: 14 metric tons. Next to it stands a much smaller green cube symbolizing the 2-metric-ton limit we will need to stick to if we are to meet the Paris Agreement target of limiting global warming to less than 2°C above preindustrial levels. The other cubes represent per-capita emissions associated with a round trip between Switzerland and various destinations worldwide in economy class, in business class and by train.
The differences in size between these three-dimensional shapes are staggering – and it's only possible to truly appreciate the ratios with your own eyes. The exhibition also includes a series of infographics highlighting, among other things, current travel practices at EPFL. One of the stand-out statistics is that intercontinental flights account for 86% of travel-related greenhouse gas emissions, suggesting that the EPFL community will need to take far fewer of these flights if the School is to make a substantial dent in its carbon footprint. Conversely, flights to European destinations – which represent 63% of all flights by number – are responsible for just 14% of EPFL's travel-related emissions.
"Travel is the School's number one source of CO2-equivalent emissions," says Luca Fontana, EPFL's head of Mobility and Sustainable Travel. "Our new travel policy, which came into effect in 2023, aims at reducing these emissions. But we'll need to do more, as a community, to meet our target of shrinking our carbon footprint by at least 30% by 2030." Hence the call for a shift in mindsets.
Gisou van der Goot, EPFL's Vice President for Responsible Transformation, was personally involved in developing the content of the exhibition: "To my mind, the aims are twofold. The first and most obvious aim is to shrink EPFL's carbon footprint. The 3D shapes offer up a hard-hitting visual representation of the environmental impact of a single round-trip itinerary. And the message they convey is clear: the only way to significantly reduce our emissions is to take fewer intercontinental flights."
Sounding the public alarm
"The second aim, which is less direct but no less important, is to let the public know that we, the scientific community, are incredibly concerned," continues van der Goot. "Unless we change our own practices – in this case, traveling less – people won't heed our words of warning because we aren't backing them up with action. I believe that as scientists, and as members of an academic institution like EPFL more generally, we have a civic duty to sound the public alarm."
We, the scientific community, are incredibly concerned. Unless we change our own practices – in this case, traveling less – people won't heed our words of warning.
To coincide with the exhibition, various members of the EPFL community – faculty members, scientific staff, students, administrative and technical staff – were asked to share their personal stories and accounts. The messages will appear on the Sustainability Unit's social media pages throughout this semester, and some have already been posted in the corridors and published on the exhibition webpage. Some of the contributors explain why they prefer to travel by train, while others talk about how their decision to travel less has benefited them personally or professionally.
Changing our travel practices is anything but child's play. It involves making hard, carefully considered choices. The idea isn't simply to give up traveling altogether, which can have serious repercussions for a person's academic career. Instead, it's about combining trips, deciding not to travel when we don't need to, taking the train when possible, avoiding unnecessary layovers, and booking flights with more efficient airlines. Because even small choices like these can make a big difference.
In a timely development, the Maison de la Mobilité opened its doors on 2 October, an important step in the implementation of the School's policy for academic and student travel. These new premises already house Lausanne's public transportation company (tl) and will be joined shortly by Kuoni Business Travel, the future EPLF's central travel agency.
---