One flew over the students' nest!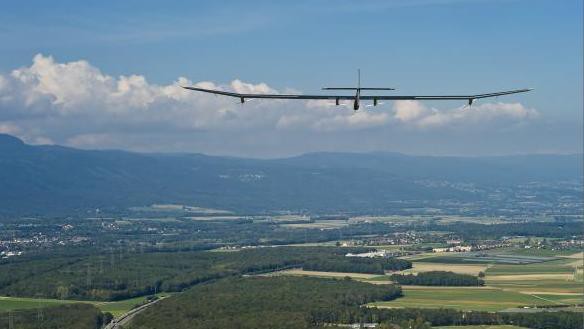 A new challenge for Solar Impulse. This week, the solar airplane successfully landed at two international airports. It also flew over EPFL on Tuesday.

The solar airplane took off on Tuesday morning at 08:00 from the military airport at Payerne for its first voyage across Switzerland, to Geneva and back. It touched down on the runway at Cointrin airport at 13:30, as scheduled, and was announced on the arrivals board!
loading...
You may have seen it pass overhead, because for this itinerary the plane was flying at a very low altitude. It flew over Fribourg, Vevey, Chillon and Lausanne, and along the shore of Lake Geneva, close to EPFL, at around 10:50 at a height of 150 meters. The students were able to watch it, silent and almost gliding, at a speed of 70 km/h.
André Borschberg was at the controls for the two "Swiss Flight " excursions (Cointrin and Zurich). He has got to know Solar Impulse well over the last few months, and actually flew the aircraft for 26 hours non-stop during a memorable night flight. The plane, powered entirely by solar energy captured by its 12000 panels, was able to fly through the night using only the reserves of energy accumulated during the day.
A new stage has been reached. These "Swiss Flight" experiences represent a real-life training, and must answer some essential questions:
• How will Solar Impulse succeed in fitting in with the normal traffic levels of an international airport? During its scheduled world tour planned for 2012, the plane will have to land at several airports.
• How will the teams manage the logistics on the ground? An exceptional aircraft needs exceptional attention, being both light and huge, with a 64-meter wing span.
Because of a small technical problem (a defective alternator in the motor), Solar Impulse had to quickly return to Payerne after landing at Cointrin airport. The part was changed, and the solar plane was able to take off on Wednesday morning for Zurich airport, where it stopped over before going back into the hangar, thus ending the series of summer tests. The window of good weather is now closing, and it will take the winter months for the engineers to decipher all the accumulated data.
---
---