On a quest for new particles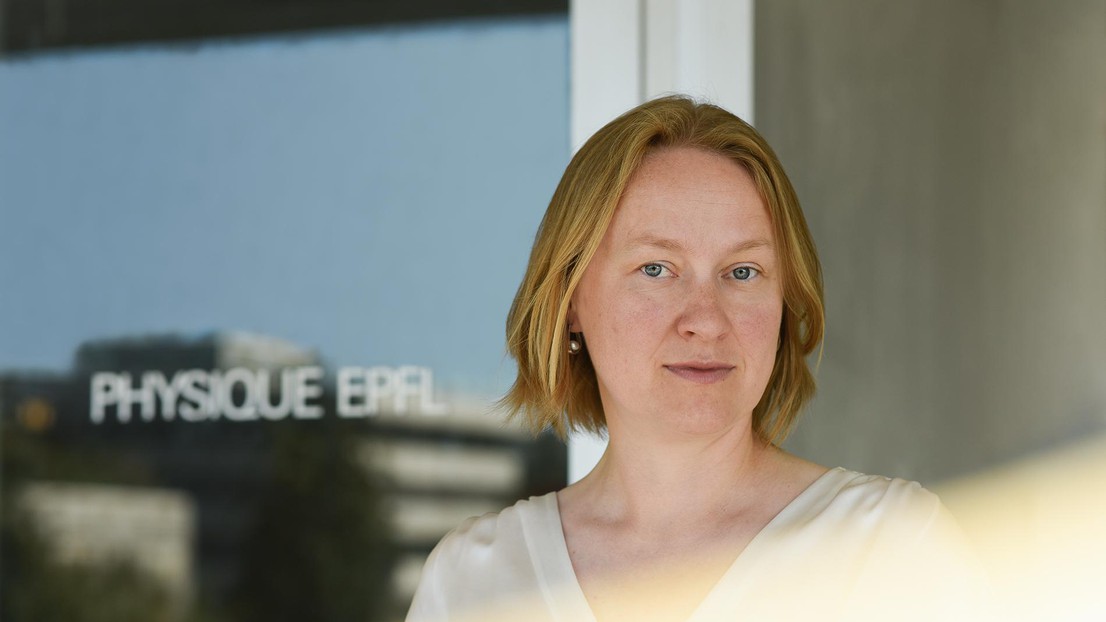 Physicist Lesya Shchutska, EPFL professor and winner of the Swiss Science Prize Latsis 2023, is paving the way for the discovery of new particles.

"I am delighted to receive the Latsis Prize. I'm also surprised, though – given that I haven't made a major discovery in particle physics." Lesya Shchutska, professor at EPFL, is clearly being modest about her achievements. But she is realistic, too: "Since the existence of the Higgs boson was discovered in 2012, there is no longer really any theory left to verify in particle physics," she explains.
Indeed, scientists are not expecting great discoveries. The Standard Model was formulated some 50 years ago and brings together all the discoveries made in particle physics. It functions well with its 17 elementary particles explaining ordinary matter, of which the Higgs boson was the most recently discovered. However, this model also has a number of weaknesses which physicists are trying to explain. "More specifically, we are looking to fill the gaps in the Standard Model in places where it does not explain certain observations or phenomena, such as dark matter."
The 37-year-old researcher is working on this with her team, as well as with colleagues in numerous institutes throughout the world. It is for her brilliant work in the field of "new physics", and more specifically her research into particles that would expand the Standard Model, that she has been awarded the Swiss Science Prize Latsis 2023 by the Swiss National Science Foundation.
It all started with the International Physics Olympiad
Lesya Shchutska has had a keen interest in physics for as long as she can remember; this was encouraged by her engineer father, who gave her books about science in an effort to satisfy her curiosity. At the age of 16, the young Ukrainian was a member of the national team at the International Physics Olympiad in Indonesia, where she won a bronze medal. This distinction earned her a place at the prestigious Moscow Institute of Physics and Technology, which has a notable reputation for physics. That was the start of her rapid career progression.
A few years later, we are interviewing Lesya Shchutska in her office on the sixth floor of EPFL, where she explains what lies at the heart of her current research. It all hinges on collisions between known particles which, under special conditions – e.g. at high energy – could produce new particles. And from that point on: which could be detected. It is for this purpose that the young scientist devises experiments, measures, calculates, analyses data, imagines, checks... and starts all over again.
A soft spot for heavy neutrinos
Lesya Shchutska does in fact have access to a great deal of data to analyse, derived from experiments on particle collisions – particularly between protons. To this end, she works on various experiments at CERN in Geneva, seeking in particular to prove the existence of heavy neutrinos where the Standard Model only assumes the existence of low mass neutrinos. The theory that heavy neutrinos exist was formulated by Professor Mikhail Shaposhnikov of EPFL to reconcile the Standard Model with certain unexplained phenomena such as the nature of dark matter. "I have a soft spot for that theory," admits Lesya Shchutska. "Because if you prove the existence of heavy neutrinos, nothing else is required to explain the limitations of the Standard Model." However, these particles, if they exist, are very difficult to detect because they interact very weakly with known particles.
Although Professor Shchutska has not found them yet, she has not given up hope and is tirelessly exploring new avenues. She is one of the people behind the development of the neutrino detector at CERN as part of a recent experiment. In addition, she may soon be able to use even more powerful tools that will push the current boundaries of research. "We should be able to carry out five to ten times as many collisions in a few years' time," she enthuses.
Hopes dashed after nearly a decade
At EPFL, Lesya Shchutska also collaborates with other scientists within CERN experiments aiming at measuring very precisely rare decays of known heavy particles; if the results deviate too much from what the Standard Model predicts, they could also reveal the existence of a new physics. Indeed, the scientific community had large aspirations, because since 2014, there were hints of measured deviations from the very precise theoretical predictions in a particular particle decay, interpreted as the possible presence of a new force that would couple together two kinds of particles. Recently, however, Professor Shchutska, together with her colleagues at EPFL and other universities, dashed these hopes when she found a way to demonstrate that the measured deviations were accounted for by processes from the Standard Model, which were tricking the detector.
What if she herself were never to make a crucial discovery? "That is of course a possibility. Whatever happens, the experiments we are conducting allow certain hypotheses to be eliminated, which is also a way of contributing to scientific progress. And our developments have other applications, too, including in medicine and data analysis."
Short biography

Lesya Shchutska was born in December 1985 in Ukraine, where she went to school. She gained her Bachelor's degree and a Master's in particle physics at the Moscow Institute of Physics and Technology before moving to EPFL to study for her doctorate, which she obtained in 2012. It was during that period that she worked on a detector for a stratospheric balloon to measure cosmic rays. Her aim was to understand their previously reported excess. One hypothesis that would explain it is the existence of dark matter. "We weren't able to answer this question at the time, but even today there is no consensus regarding the cause of this excess."

After that, Lesya Shchutska did postdoctoral research at CERN with the University of Florida group. She was then awarded an ERC Starting Grant, thanks to which she became an Assistant Professor at ETH Zurich. Since 2019 she has been a Tenure Track Assistant Professor in the Institute of Physics at EPFL. She is also the mother of two young children, a task made much easier thanks to all the help of her husband – a Russian physicist who also works at CERN.
Swiss Science Prize Latsis
The Swiss Science Prize Latsis has been awarded every year since 1983 by the SNSF on behalf of the International Latsis Foundation, a non-profit public benefit foundation established in 1975 and headquartered in Geneva. It is awarded to a scientist aged under 40 working in Switzerland. This prize, which is worth CHF 100,000, is one of the most prestigious awards in science.
The award ceremony (jointly with the Marcel Benoist prize) will take place in Bern on 30 October 2023. Media representatives may register by e-mail:
[email protected]
---
---