New Results on Sharing Economy at 50th HICSS Conference
Prof. Weber presented his latest research results on "Controlling and Pricing Shareability" at the 50th Hawaiian International Conference on System Sciences (HICSS) on January 7, 2017. His paper examines whether a sharing tariff can improve a manufacturer's profits by monetizing its technological control over the after-market sharing possibilities of its products. The incremental net revenue provides boundary conditions for the company's investment in sharing-control and monitoring technologies.

This year marked the 50th anniversary of HICSS and the 30th anniversary of the mini-track on "Strategy, Information, Technology, Economics, and Society" (SITES). Together with professors Eric K. Clemons (Wharton School), Robert J. Kauffman (Singapore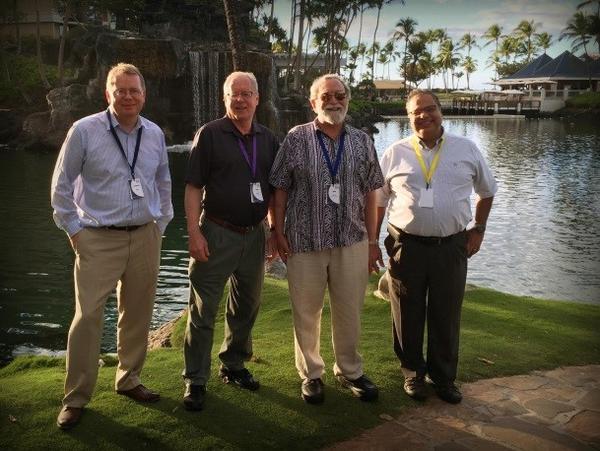 Management University), and Rajiv Dewan (University of Rochester), Prof. Weber has been organizing a HICSS mini-track on the economics of information systems since 2009 (see photo). The anniversary edition of the SITES mini-track contained selected papers and presentations about significant trends in IT, social networks, and information economics and their various impacts on society. A special section of the Journal of Management Information Systems (JMIS), co-edited by Clemons, Dewan, Kauffman, and Weber, scheduled to appear later in 2017, will feature full-length papers developed from the HICSS mini-track, including an extended version of Prof. Weber's conference paper.
Reference
Weber, T.A. (2017) "Controlling and Pricing Shareability," Proceedings of the 50th Annual Hawaii International Conference on System Sciences (HICSS), pp. 5572—5581. [Download]
Links
---
---