New postgrad course "Digital Timber Construction"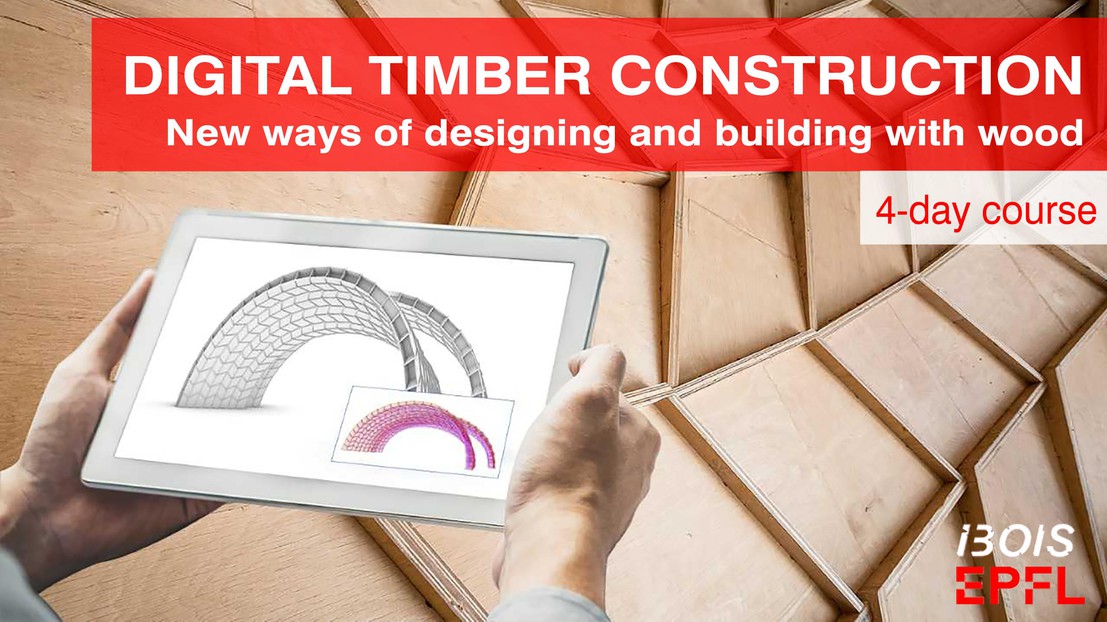 How can we leverage technology and digital tools to design innovative and sustainable wood construction projects?

Discover the new postgrad course of the laboratory for timber constructions (IBOIS) which is intended for all construction professionals wanting to learn innovative computational workflows for designing and building timber structures.
The construction industry must make a drastic change in its model to meet current environmental requirements and the challenge of climate change. Bio-based materials, mainly via wood construction, are part of the answer. Applications are broad : new buildings to meet new needs, densification of city centers via elevations to avoid urban sprawl, and renovation to maintain and upgrade the existing built environment.
Design and construction methods with wood have considerably evolved in the recent years. What are the new norms and standards ? What are the advantages to build with timber engineered products ? How to leverage technology and digital tools to create innovative and sustainable timber projects ?
During this 4-day course (given in English), participants will:
Understand the current trends and challenges for the timber construction industry
Learn advanced CAD methods for the design of standard and bespoke timber structures
Experiment with laser scanning and point clouds to create structures out of round wood
Be able to use innovative computational tools to boost your efficiency and creativity from design to construction
Learn how to integrate fabrication, assembly, and structural engineering constraints in mass timber construction projects
The course will take place on the EPFL campus in Lausanne on June 23, 24, 30 and July 1.
Interested in developing your skills in the design of timber structures?
Register before May 8 on https://www.formation-continue-unil-epfl.ch/formation/digital-timber-construction/ !
---
---