New Hands-On Graduate Course Links Engineering and Management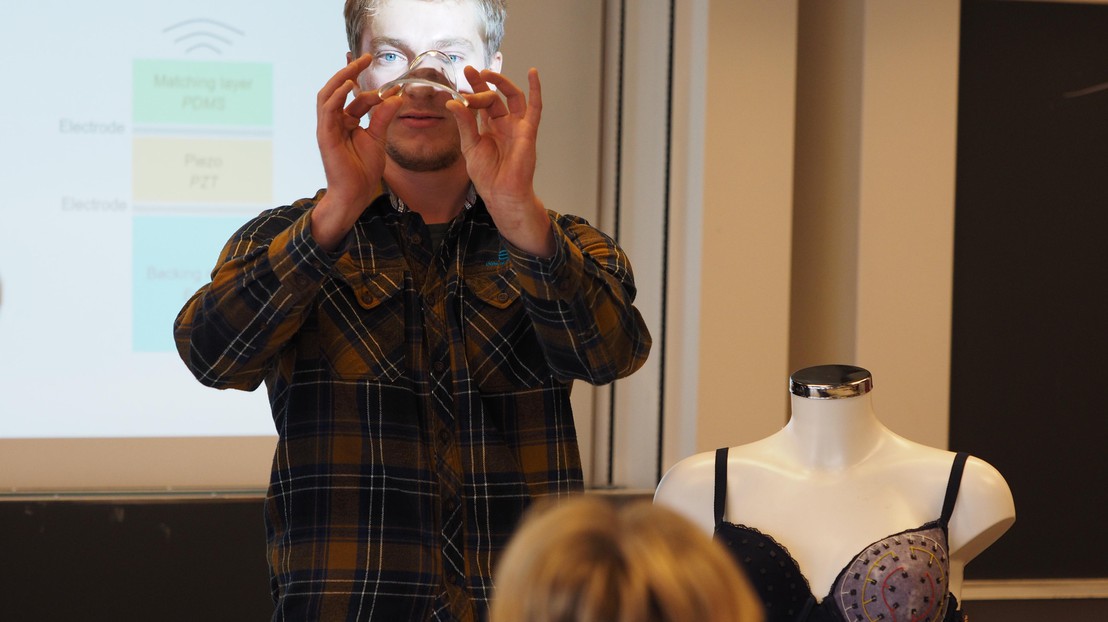 First successful edition of a joint Masters course between STI and CDM to expose students to entrepreneurial challenges by designing a product to be marketed.

During one semester, multidisciplinary teams of students were confronted with the reality of the industry through the course "Innovation and Entrepreneurship in Engineering". In close collaboration with companies in the region, these budding engineers had to propose a prototype product corresponding to a request from a company and defend it before a jury composed of Prof. Thomas Weber, Prof. Véronique Michaud, Prof. Pierre Vandergheynst and Dr. Marc Laperrouza. The goal was for the students to develop their entrepreneurial and innovative capacities by developing a product that took into account economic realities and environmental, social and ethical constraints.

Course created in only 6 months
"I am impressed at how fast this idea has evolved from concept to implementation, thanks to an exemplary interaction with the College of Management (CDM)," explains Prof. Ali H. Sayed, Dean of the School of Engineering (STI). The initial idea had been formulated 6 months earlier by Ali H. Sayed and Marc Gruber, Vice President for Innovation. "Thanks to the extraordinarily efficient work of professors Véronique Michaud (STI) and Thomas Weber (CDM), this course was able to be delivered for the start of the 2019 academic year," adds Prof. Dominique Foray, Director of the CDM.

About twenty students from different disciplines were able to combine their engineering skills with those of management and entrepreneurship during the fall semester 2019-20. Multidisciplinary teams worked to define the product design, prepare a prototype and propose a plan for its marketing, while responding to a specific problem formulated by the company.
Shortly before Christmas, five teams presented their projects and prototypes to teachers, business representatives and the jury:
Team 1: Portable ventilation system, in collaboration with Maxon Motors
Students: Eléonore Cauquil (GM), Haris Constantinou (GM), José Hajjar (GM), David Renaud (MTE), Thibaut van Lambaart (GM) Industrial partners: Olivier Chappuis (Maxon Motors), Matthieu Gani (EssentialMed at EPFL) These five students designed a ventilation system which is integrated into full protective suits. It could be used in particular during Ebola epidemics, allowing for more comfortable working temperatures and conditions than in conventional suits. "They quickly understood the key issues and came up with new ideas that we hadn't thought of. In a few weeks, they were able to build a fully functional prototype," enthuses Olivier Chappuis, Manager at Maxon Innovation Lab.
The students proposed to market their prototype in a more predictable and viable market than that of Ebola, in particular the asbestos removal market, and to improve the quality of the suit, allowing it to last longer. Jose Hajjar testifies of the great interest that prevailed during this project: "We had the rare opportunity to design a device that could change things and help people." The product, once marketed, would cost around CHF 1,600 and according to its designers would benefit from a bright future in the asbestos removal market.
Team 2: Remote control for presentation training, in collaboration with Logitech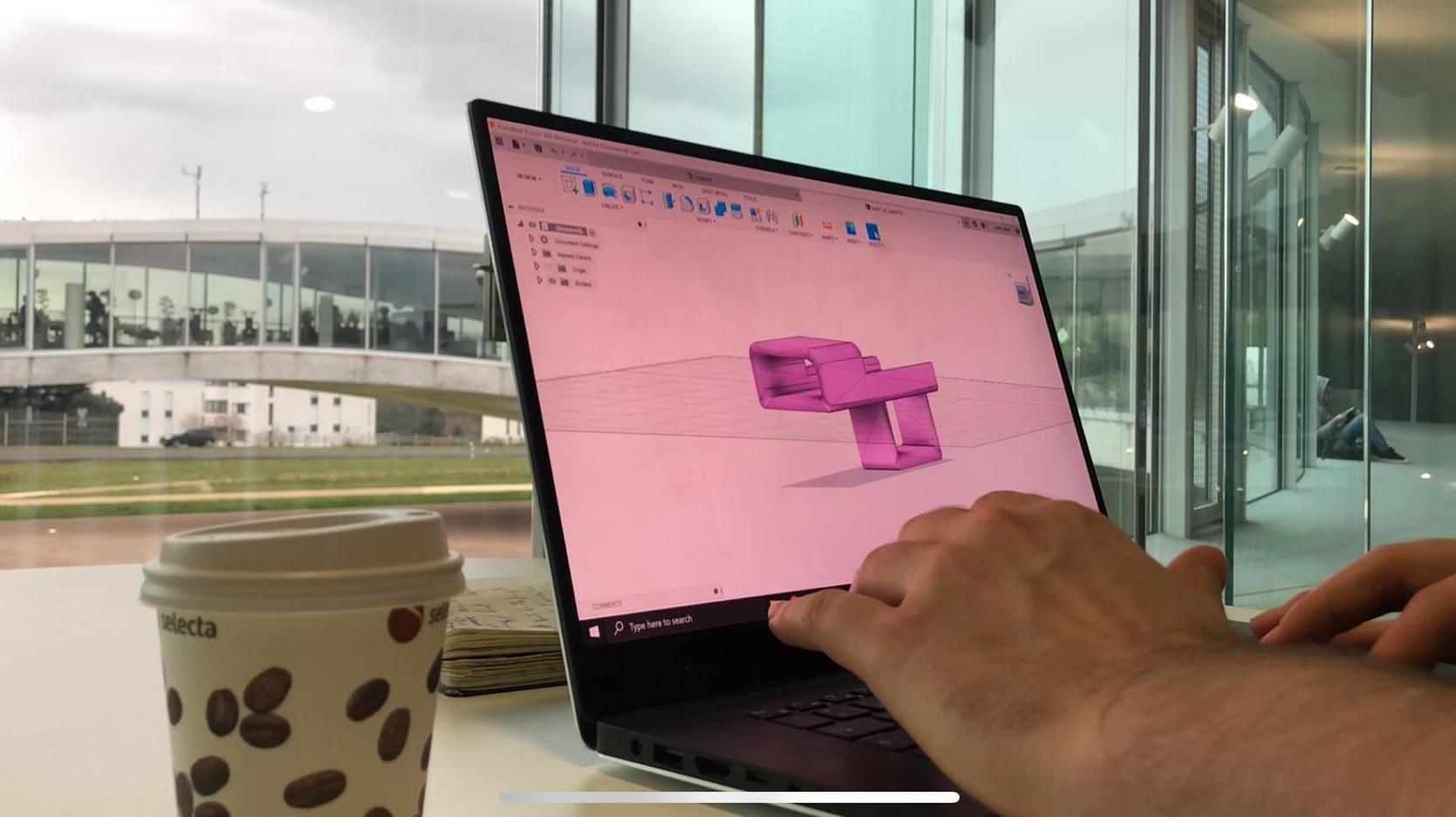 Students: Sahibi Ahmed Wassim (GC), Smail Ait Bouhsain (MT), Jean Duquenne (MT), Rayan Chaouche (MT) Industrial partners: Steve Harvey and Jean-Michel Chardon, Logitech
The second team, made up of four engineering students, proposed a device which helps improve communication skills and public speaking. The instrument, which is held in a person's hand during a presentation, records gestures and heart rate to assess levels of stress and anxiety. The collected data is then presented on the dashboard of a platform which receives feedback from a community, creating opportunities for improvements through interactions and coaching. Ahmed Sahibi, a GC student, said: "This project brought us together around a very difficult subject with extremely enriching supervision. Each member of the group worked together on all facets of the development of the project and came out with a lot of commercial and technical skills."
Team 3: Shortcut keyboard, in collaboration with Logitech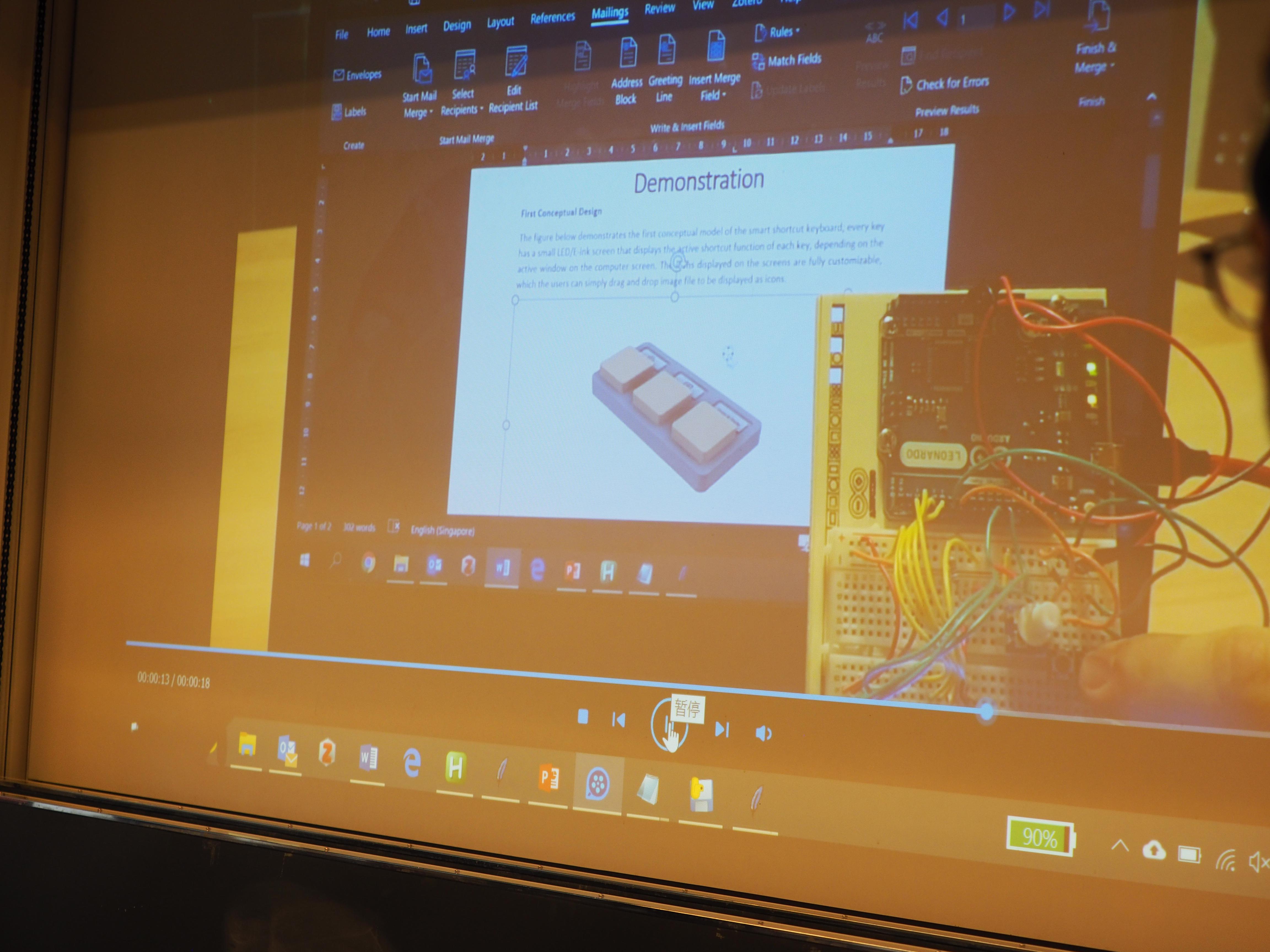 Students: Wenshuo Cui (GM), Antoine Gomez (MTE), Dan Ke (GM).
Industrial partner: Benjamin Vulloid, Logitech
By combining hardware and software, this project offered a small instrument that groups all the shortcuts that users use on a daily basis in their Office, Adobe or other software. Thanks to this device, which adapts and changes automatically according to the software used, the user saves precious time, allowing for greater efficiency. The device can also be used without additional hardware, using software for mobile phones.
Team 4: Smart Bra, in collaboration with IcosaMed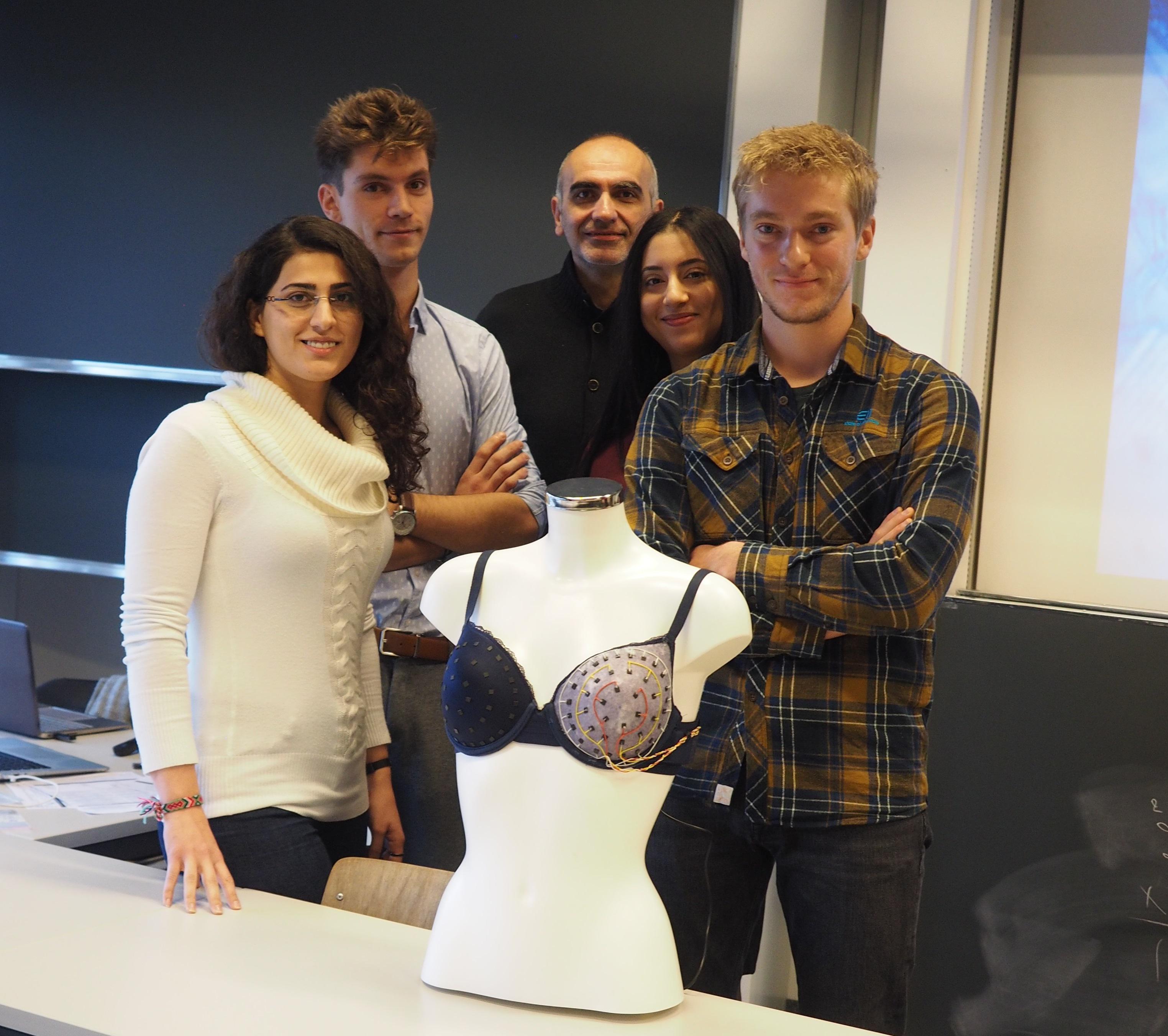 Students: Fatemeh Ghadamieh (SV), Samet Hana (MT), Jules Pochon (MTE), Hugo Vuillet (MX)
Industrial partner: Dr. Max Boysset, CEO, IcosaMed
This team of four students developed an intelligent bra that detects the early stages of breast cancer, using sensors that scan the skin. It is not a diagnostic tool, but a scanning tool.
In a very complete presentation, the students detailed the different parts of their prototype by explaining the steps they went through to choose a particular material. Dr. Max Boysset, CEO of IcosaMed, was very pleased with this collaboration: "I was particularly delighted to see with what energy and conviction they carried out the defense."
According to the team's analysis, the price range is 200-500 CHF.
Team 5: Next-generation watch box, in collaboration with Vacheron Constantin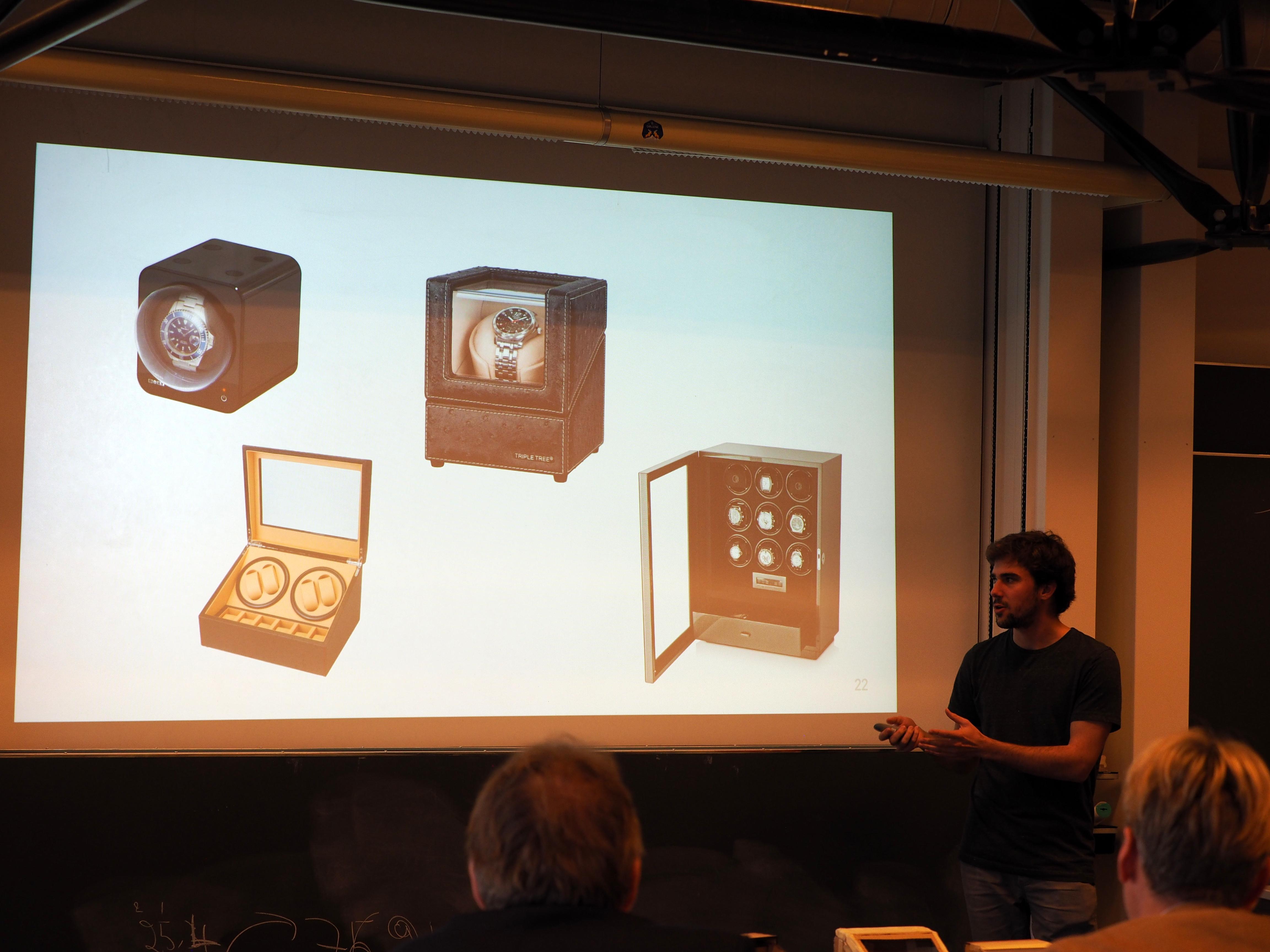 Students: Constance Crouïgneau (GM), Nicolas Dulex (GM), Jean-Baptiste Beau (MTE), Farhad Yaghoubi (MX), Pierre-Emmanuel Terrier (GM)
Industrial partner: Marc-Philipp Wettstein and Stephane Clerc
The objective of this team was to create and design an innovative case for luxury watches. Currently, boxes for luxury watches are beautiful and of good quality, but do not include technology. The team therefore wanted to bring together the traditional aspect with an innovative aspect. The main features of the prototype presented were a digital screen to improve customer relations, a case for transport and storage, and a winder.
Competition results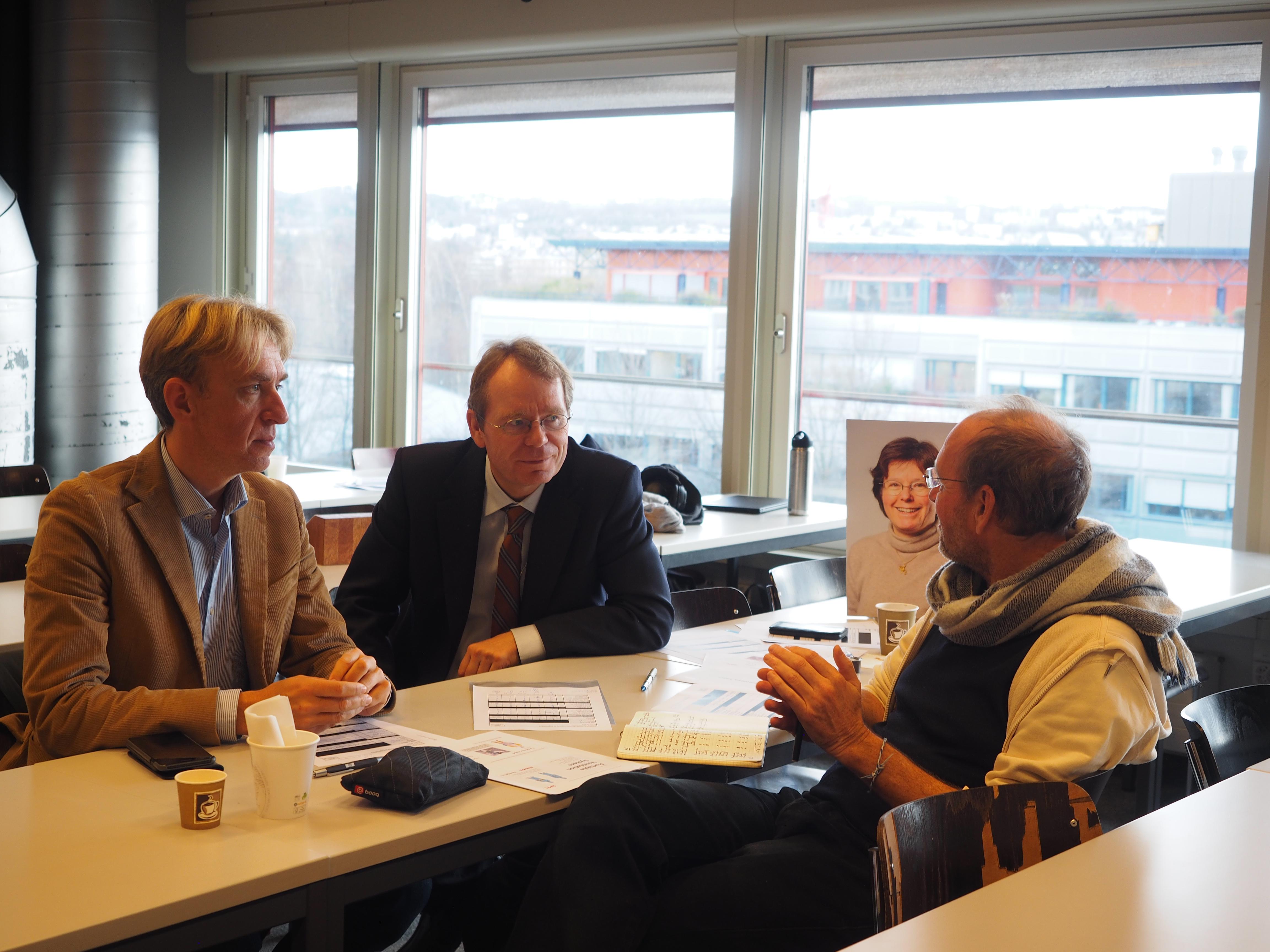 The jury was impressed by the quality and quantity of work that the student teams invested in their project. Marc Laperrouza, member of the jury and co-founder of the China Hardware Innovation Camp program (CHIC EPFL), argues that "interdisciplinary courses embedded in industrial realities are a great way to leverage both the talent of EPFL students and the diversity of the school."
The jury was faced with the difficult task of rating the different projects on the basis of three groups of criteria: the quality of the business case, the prototype, and the overall professionalism. The unanimous conclusion was that the Smart Bra project produced the most convincing result. The team overcame a number of challenges, such as detecting sensors, reconstructing images using machine-learning algorithms for classifying cancer tissue, or amplifying and transmitting signals. Their analysis of the marketing strategy for IcosaMed was also very effective.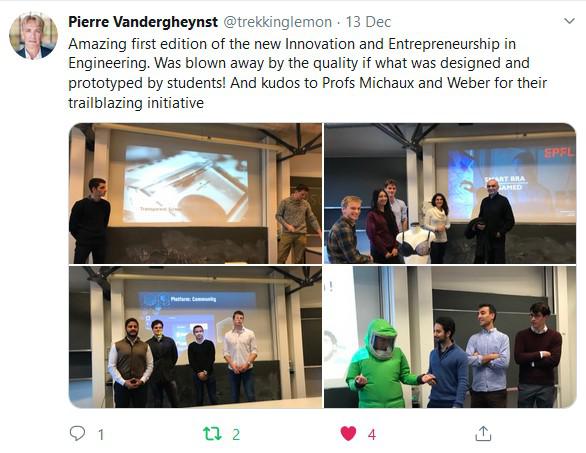 After the deliberations of the jury, Pierre Vandergheynst sent out a glowing tweet: "Amazing first edition of the new Innovation and Entrepreneurship in Engineering. I was blown away by the quality of what was designed and prototyped by the students!"
The deans of both faculties do not hide their enthusiasm for this first joint educational experience. According to Dominique Foray, "the outcome seems so positive that the time for scaling up this course to other faculties will come quickly and my hope is to propose soon to other EPFL Schools a platform for delivering courses on the same topic but shaped according to other School-specific contexts (life science, environment, etc..)
---
---