NEW ! Development Impact Grants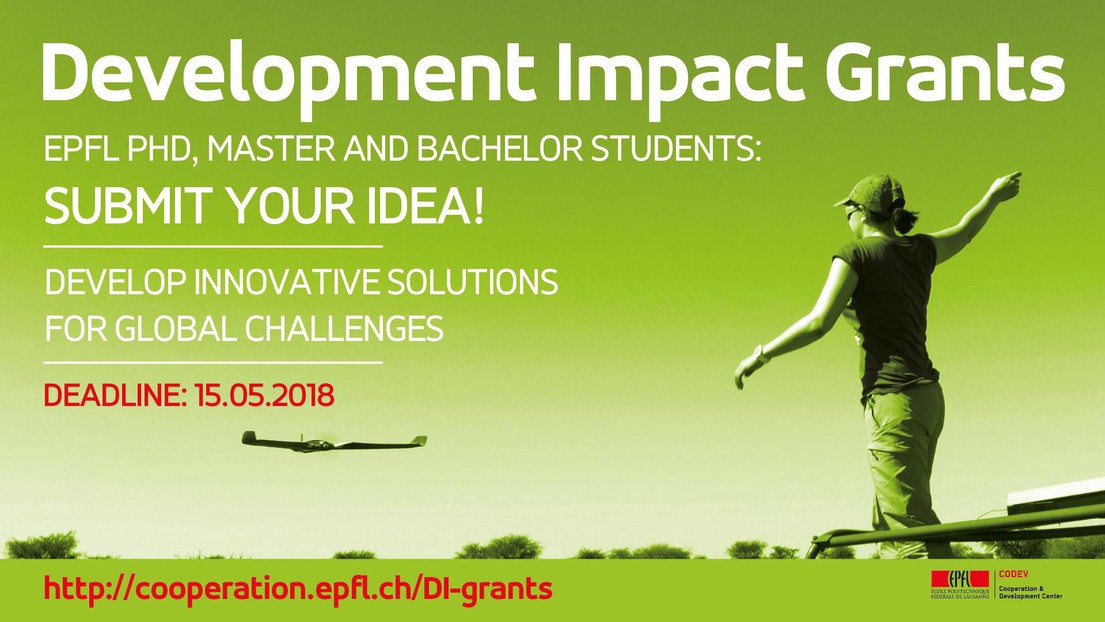 The annual Development Impact Grants competition challenges EPFL students to identify and develop innovative solutions for real-world social and environmental problems.

Who can apply?
This competition was launched by CODEV in March 2018 and currently offers grants of CHF 5'000 - 10'000 for project proposals submitted by Bachelor, Master or PhD students. CODEV will provide guidance, mentorship and networking opportunities to the teams in collaboration with external partners.
This is an opportunity for EPFL students to get entrepreneurship experience and reinforce transversal project management, interdisciplinary team work, communication, fundraising and networking skills. Most importantly, students get a chance to test an idea that aims to have a real and positive impact in the global South by contributing to the implementation of the Sustainable Development Goals (SDGs).
Selection criteria
Eligible applications will be reviewed by CODEV staff and invited external experts. Successful applications will contribute to the emerging field of Development Engineering by combining insights from social science with advances in engineering and the natural sciences. CODEV will not fund projects that focus exclusively on technology design, prototyping, or modeling without consideration for the social, economic, and institutional factors that affect technology adoption. At the same time, proposals that lack a technological innovation will not be funded either.
Deadlines
The deadline to apply is May 15, 2018. If awarded, work may begin as early as June 15, 2018 and must be completed by May 31, 2019. Apply by filling out the application template to: [email protected].
Rules and application:https://cooperation.epfl.ch/DI-Grants
---
---