Networking and skill-building to fight against climate change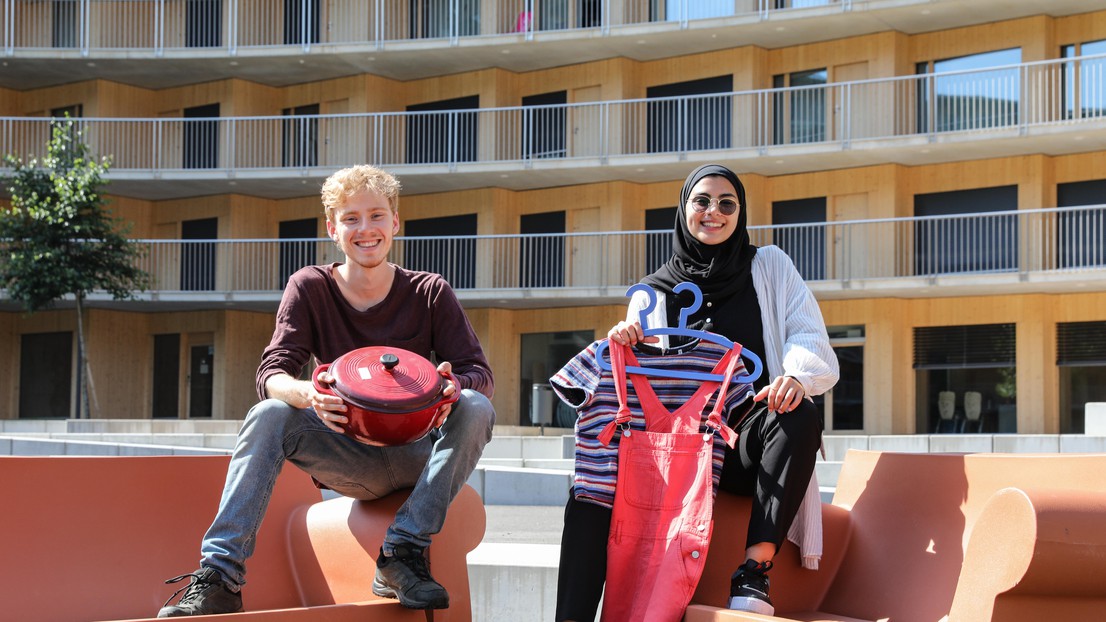 The first official edition of EPFL's Climate and Sustainability Action Week will take place in September 2021. A pilot version, which was held in February, led to the implementation of two student-led sustainability projects.

"I haven't bought a new piece of clothing since February!" says Fatima Azahraa El-Zein, who freely confesses to being a former "fast fashionista." El-Zein, a first-year Bachelor's student in Environmental Sciences and Engineering at EPFL, is one of the driving forces behind the Unipoly Fashion Lab (UPFL). Launched on 24 May, the Lab is a second-hand clothing initiative that offers sustainability-oriented customization and awareness-raising activities at the Vortex every Wednesday.
On Thursdays, the Object Library of the Maison de la Durabilité will soon be held in the same space. When the Library opens on 10 July, anyone can come and borrow, free of charge, objects such as a fondue pot, a set of plates or sports, camping or home repair tools. To keep waste to a minimum and allow others to benefit, students who are moving house are encouraged to donate items they no longer need. And thanks to the numerous donations, the Library is already filling up.
Skill-building
These two initiatives came out of the pilot edition of the Climate and Sustainabiliy Action Week (CSAW), which was held in February of this year. The first official edition will take place on 13–16 September, and again on 19 September, one week before the start of the academic year. The event will feature conferences, workshops, networking and, most importantly, "an opportunity get involved," says Victor Rey, a second-year Master's student in Life Sciences Engineering who's helping to set up the Object Library.
EPFL has a number of associations that address environmental issues, but our discussions rarely lead to concrete solutions. The CSAW pilot event brought students together and allowed us to develop our project management skills. We learned a lot about teamwork, how to listen to each other and how to stay focused on the end goal."
"Get involved" – that's also El-Zein's motto. "CSAW's moderators helped us orient our ideas and kept us from going overboard," she says. The moderators also helped students identify resources in their existing network: the student group formed for the pilot edition teamed up with three student members of Unipoly (an environmental student association) to share similar ideas.
The idea to create a "Mix & Match" app for second-hand clothing expanded into a project that was anything but virtual – particularly since Unidress, a similar app, had just won the Innovation Challenge at UNIL-EPFL's Sustainability Week in March 2021.
To build up their stock, Fashion Lab members held a paid clothing drive in April, which was a huge success thanks to Unipoly's support. Reselling the items at cost, however, meant that the model was not really profitable. The students therefore switched their concept to a barter system: by donating 50 francs' worth of clothes, users receive the same amount in credit for buying other items. The students take turns staffing the Lab, with the help of friends and volunteers.
Joining a wider community
"CSAW provided me with a concrete way to link up with the student community," says El-Zein, who has since joined the student association Engineers of the World. Rey – who was already working with the Global Earth Horizon Talk (GEHT) association – stresses the extent to which CSAW has spurred synergies between the various student associations, such as those mentioned above, along with the Zero Emission Group and others.
For example, after the Object Library opens on 10 July, the next step will probably be a Repair Cafe, where consumers who are opposed to our throwaway culture can give their belongings a new lease on life. The idea is being discussed with the Low Tech Lab, the Student Kreativity and Innovation Laboratory (SKIL), and Robopoly.
CSAW gave us a window onto what's being done elsewhere in Europe and around the world to tackle polluting industries and irresponsible consumption, and encouraged us to think about the future. But then, of course, you have to get back to math and physics.
Since exams have started and summer is around the corner, the CSAW organizers, buoyed by the positive response to the pilot version, are hoping to get 100 students to sign up for the September CSAW before 27 June.
A joint effort
Like the pilot edition, the September CSAW will be co-constructed by students, in association with EPFL's Vice Presidency for Academic Affairs (VPA) and Vice-Presidency for Responsible Transformation (VPT).
Hopeful that they will have enough participants, the organizing committee now plans to go ahead and finalize the list of events. The idea is to offer CSAW participants a wide range of resources – in the medium term this means practical skills to help change the world, and in the short term (and on a smaller scale) to have a great time and meet new people!
---
---