My Thesis in 180 Seconds: two EPFL students make it to the podium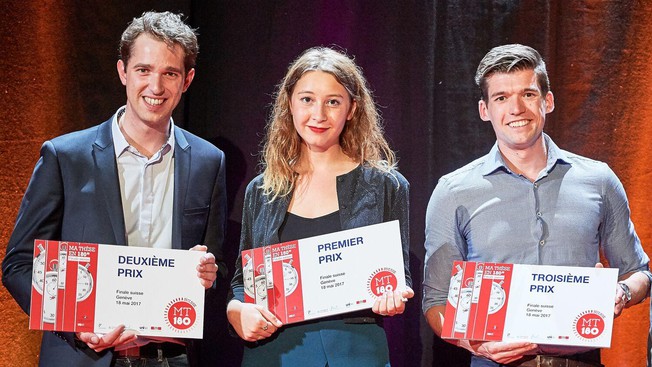 Amaël Cohades (EPFL) 2nd, Sarah Olivier (UniGE) 1st, Giel Op 't Veld (EPFL) 3rd © S.Puiatti Catroofstudio
19.05.17 - Two PhD students from EPFL were among the top three finishers in the Swiss finals of the My Thesis in 180 Seconds competition held last night in Geneva. One of them, Amaël Cohades, qualified for the international finals by coming in second. The 15 finalists, who came from universities all over French-speaking Switzerland, treated the large audience to an exhilarating look at their cutting-edge research.

Last night in Geneva, two of EPFL's PhD students, Amaël Cohades and Giel Op 't Veld, came through once again, successfully summarizing several years of research in just three minutes. Their presentations – scientifically rigorous yet presented in layman's terms and with a dose of humor – won over the jury of the second annual Swiss finals of the My Thesis in 180 Seconds competition. By finishing second, Cohades qualified for the international finals this fall in Belgium. Sarah Olivier, a researcher from the University of Geneva, won the jury's top prize and the audience award. The jury was chaired by the director of the Swiss National Science Foundation (SNSF) and included academic, media and industry professionals. The Swiss finals brought together the top three finishers at the competitions held at each of the French-speaking universities.
While bicycles cannot yet heal themselves, audience members will surely think of Amaël Cohades the next time they damage their composite bike. Cohades, a PhD student in the Laboratory for Processing of Advanced Composites, would like to see composite materials repair themselves just as the human body does. He's working on several solutions to achieve this goal.
Giel Op 't Veld captivated the audience with his presentation, adding a humorous touch for the many PhD students in attendance. His algorithms could make it faster to download television series during peak periods – thereby freeing up time for students to work on their thesis.
The winner of this year's Swiss finals is working on something completely different. Sarah Olivier, from the University of Geneva, is restoring the image of the Merovingian kings. She wants to show how these kings – including Dagobert, who is ridiculed in a famous French children's song – were really perceived back in the 14th and 15th centuries.
Julie Scotton, the third EPFL student in the Swiss finals and the winner of EPFL's competition, also delivered a top-notch performance.
Last night's top three finishers won cash prizes of 1,500, 1,000 and 750 francs. In September, Olivier and Cohades will head to the University of Liège, in Belgium, where they will square off against French-speaking finalists from places like Quebec, France, Morocco and Senegal. This represents another opportunity for the participants to show off their public-speaking skills, which they honed through extensive training in the run-up to the competition. They will also have a chance to discuss their work and share their experience with researchers from a wide range of academic backgrounds.
Subscriptions for My Thesis in 180 Seconds EPFL 2017 are open until June 15: