Mathematician Yves Meyer receives the title of Doctor Honoris Causa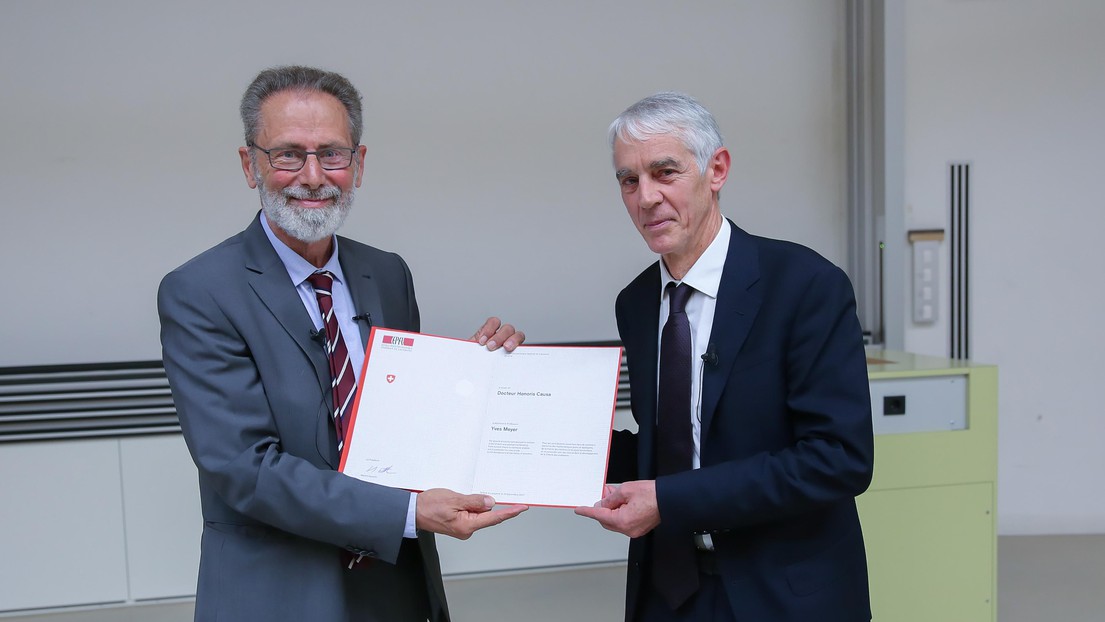 On Tuesday, 19 September, Yves Meyer, professor emeritus in mathematics at the École Normale Supérieure de Paris-Saclay and winner of the 2017 Abel Prize, was awarded the distinction of Doctor Honoris Causa by EPFL.

"There are no wrong answers when it comes to signal processing. You need two eyes and two ears and, well, in the end it all depends," said Yves Meyer as he wrapped up EPFL's first Campus Lecture – an initiative of the Office of the President – on Tuesday, 19 September. Professor Meyer earned renown as a mathematician for the key role he played in the development of wavelet theory, which has applications in medical imaging, the detection of gravitational waves, and digital cinema.
Professor Meyer's talk was called "The role of time-frequency wavelets in the detection of gravitational waves." He transfixed the audience for an hour as he recounted the work of his peers and predecessors and very modestly touched on his own efforts. Afterward, EPFL President Martin Vetterli bestowed the title of Doctor Honoris Causa upon Professor Meyer, "for his ground-breaking contributions in numerous areas of applied mathematics, from number theory to harmonic analysis, and more particularly for the key role he played in developing wavelet theory."
---