"Maintaining lifelong health is all about getting people moving"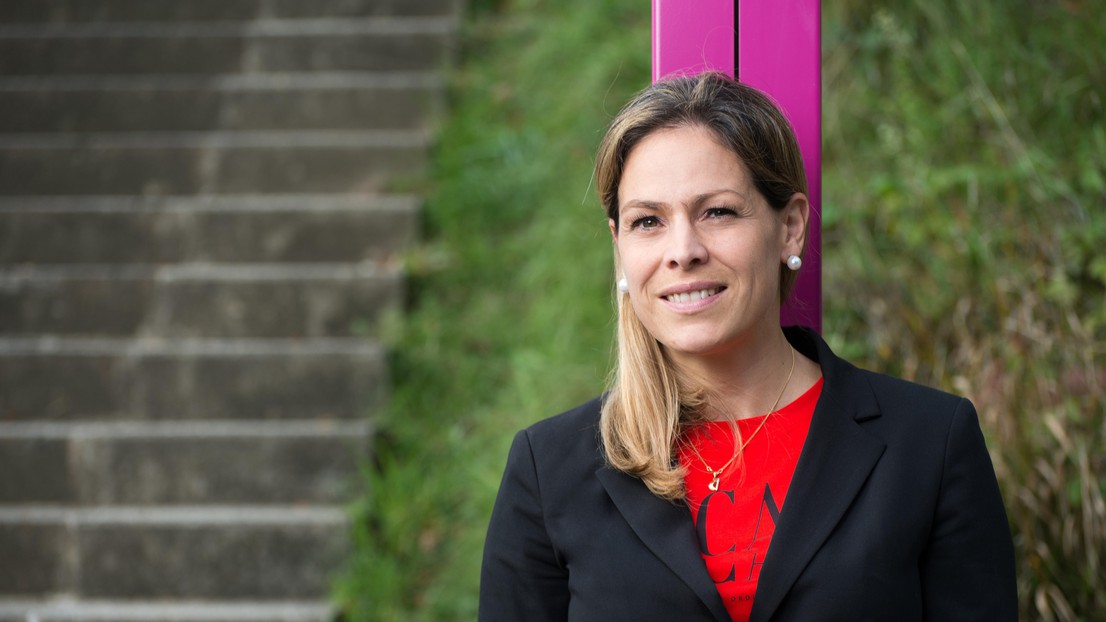 Ophélia Jeanneret, who brings extensive experience and cross-disciplinary background, was appointed as the new head of the UNIL-EPFL Sports Service on 1 October. We spoke to her about her goals and aspirations.

Finding the right person to replace Pierre Pfefferlé as head of the UNIL-EPFL Sports Service was no easy task. But Ophélia Jeanneret turned out to be the ideal candidate – and she's visibly delighted to have taken up her new role. "The staff here are incredibly positive and hard-working," she says. "It's an amazing team. Everyone has a desire to progress, to innovate and to be guided by an experienced manager – which is great, because those are precisely the things I enjoy doing." Jeanneret, who'll shortly turn 40, brings to the table a wealth of experience and a diverse background (see box).
What motivated you to take up this role?
Ophélia Jeanneret: I felt the need to once again step outside my comfort zone and try my hand at something different. Taking on a set of new challenges and working out how to make the most of an organization's potential are tasks I find fascinating. My new role builds on my full range of prior experience: I get to work in elite sport and with high-level athletes, while also putting my PhD in sports science and my training at Macolin Federal Sports College to good use in an academic setting. This position also involves a fair amount of strategic thinking, which is something I gained exposure to when I worked with policymakers and a municipal council serving 30,000 people [in Yverdon-les-Bains]. Here at UNIL and EPFL, I still get to address important regional and national policy issues. It's a real privilege to be working in such an exciting field and in this kind of managerial role. It really suits my personality and fits in perfectly with my experience to date.
How would you describe your personality?
I thrive on creativity and cross-disciplinary collaboration. In all my jobs, I've always sought to bring a certain authenticity to the table. I like to get everyone moving forward as one and solving problems together. That's really important to me. I have a rational, logical mind – but I'm also very much a people person. The words "fire" and "energy" best sum up my temperament, and I love teamwork.
You're the first woman to head the UNIL-EPFL Sports Service, and you were the first female director of the sports and exercise department at the Yverdon-les-Bains municipal council. Do you feel as though you have a special role to play?
Promoting women's issues is not something I've always been comfortable with. In the past, I've sometimes been called on to stand up for women's issues, but I said that wasn't what I was there to do. As someone with a background in sports, I'm used to operating in a male-dominated environment. It's never particularly concerned me. But I'm acutely aware of two things. First, I do have a role to play in inspiring young women and dispelling the misconception that a career in sports is something to which only men can aspire. And second, there are certain unique experiences that come with being a woman and that can help in senior leadership roles. I've personally lived through the challenges of juggling work and motherhood since I have two young children, so I fully understand what my colleagues are going through.
What are your priorities as the new head of the UNIL-EPFL Sports Service?
I think it's really important to promote good health and exercise. That's something I worked on during my time at the Yverdon-les-Bains municipal council. I want to focus my efforts on inclusion, personal integrity and gender-related matters, as well as on lifelong health for staff and students. Raising awareness is a huge part of that: when people haven't had positive experiences with sports in the past, they can be reluctant to take part. It's about giving them the confidence to live active lives.
In practice, how do you plan to get the community moving?
One step we intend to take is to expand our Healthy Days initiative. We'd like to develop a joint strategy with EPFL that focuses on lifelong health as well as other factors. We also want sports to have a bigger footprint on campus, building on the example of the BoxUp smart lockers. And we plan to look at how we can reconfigure the campus to make it easier for people to move around, thus creating a healthier, happier place in general. Our aim is to find new ways to get people moving with simple, lifelong habits they can adopt. For instance, we could encourage staff and students to hold walking classes.
Do elite sports also feature among your priorities?
Yes. Elite sports go to the heart of what we do at the UNIL-EPFL Sports Service: we run the UNIL-EPFL Sport and Health Center, the LUC Volleyball club, and joint programs with Swiss Sailing and other organizations. We're going to make sure the LUC squad members get the best possible professional coaching; we'll also offer high-caliber physical and mental training, nutrition advice, and performance analyses to outside athletes who come to our center. It's important to stay at the cutting edge in all these areas.
Are you planning to add new facilities?
Absolutely. Some of the enhancements could be quite simple, like opening a reception desk at the Sport and Health Center. But our primary focus will be on embracing modern digital technology. For instance, we want to outline new-room access procedures with a more accurate counting system so we can measure the financial contributions of our various disciplines. Facilities management is an interesting part of our work: it involves collaborating directly with Unibat [UNIL's facilities management department], planning investments, liaising with cantonal and federal governments, and working out what options would be most effective in getting people moving.
You also plan to build stronger ties between research and academia.
To stay at the cutting edge of our field, we have to remain one step ahead of what's happening elsewhere in Switzerland and around the world. I'd like to see us work more closely with ISSUL [the Institute of Sports Sciences at UNIL] to help determine where our research niche lies.
Are you looking to raise the profile of university sports?
It's important for us to identify where the UNIL-EPFL Sports Service fits in, whether with regards to Lausanne – the Olympic capital – Switzerland as a whole, or the global stage. Raising the profile of university sports poses a unique set of challenges. In terms of coordination, we'll need to set up a steering committee and develop a joint strategy that will help us maintain our head start with the IOC and international federations. Things can change quickly, especially given everything that's happening in the world right now. Sports are suffering from an image problem. Take Saudi Arabia's successful bid to host the Asian Games – as young people becoming increasingly committed to sustainability, they'll be less likely to accept these kinds of things. And it's no longer enough to put all the focus on sports. That's why I prefer to talk about exercise and health: Switzerland has a strong culture of sports, so it's a message that resonates.
Do you have the resources to deliver on your ambitious plans?
All it really takes to get things moving is coordination, dialogue and leading by example. So I plan to engage with all our stakeholders. We have an excellent working relationship with Vice-Rectors Benoît Frund and Jérôme Rossier, who are receptive to our ideas. In practical terms, we're currently developing a sports and exercise master plan, which we'll put out to consultation in early 2023, along with an action plan for each of our focus areas. We're also considering changing our name. Right now we're the UNIL-EPFL Sports Service. If I had my way, I'd prefer us to be known as the UNIL-EPFL Sports and Exercise Service. We'd be one of the first departments of our kind worldwide to make such a change. That would set the tone for where I see us going forward – and would make a strong statement about the importance of being physically active. After all, maintaining lifelong health is all about getting people moving.
---