Logitech Joins the EPFL "Under One Roof" Project
The Swiss firm, whose European headquarters are located in EPFL's Innovation Park, has given a substantial support to the Pavillions that are to be built on Place Cosandey.
Sharing in the excitement of the development of the EPFL campus, Logitech announced today that it will donate CHF 1 million to the innovative "Under One Roof" project, which unites an experimental Art & Sciences space and a demonstration pavilion under a single roof to connect science and culture.
"Our collaboration with the EPFL stems from Logitech's early days," said Bracken Darrell, Logitech president and chief executive officer. "Now, every day, thanks to our office's presence in the EPFL Innovation Park, we enjoy being part of this vibrant international campus. Our team is continually inspired by EPFL's high-achieving students, world-class professors and groundbreaking projects. Taking this step to further support the growing EPFL ecosystem, is very natural for Logitech.
"EPFL continues to innovate. The "Under One Roof" concept will also be the home of a unique Montreux Jazz Café, reflecting strong Swiss roots and a global brand reach. The Swiss roots and global reach of Montreux are reminiscent of Logitech's own birthright and growth. Following our sponsorship of the iconic Rolex Learning Center years ago, we are happy to join yet another innovative architecture and design project. This new building will also host, the archives of one of the most important jazz festivals in the world and allow people to enjoy those magic moments in a new, interactive and very innovative environment."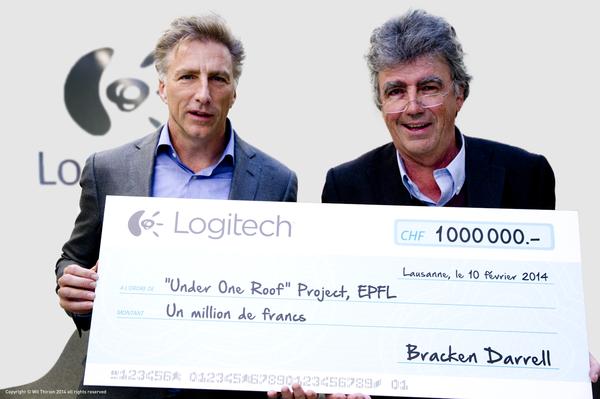 Bracken Darrell and Patrick Aebischer. © Wil Thirion.
"Logitech's donation will contribute to fostering innovation in the field of audio and video," said Patrick Aebischer, president of EPFL. "To highlight the Montreux Jazz Festival archives, a UNESCO heritage, EPFL's researchers are currently developing new technologies in big data storage, visualization for movies, user interfaces and tridimensional sound propagation. In Under One Roof, visitors will have the opportunity to see this disruptive innovation in action thanks to Logitech's generous donation."
"The project links to Logitech in many ways," continued Darrell. "Our collective love for music and the mission to devise new ways to enjoy it are embodied in our brands, especially evident in what we are doing now in Ultimate Ears. Beyond that, the heart of this project is making digital content accessible in a human, intuitive and social way, which is exactly what Logitech has built a business around."
Due for completion in 2015, the "Under One Roof" project will include three pavilions on Cosandey Square. One building will be a space for the presentation of EPFL's work. Another is to be dedicated to the development of futuristic scenography for art museums, and the third will house the Montreux Jazz Lab.
---
Author:
Logitech Communication / Mediacom
---