LESO experimental solar building: 40 years of climate action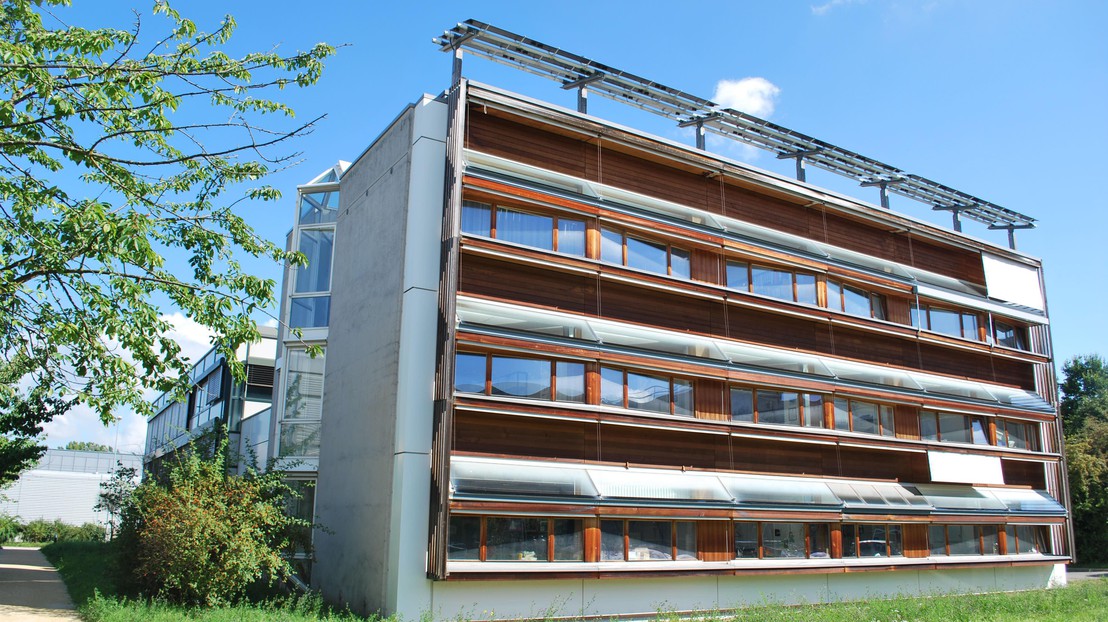 In "Helvetia durabilis: 40 years of LESO", RTS looks back on 40 years of research in the LESO experimental solar lab, which was designed in 1981 to test renewable energy and energy efficiency systems under real conditions. Numerous advanced daylighting, passive solar, renewable energy and smart control systems were studied in this building instrumented with over 600 sensors.

When the LESO building was designed in 1981, its purpose was to demonstrate that it was possible in the 1980s to reduce specific heating demand (20 litres of domestic fuel per m2 per year at the time) by a factor of 4 to 5 while offering identical thermal comfort conditions. The building has since then made it possible to measure the energy and thermal comfort performance "in situ" of numerous passive and hybrid solar systems, such as direct gain systems (glazing), greenhouses and verandas, collection and storage walls (Trombe walls), double skin façades, as well as the first triple glazing with selective coating (infrared mirror). More recently, solar photovoltaic systems and control devices focusing on human daylight needs have been developed and tested in the building.
Recent PhD theses made possible thanks to the LESO infrastructure:
Benedetti M., Advisors: Scartezzini J.-L., Muench M., Integrating non-visual effects of light in the automated daylight-responsive control of blinds and electric lighting, Thèse EPFL n° 8414, 2021
Wu Y., Advisors: Scartezzini J.-L., Kämpf J. H., Automated Daylighting Control System based on Sky Luminance Monitoring and Lighting Computing, Thèse EPFL, n° 9498, 2019
Motamed A., Advisor: Scartezzini J.-L., Integrated Daylighting and Artificial Lighting Control based on High Dynamic Range Vision Sensors, EPFL PhD Thesis n° 8277, 2017
Maierova L., Lighting Environment in Buildings - Nonvisual Light Perception and Inter-Individual Differences,PhD Thesis Czech Technical University in Prague, Faculty of Civil Engineering, 2015
Zarkadis N., Advisors: Scartezzini J.-L., Morel N., Novel models towards predictive control of advanced building systems and occupant comfort in buildings, EPFL PhD Thesis n°6440, 2015
Basurto C., Advisors: Scartezzini J.-L., Kämpf J. On advanced daylighting simulations and integrated performance assessment of complex fenestration systems for sunny climates, EPFL PhD Thesis n°6425, 2014
Zarkadis N., Advisors: Scartezzini J.-L., Morel N., Novel models towards predictive control of advanced building systems and occupant comfort in buildings, EPFL PhD Thesis n° 6440, 2015
Borisuit A., Advisors: Scartezzini J.-L., Kaempf J.H., The Impact of Light Including Non-Image Forming Effects on Visual Comfort, EPFL PhD Thesis n° 6007, 2013
Wilke U., Advisors: Scartezzini J.-L., Robinson D., Probabilistic Bottom-Up Modelling of Occupancy and Activities to Predict Electricity Demand in Residential Buildings, EPFL PhD Thesis n° 5673, 2013
Daum D., Advisors: Scartezzini J.-L., Morel N., On the adaptation of building controls to the envelope and the occupants, EPFL PhD Thesis n° 3945, 2010
Linhart F., Advisors: Scartezzini J.-L., Morel N., Energetic, Visual and Non-visual Aspects of Office Lighting, EPFL PhD Thesis n° 4634, 2010
Haldi F., Advisors: Advisors: Scartezzini J.-L., Morel N., Towards a unified model of occupants' behaviour and comfort for building energy simulation, EPFL PhD Thesis n° 4548, 2010
---
---