Learning about space engineering with cardboard rockets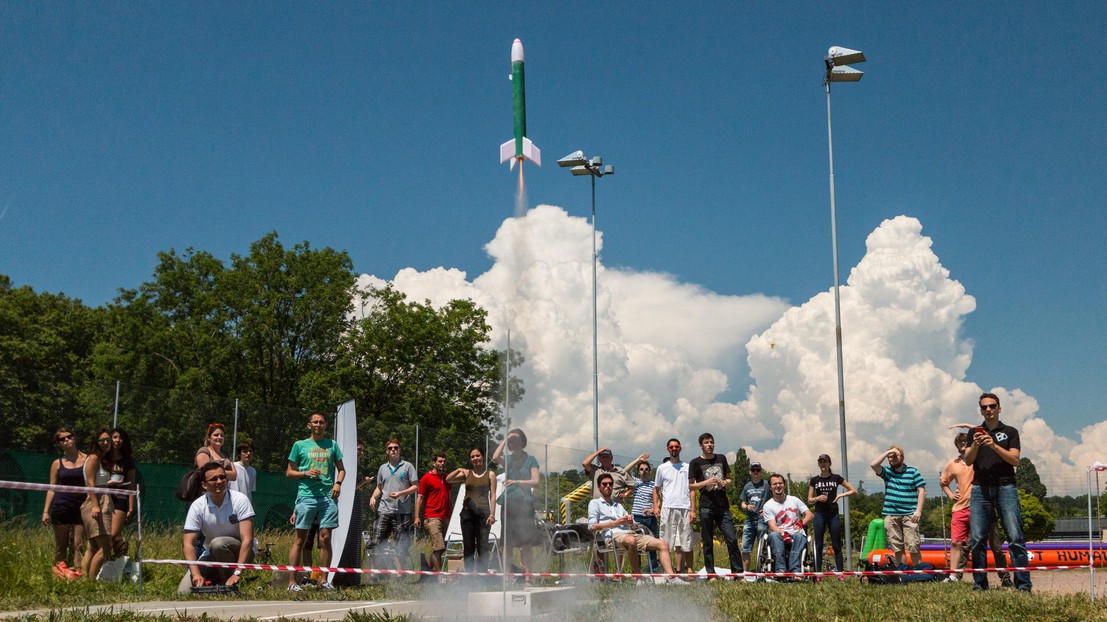 Ten small homemade rockets were launched from the sport fields at UNIL-EPFL on Friday as part of a competition organised by eSpace, the new Space Engineering Center at EPFL. Their aim was to spark students' interest in space while having some fun.

Scissors, cardboard, a tube of polystyrene foam and a little solid-fuel engine. With these simple items, around 30 students were schooled in the basics of aerodynamics and space engineering, nothing less. They were participating in a homemade rocket competition organised by eSpace, the new Space Engineering Center at EPFL. The group, divided into ten teams, launched their rockets at noon on Friday, 5 June from the fields at the UNIL-EPFL sports centre. The rockets were judged on three criteria: cost, altitude and flight time.
All the rockets reached an altitude of 100 to 123 meters, whether following a straight or slightly sinusoidal path. The only mishap came when three rockets lost their parachute, which was meant to ensure a soft landing. The winning rocket reached an altitude of 115 meters and stayed aloft for over 33 seconds.
"The competition is a fun way to generate interest in space technologies and show that this field is more accessible than one might think," said Simon Dandavino, a scientist at eSpace and the event organiser. Some thirty students signed up. All the teams came from EPFL apart from a team of four high school students with a passion for technology. "Unfortunately there were no girls!" said Dandavino. "They're still pretty underrepresented in this field."
Solid display of skills
The event gave the teams an opportunity to put their heads together on a fun project. But in the end it was a real engineering competition requiring solid math skills and a keen practical sense.
The participants were guided throughout the whole process by the experience of the event's Technical Director, Nickolay Mullin. At the start of the competition, they had one hour to prepare and submit their rocket design. Each team had an equal amount of RocketCoins, or credits, allowing them to purchase the materials needed for their rocket. Before the materials could be selected, however, the teams had to carry out rapid but very precise calculations to assess the impact that various shapes of nose cones and ailerons would have on the stability, trajectory and height of the flight and to estimate how the choice of cardboard or polystyrene foam, for example, would affect the outcome. The teams also had to take a number of factors into account – such as weight, tube length and engine power – in order to pinpoint the centre of mass, which had to be above the centre of thrust.
"The students became familiar with some core concepts of aerodynamics, which also apply to the design of large rockets," said Dandavino. The organiser hopes to make this competition an annual event.
---
---