lapa wins Gold Lion Award at the Venice Architecture Biennale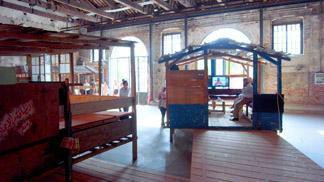 The prestigious Gold Lion Prize at the 2010Architecture Biennale in Venice has been awarded to the national exhibition from the Kingdom of Bahrain and its designers: Prof Harry Gugger, Leopold Banchini, and the curator Noura AlSayeh from the Laboratory of Architectural Production (lapa).

The Venice 2010 Architecture Biennale's Gold Lion Prize for the best National Participation was awarded to the Kingdom of Bahrain and the Laboratory for Architectural Production (lapa).
The Bahrain exhibition curator is EPFL graduate Noura AlSayeh and the design of the exhibition was a collaboration of Prof Harry Gugger and Leopold Banchini from lapa, with the Bahraini Ministry of Culture and Information.
The exhibition marks the conclusion of the past year lapa studio and research where EPFL and University of Bahrain students developed a "Cultural Master Plan for the Kingdom of Bahrain". The exhibition opening was also the opportunity to mark the official launch of lapa's latest book: "Bahrain Lessons". The jury awarded the prize, praising the exhibition design as a lucid and forceful self-analysis for Bahrain, and as an exceptionally humble yet compelling response to the Biennale theme of "People meet in architecture".
link: Awards press release
link: Full coverage on designboom

 
---
Author:
Russell Loveridge