KNOVA 2023: 16 new companies ready to start their innovation journey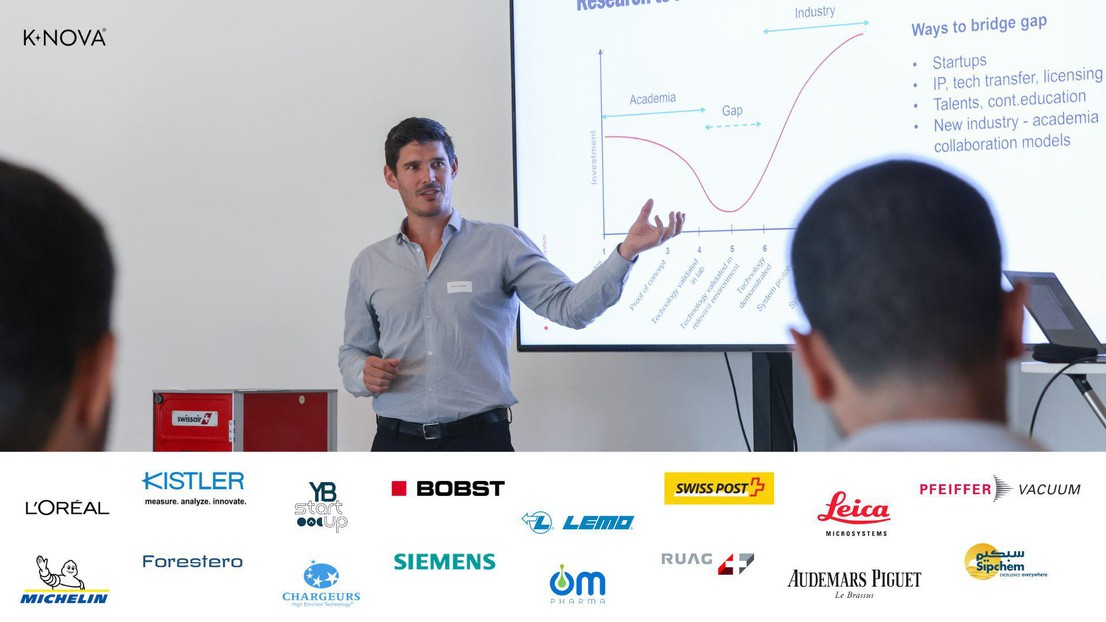 After completing its first successful year in 2022 with 6 companies, EPFL's KNOVA partnership acceleration program has grown substantially, kicking off its 2023 edition this February.

Hosted at the Vice Presidency for Innovation the KNOVA Program supports companies to nurture their innovation by leveraging EPFL's research ecosystem, at the same time as providing the university's start-ups and researchers the chance to make a global impact with their technologies.
After pandemic related delays in 2021, in 2022 six companies completed the first full year of KNOVA. This year the program has more than doubled with sixteen members in total. The 2023 cohort is made up of Audemars Piguet, Bobst, Chargeurs, Forestero, Kistler, L'Oreal, Leica Microsystems, LEMO, Michelin, OM Pharma, Pfeiffer Vacuum, RUAG, Siemens, SipChem Europe, SwissPost, YB Startup.
In the past decade we've seen that more and more businesses want to work with EPFL but they are often unsure of the entry point. This is where the idea for KNOVA originated - we offer a clear pathway through our innovation ecosystem to unlock the opportunities and benefits for companies through suitable partnerships with researchers, start-ups and industrial partners
Among the 16 participants of the 2023 cohort, Chargeurs, Kistler and RUAG are renewing their partnerships to pursue their innovation projects. Chargeurs, a French group with different divisions active in plastic coatings, fashion & textiles, museum solutions and healthcare, pioneered and piloted the program in 2021. It is continuing its partnership with one or two concrete concepts of future collaboration. One is with the EPFL start-up Plastogaz that is designing new chemical processes for the valorization of alternative feedstock, such as plastic waste, for the manufacture of chemicals and fuels.
"This links to our plastic business and has some really interesting outcomes around a new way of chemical recycling. We will continue this collaboration which came out of another idea through working with a specific laboratory. So, it's interesting to have both those approaches – working with laboratories on a long-term vision and with start-ups on more immediate ideas," said Etienne Petit, Head of Innovation at Chargeurs.
Kistler is also continuing with KNOVA in 2023. Project manager of the company's Innovation Lab, Dr Gerrit Schatte, reflected on his experience so far, "What helps is to align expectations early on and then it's important to keep communications open and to do active stakeholder management. One key reflection on the past 12-months is to go broad in the beginning to find and evaluate as many opportunities as possible. It's like when you're looking for gold, you want to get lots and lots of grains of dirt and then maybe that increases the probability of getting a gold nugget."
"We've learned that collaboration like this is built upon trust and at the end of the day for each of the activities you identify you have different relationships that you have to manage and build up. This simply takes time," he continued.
For Chargeurs, an important aspect of the coming year will be to increase networking opportunities with other companies now that the program is enlarged. "In the first edition, by coincidence, we were able to engage with IKEA, and came up with ideas for potential collaboration. We hope these sorts of ideas continue to flourish and be the backbone of fruitful collaboration. I highly recommend KNOVA and what it is bringing to industry," concluded Etienne Petit.
About KNOVA
KNOVA is a one-year renewable partnership program that supports companies leverage EPFL's research ecosystem to nurture their innovation, while also providing start-ups and researchers the opportunity to make a global impact with their technologies.
If you are an EPFL start-up or researcher looking to explore collaboration opportunities with any of our 2023 members, please get in touch with us: [email protected]
---
---