Kevin Sivula receives Air Liquide Prize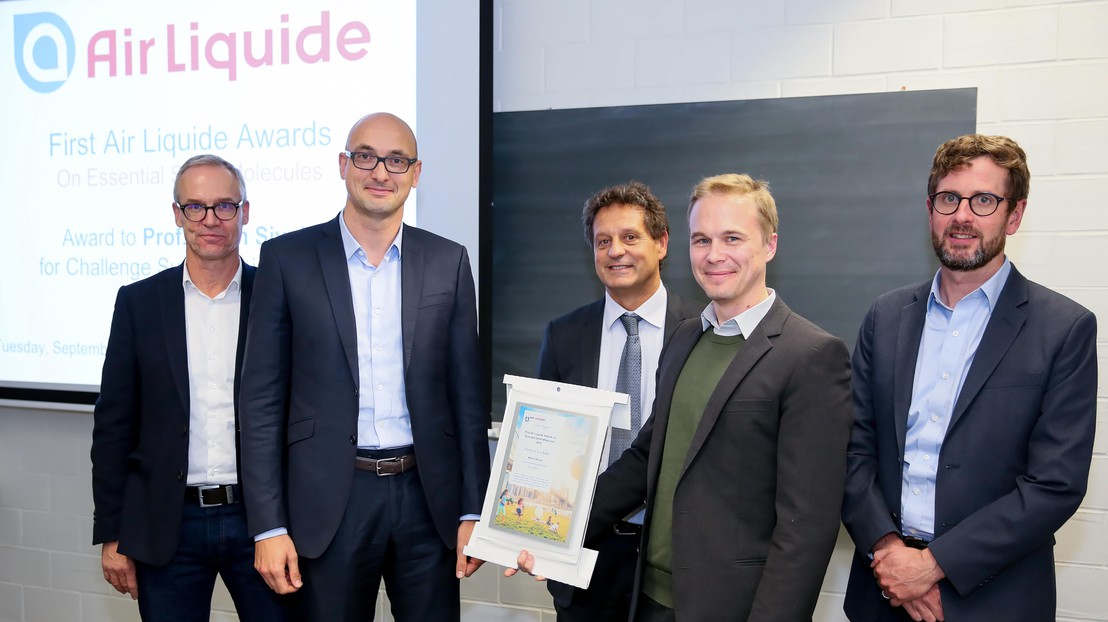 After winning the Air Liquide challenge in November, Professor Kevin Sivula received the Prize during a visit by senior representatives of the Air Liquide group to EPFL.

Air Liquide is a French multinational company that supplies various industries with gases, and provides vital services to medical and chemical industries and electronic manufacturers. Founded in 1902, it is now one of the biggest industrial gas suppliers in the world and operates in more than 80 countries. The company specializes in producing essential small molecules, including O2, N2, H2, and CO2.
In 2016, Air Liquide ran an "Essential Molecules Challenge", designed to reinforce the company's "focus on science for accelerating innovation". The competition invited teams from academia, private R&D companies, start-ups, and private or public institutes, to compete with proposals for scientific breakthroughs in three categories related to societal and environmental challenges.
In November 2016, Professor Kevin Sivula at EPFL won the category "Sunny H2 in a Bottle" topic, which focused on producing H2 by using water and solar energy to reduce CO2 emissions. On September 19 of this year, senior members of Air Liquide awarded the prize in a small ceremony at EPFL, which included a presentation on Professor Sivula's proposal.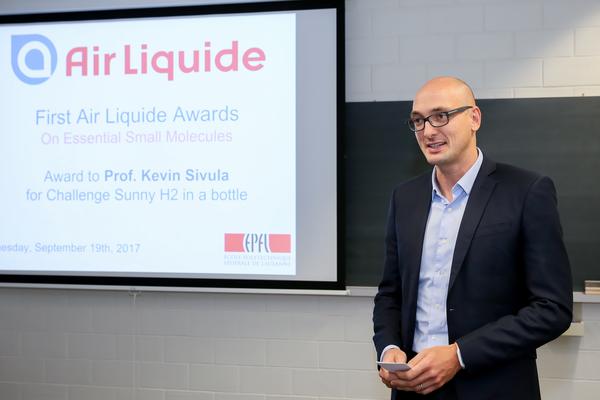 Olivier Letessier, Research & Development Director of Air Liquide, presenting Professor Sivula's winning proposal (© Alain Herzog/EPFL).
Sivula, originally from the United States, studied at the University of Minnesota and the University of California, Berkeley, where he obtained academic training in Chemical Engineering. In 2011 he accepted an appointment as tenure-track assistant professor at EPFL in the Institute of Chemical Science and Engineering. Currently he leads the LIMNO lab, which specializes in solution-processed semiconductor thin-film devices. He also teaches courses on Transport Phenomena, Chemical Product design, and Solar Energy Conversion Systems.
The ceremony was attended by:
Olivier Letessier, R&D Director (Air Liquide)
Régis Reau, Scientific R&D Director (Air Liquide)
Jean-Marc Girard, Chief Technology Officer of Air Liquide Advanced Materials
Denise Mery, Director of m-Lab and project manager of the Scientific Challenge (Air Liquide)
Peter Uhlig, Scientific expert Ozone
Christian Tomsen, CEO of Suisse Carbagas
Lyndon Emsley, Director of EPFL's Institute of Chemical Sciences and Engineering (ISIC)
---