Jan Brütting awarded the IASS Hangai Prize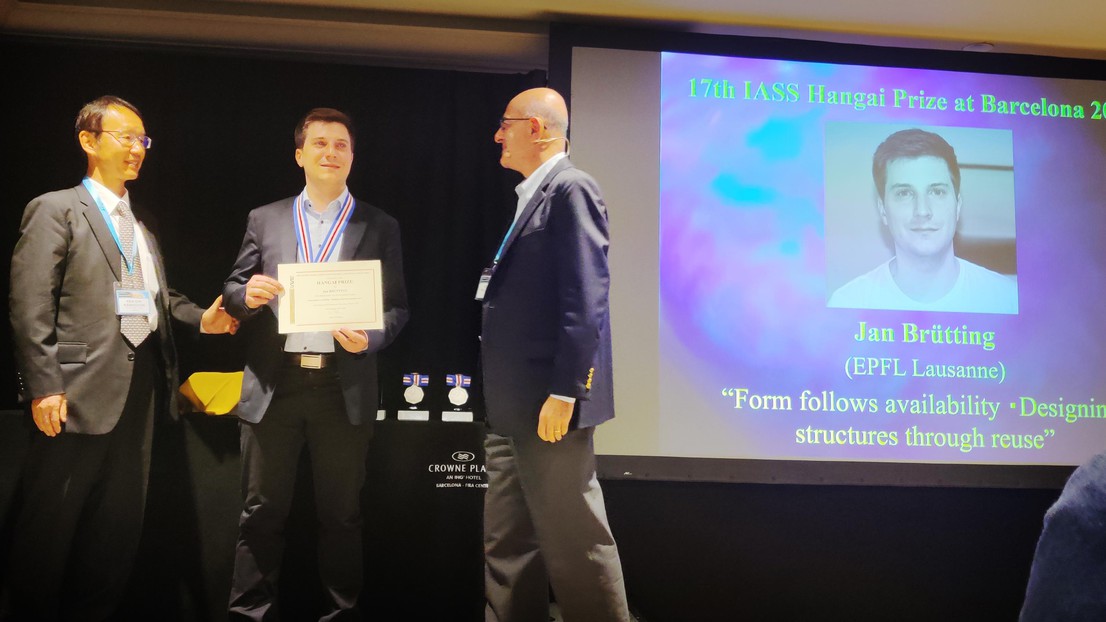 Monday, October 7, 2019, Barcelona, Spain.

Jan Brütting is awarded the IASS Hangai Prize!
Delivered every year by the International Association for Shell ans Spatial Structures, the Hangai prize recognizes talented young researchers, designers, and engineers working in the field of shell and spatial structures. The award is given for his paper "Form Follows Availability - Designing Structures through Reuse", co-authored with Gennaro Senatore and Corentin Fivet as part of his PhD research at the Structural Xploration Lab, EPFL. The paper will soon be published in the Journal of the IASS. In the meantime, his latest journal paper is available here.
Jan Brütting presented his results to a crowd of about 500 structural designers and architects at the 2019 IASS "Form and Forces" Symposium, in Barcelona. Jan reviewed examples of component reuse throughout history, described the computational methods that he has developed to address the design of structures using reclaimed stocks of elements as well as methods to optimize stocks of elements that can be reused in multiple structures, while highlighting the environmental benefits and challenges related to component reuse. He concluded his plenary lecture by introducing the SXL entry to the IASS 2019 pavilion competition.
Congratulations, Jan!
---