IVRG student receives Fritz Kutter Award 2013 for the best PhD thesis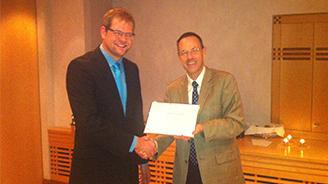 Albrecht Lindner, a student who graduated from the Image and Visual Representation Group (IVRG), headed by Prof. Sabine Süsstrunk, received Fritz Kutter Award 2013 for his PhD thesis. The fund managed by the ETH Zürich honors industry related thesis in computer science which are of high quality and present innovative results.

The thesis proposes a novel method to analyze a large database of annotated images acquired from photo sharing platforms such as Flickr or the World Wide Web in general. Two example applications are presented. First, semantic image enhancement where an image showing, for example, a strawberry desert that is annotated with the keyword "strawberry" will automatically be color enhanced by emphasizing the red color of the strawberry. Second, color naming where the goal is to find color values corresponding with a given color name. For this purpose, more than 900 English color names were translated to 9 other European and Asian languages. The estimated color values for these more than 9000 color names are accessible at the Online Colour Thesaurus where users can explore colors in color space and across different languages.
Currently, Albrecht Lindner works as a senior engineer in Qualcomm's Imaging R&D team in San Diego, USA, where he focuses on algorithms for imaging applications.
---
---