"It's an amazing feeling to be at the 75th Cannes Film Festival!"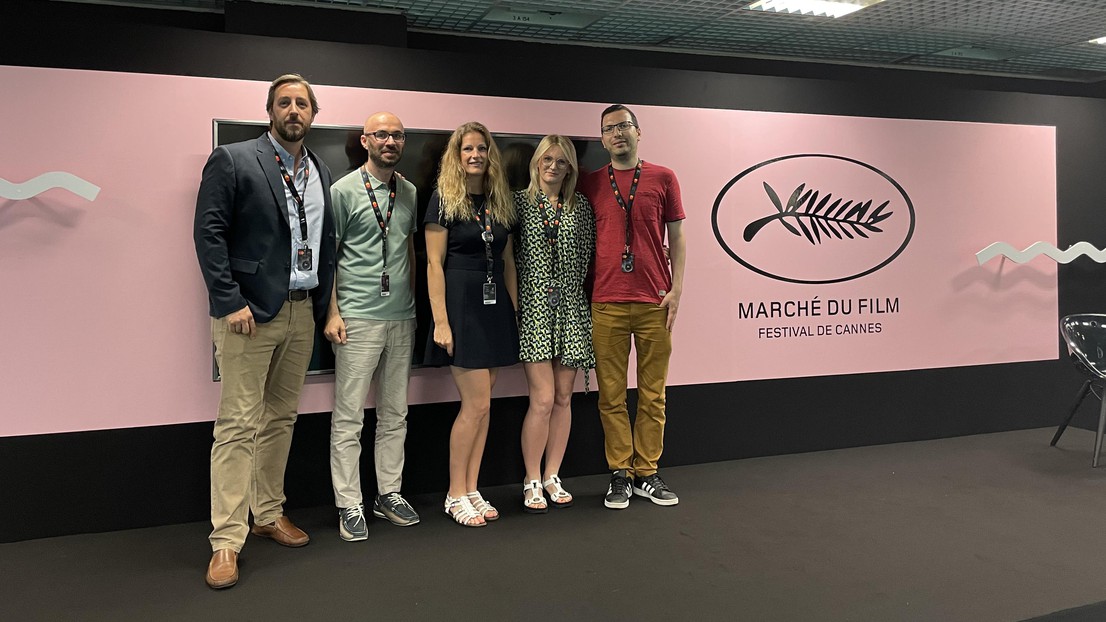 EPFL spin-off Largo.ai ran a unique AI-powered pitch session in Cannes in collaboration with the festival, to deliver content evaluation, casting recommendations, box office predictions and streaming platform results for upcoming, unproduced projects.

As the 75th Cannes Film Festival draws to a close, with a focus on cinema as a space for contemplation and the renewal of society, EPFL start-up Largo.ai offered a select group of international producers the opportunity to try out its revolutionary AI production platform in partnership with the Festival.
Developed by graduates from the Image and Visual Representation Lab in the School of Computer and Communication Sciences, Largo is a sophisticated AI tool that delivers highly accurate box office and streaming platform forecasts. Sami Arpa, the founder and CEO of Largo.ai, was inspired to create Largo given his passion for films, and the fact that he makes movies in his spare time. "Largo isn't designed to replace the creative process but it can evaluate the content for audience segmentation, make casting recommendations and deliver robust budget analysis and estimate the return on investment for investors, all before a project is even shot," he said.
To develop the software's artificial intelligence algorithms, Largo's team first identified hundreds of variables to consider, incorporating data from numerous databases including one with 200,000 actor profiles. They then ran nearly 40,000 film scripts and trailers through their program to train the algorithms. The result is a deep-tech system which can generate the cinematographic DNA of any given story in a text or video form.
During this festival, a select group of fifteen producers, ranging from small production companies to award-winning producers from across the globe, had 4-minutes to pitch their projects in front of film finance executives and distributors. This included Barry Alexander Brown (BlacKkKlansman), a two-time Academy Award Nominee who pitched his action-thriller M Squared and Kathryn Aboya (Downsizing) who will deliver a science fiction fantasy project titled Mekhala with a $5.5 M budget, offering investors a 467% return on investment, based on Largo.ai projections.
Following each pitch, the results from Largo.ai for each project were shared with the audience. The results include forecasts for the box office and streaming platforms as well as insights for casting, budget levels and the structure & elements of the story.
"We had a great audience that could see both the artistic and AI interpretations of the movies in production. AI has become a significant leverage for independent film production and we saw great examples of how producers could use data and AI to support their projects in a more objective way and accelerate their financing process," said Arpa.
"It's so exciting to be here at Cannes and to provide these tools to filmmakers and financiers knowing that AI can take some of the guess work out of the equation with data-backed insights. We would like to thank to the Cannes Film Festival for helping us to bring this innovation in the film industry to the stage," he concluded.
---