Isabelle Eula, EPFL's expatriate librarian
After spending more than 20 years abroad, the new head of the EPFL Library has settled down on the shores of Lake Geneva. A portrait.

In the light-filled Rolex Learning Center, Isabelle Eula is a shining presence. One is immediately struck by her generous smile, welcoming manner and unique form of elegance. Eula's radiant character was formed by her many experiences over the last two decades, starting in her native France and continuing in South Africa, Malaysia, the United Arab Emirates and Qatar. The new head of the EPFL Library left her homeland behind and – driven by a wanderlust inherited from her father – set out to see the world, fuelled also by a desire to share knowledge. Rather than returning to France, Eula has decided to drop anchor at EPFL to oversee the transformation of the EPFL Library in response to the relentless evolution of the digital scholarly landscape.
"Even when I was very young, I knew I wanted to go into the field of education and work in an institution of higher learning," she says. Eula could have trained to be a teacher, but instead opted to be a librarian. After receiving a Master's degree in scientific and technical information, she decided she wanted to work in an English-speaking setting. While at the Institut de l'information scientifique et technique in Nancy, a CNRS-affiliated institution, she continued her professional and language training in Santa Barbara, California and Pretoria, South Africa.
Even when I was very young, I knew I wanted to go into in the field of education and work in an institution of higher learning
The American dream
At the start of the new millennium, Eula began living out her American dream by crossing the threshold of a building in… Leysin! She became head of the library at the Leysin American School. In 2003, she set off to help establish an international school in Abu Dhabi. A year later, she was hired as the library director of Carnegie Mellon University in Qatar, before becoming associate director of the Qatar National Library project, which aimed to serve as both a university library and the country's national library. This proved to be an exciting project for Eula, who was able to share in the creation of an educational hub from the ground up – from the building and its collections to staff hiring. "It was an amazing experience to be able to make a small contribution to Qatar's transformation," she says.
In 2013 Eula handed over the reins to a Qatari colleague and moved with her partner to Thailand. After a year's sabbatical, she relocated to Kuala Lumpur where she became director of Monash University Malaysia's library. After twelve long months of strict lockdown, however, she began to rethink her career path. "In a completely virtual workplace environment, you can start to lose a sense of being part of an institution. In addition, it was no longer clear to me the direction Malaysia might be headed," says Eula, who strives to "make a difference" in people's lives.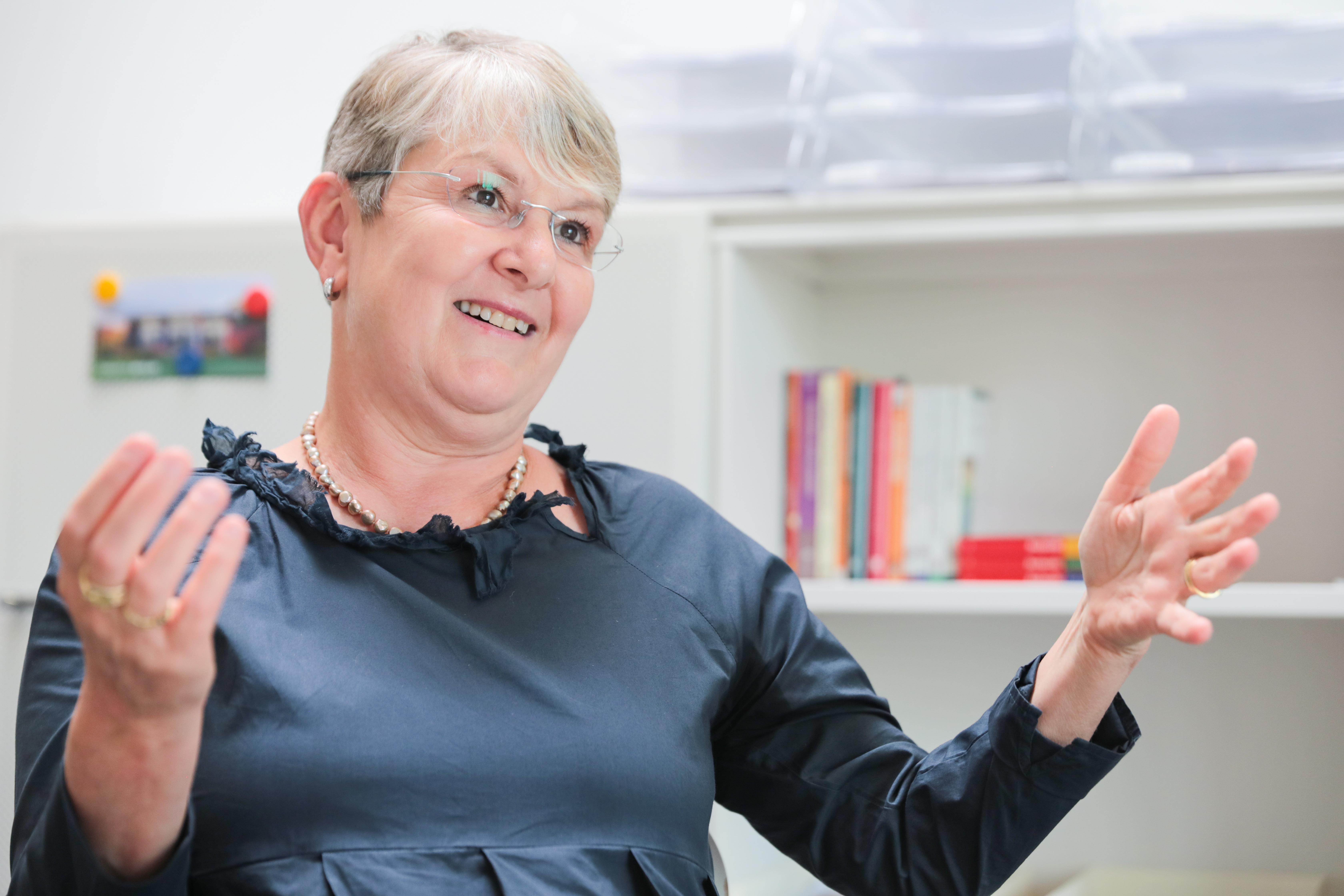 "My home is wherever I am"
Has she given up her American dream by moving to the shores of Lake Geneva? "I lived that dream through my immersion in different continents and cultures, which taught me that the most important thing is to stay humble. You come to understand that, regardless of the institutional setting, you always start over from the beginning." For Eula, her new role at EPFL– an international, multicultural university at the center of Europe – is part of a continuum, a "natural progression." "French at heart, I see myself as a citizen of the world, and my home is wherever I am," she says.
At EPFL, Eula and her team have a significant challenge ahead: the transformation of EPFL's library. Like her counterparts around the world, she is aware of the immense impact of the digital revolution, and her work here will also be informed by EPFL's firm commitment to promoting open science. Transforming the library will notably involve adapting its structure and functions to ensure that it can effectively fulfill its mandate of serving as an educational resource and promoting the production of scientific knowledge.
Relocating to the Lake Geneva area means that Eula and her partner have found themselves in a uniquely diverse cultural environment. It also means they will be able to take up hiking again and be close to nature. A final question to the new library head: which do you prefer, paper books or e-books? "Paper! I have a sentimental attachment to printed books. Well, perhaps not all of them – some I keep, some I share with friends and some I drop off at the book exchange box." Any discoveries she wants share? "Asian literature! For example, The Gift of Rain by Tan Twan Eng, When We Were Orphans by Kazuo Ishiguro, Pachinko by Min Jin Lee, How We Disappeared by Jing-Jing Lee and Sea of Poppies by Amitav Ghosh." Happy reading!
---