Intensifying cooperation in science between Switzerland and Argentina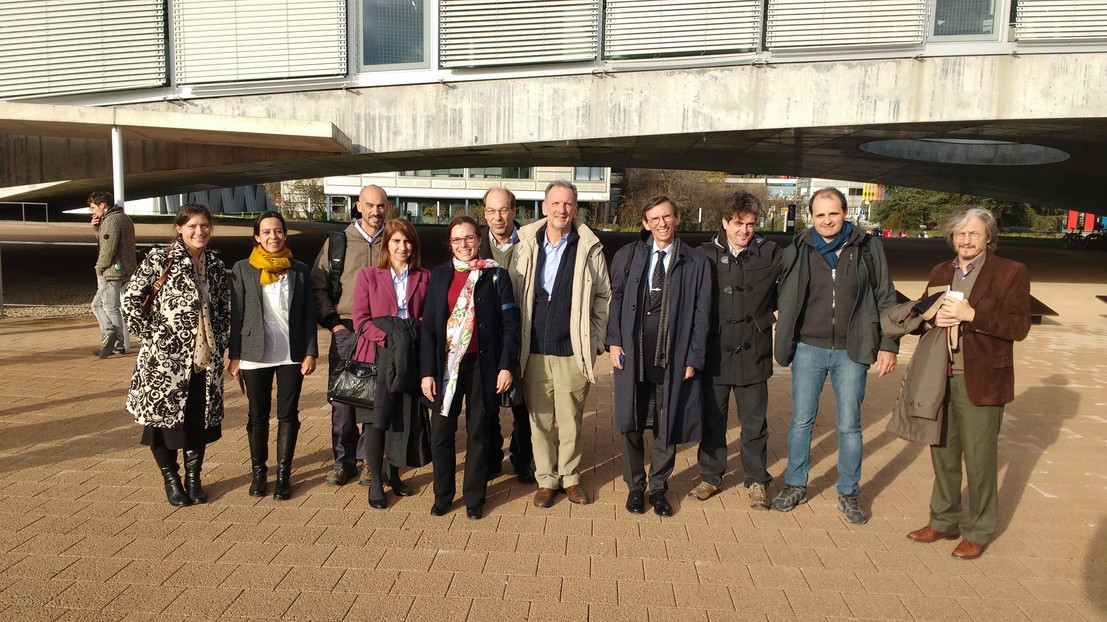 EPFL hosts visit of scientific delegation from Universidad Nacional de San Martin

A scientific delegation from Universidad Nacional de San Martin (UNSAM) composed of 10 scientists, headed by the Rector Dr. Carlos Ruta and accompanied by Ambassador Antonio Trombetta visited EPFL campus on 26 November 2015. During the discussions with Prof. Andreas Mortensen and Prof. Stephan Morgenthaler from EPFL Direction, the Director of Research at UNSAM, Dr. Anibal Gattone, expressed interest in defining cooperation venues between both institutions. UNSAM has particular strengths in physics and nuclear applications, biotechnology, ICT, environmental engineering, energy, astroparticles and electromedicine. Argentinean researchers met members of the EPFL scientific community including Prof. Ralf Schneggenburger, Prof. Daniele Mari, Prof. Michael Grätzel, Prof. Kevin Sivula, Prof. Magali Lingenfelder, Prof. Riccardo Rattazzi, some of whom have already collaborated with Argentina.
Seed Money grants for projects with Latin America
The visit was organized by the Cooperation and Development Center (CODEV), which leads the mandate of the State Secretariat for Education, Research and Innovation (SERI) for exploring potential cooperation with Latin America as part of EPFL Leading House (LH) activities. It is only recently that Swiss strategy in scientific cooperation has started to focus on Latin American countries and see them as promising future partners. A step in this direction was the recent launch of the Seed Money grant for collaboration with Argentina, Chile, Colombia, Mexico and Peru, which funded 28 new projects.
Swiss scientific fact-finding mission to Argentina
This visit follows last June's Swiss Scientific fact-finding mission to Argentina, headed by SERI State Secretary Mauro Dell'Ambrogio, which explored the potential for strengthening bilateral cooperation. Mr. Dell'Ambrogio and the Argentinian Minister for Science, Technology and Productive Innovation, Mr Lino Barañao, signed a joint declaration, laying the foundations for intensification of cooperation. Also, the Swiss National Science Foundation (SNSF) and the Argentinean National Scientific and Technical Research Council (CONICET) decided to expand their collaboration. The fact-finding mission helped to confirm the belief that Argentina offers cutting-edge research in areas in which Swiss researchers are also active, providing an excellent opportunity for new partnerships.
---
---