Intelligent Fitness Mat Wins IEE Smart-Sensor Prototyping Competition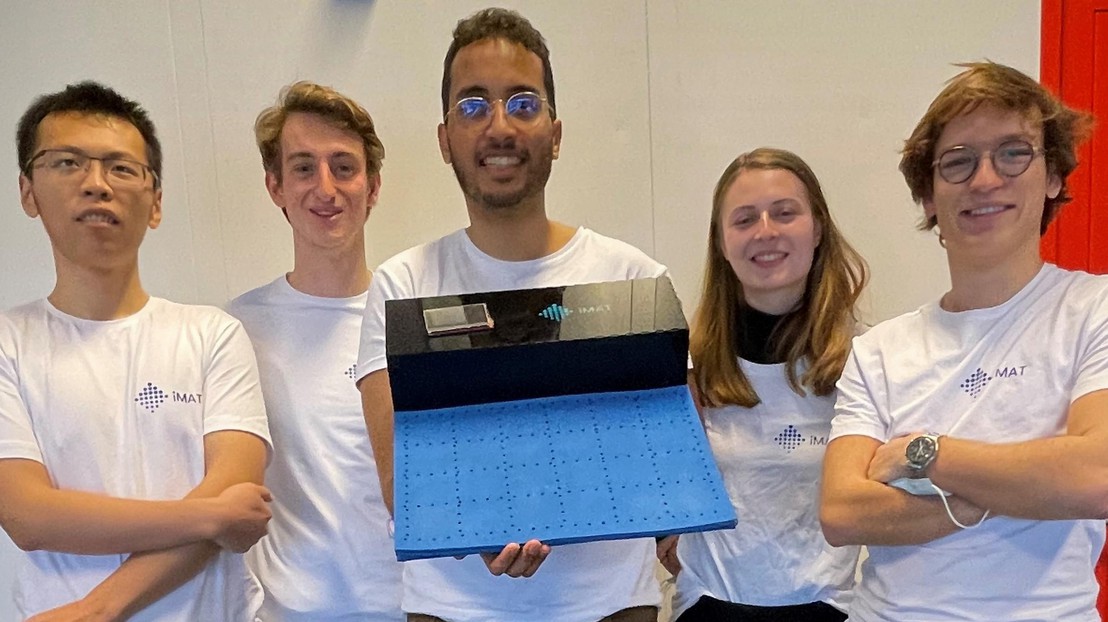 In the latest edition of Véronique Michaud and Thomas Weber's graduate course on Innovation and Entrepreneurship in Engineering (IEE), nine different teams worked with companies on a prototyping challenge. Under this year's course theme of "Smart Sensing" companies such as Montblanc, Nestlé, and Vacheron Constantin submitted proposals for collaborative projects, taken up by interdisciplinary student teams and supported by a diverse group of faculty. The winner of this year's IEE Prize, as judged by a panel of experts, was a product concept developed in collaboration with Sequent, a Swiss startup in the domain of self-charging smart watches. The students' iMat proposes a sensor-enabled fitness mat with smart user feedback to enable guided exercising.

Over the past decade, the variety and capabilities of sensors surrounding us have advanced tremendously. This progress has led to the emergence of smart-sensor systems capable of converting physical stimuli in the environment into actionable real-time information. For companies, this begs the natural question of how to make practical use of this technological potential in their products, all by creating value for their customers? The third edition of the EPFL master's course on Innovation and Entrepreneurship in Engineering (IEE), jointly offered by the EPFL School of Engineering (STI) and the College of Management of Technology (CDM), created a challenge around this very question. Nine teams of about five students each worked on ideas proposed by industry partners under this year's theme "Smart Sensing" to construct product prototypes with their corresponding business concepts with the aim of creating proof-of-concept solutions, together with economically and ecologically viable business plans.
In the 2021 fall semester, students across disciplines teamed up to address industry challenges provided by Swiss companies, including Fischer Connectors, Montblanc, Nestlé, Sequent, Wearin', and Ypsomed. In addition to solving a technical challenge, the teams had to develop a business plan for their product and pitch their solution ideas in front of a jury panel composed of Prof. Thomas Weber (Chair of Operations, Economics and Strategy [OES] at EPFL), Prof. Véronique Michaud (Laboratory for Processing of Advanced Composites [LPAC] at EPFL), Dr. Marc Laperrouza (Co-founder of the China Hardware Innovation Camp [CHIC] at EPFL), and Lucas Tschuor (Director, Liquid Flow Products, at Sensirion). This year's course theme was on extending the capabilities of sensor systems by processing collected data and designing a control structure for decision-making. As in prior years, students were asked to find an optimal solution from an engineering, business, and sustainability perspective. Supported by industry sponsors that provided guidance for tackling the problem, the students developed functional prototypes and rose to the most demanding challenge in this course thus far.
Team 1: Smart Connectors, in collaboration with Fischer Connectors
Students: Pierre Chassagne (MT-RO), Vincent Pasquier (GM), Luca Pedro (MT), Alex Terzi (GM)
Industry partners: Valentine Favrod, Jean-Marie Buchilly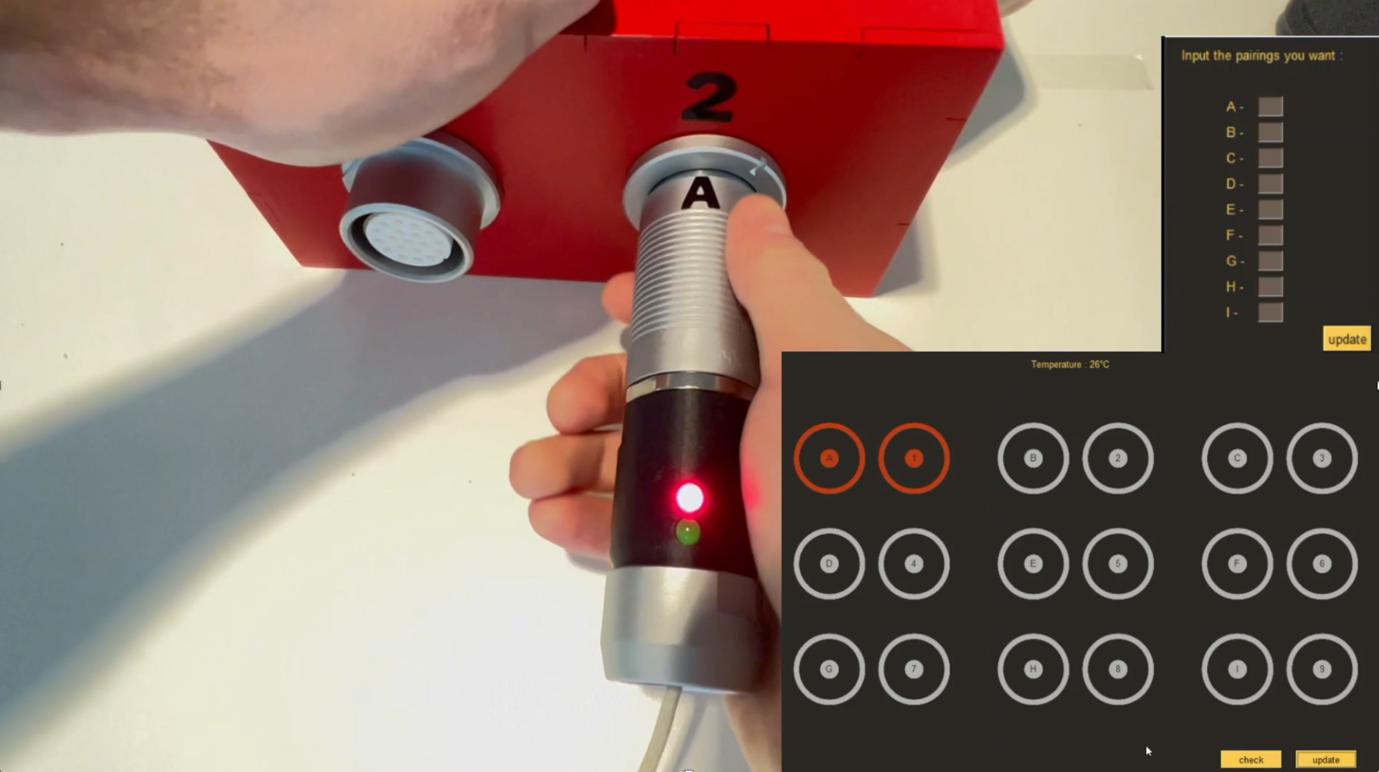 The challenge proposed by Fischer Connectors was to completely re-imagine an industrial plug connector. While often simply perceived as an object with the sole purpose of transmitting signals, the project challenged students to use this essential fundamental interface to reduce error potential and embed additional intelligence in the generic device. The students recognized that verifying the state of the connection for a panel with multiple connectors is mission-critical for complex systems in high-pressure environments. Therefore, the team developed an add-on feature embedding in the body of a connector that could digitally verify connection state and possibly keep track of additional environmental information such as temperature or humidity. In addition, the proposed solution was reprogrammable to address the minimization of electronic waste as a significant sustainability issue.
Team 2: Stress Detection, in collaboration with Montblanc
Students: Alexandre Aouididi (MT-RO), Victor Evian (GM), Paul-Antoine Martin (GM), Alexandre Reis de Matos (SC-DS), Amélie Roche (GM)
Industry partner: Dr. Felix Obschonka

Montblanc's quest for the student team was to extend the functionality of a smartwatch. Currently, a variety of sensors already feature in existing smart watches providing data for a multitude of services. The team addressed the challenge by building an algorithm for stress detection. The focus was on identifying the sources of stress from various data streams and processing the information to notify the user with prevention steps.
Team 3: Mood Sensing, in collaboration with Nestlé
Students: Nour Azzoug (ING-PHYS), Pierre Castet (GM), Eva Gautier (MTE), Sean Glasgow (MTE), Audrey Piccini (GM)
Industry partner: Dr. Kyoko Koshibu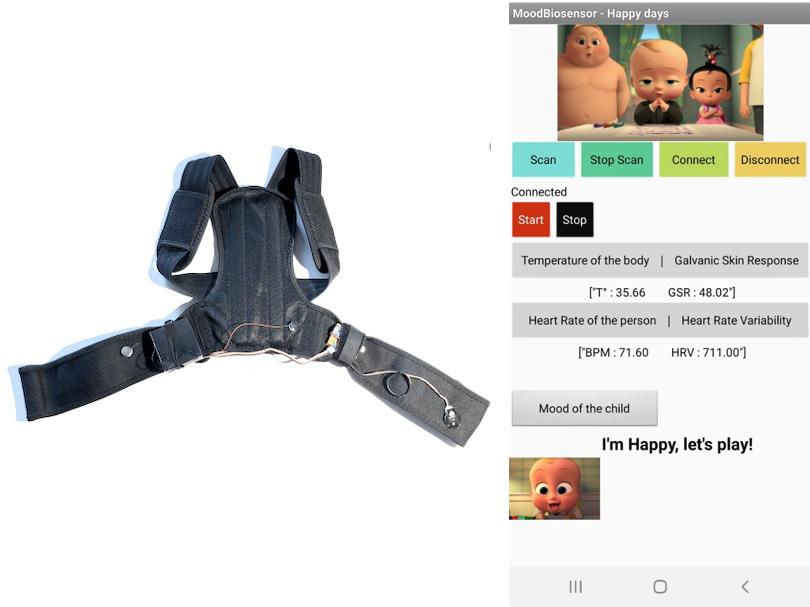 Mood is unpredictable and subject to change at any time. While adults are capable of communicating and self-monitoring these moods, babies and toddlers can only partially communicate them. Therefore, Nestlé raised the question: How do you measure the emotions of children?
The project was addressed by the team's solution «Happy Days», a band that aims to monitor children's (between two and five years old) mood throughout the day. Fulfilling the design specifications of being non-invasive, hypoallergenic and convenient for children, the band is capable of measuring physiological and biological responses.
Team 4: Shelf-Life Monitoring, in collaboration with Nestlé
Students: Vibhu Baibhav (GM), Melissa Kossairi (GM), Wanting Li (MTE), Syrine Mansour (MT-RO), Tifaine Urban (MX)
Industry partners: Dr. Linda Brütsch, Dr. Jan Engmann

Introducing fully recyclable packaging while ensuring food safety and product quality is a challenge for food processing firms around the world. Nestlé's proposal for the students was to develop a sensor system capable of monitoring a product's shelf life. The students developed a system that monitors external environmental factors, namely the temperature and humidity, to assess the food's quality in sustainable packaging. By providing information on the storage conditions, the solution would help to minimize both food waste and carbon footprint of the product.
Team 5: Sensory Prediction, in collaboration with Nestlé
Students: Yann Boudigou (MT-RO), Imene Hafiz (MX), Si-Ying Lai (SV), Louis Rostaing (MT), Sebastian Velez de Villa (IN)
Industry partner: Dr. David Labbe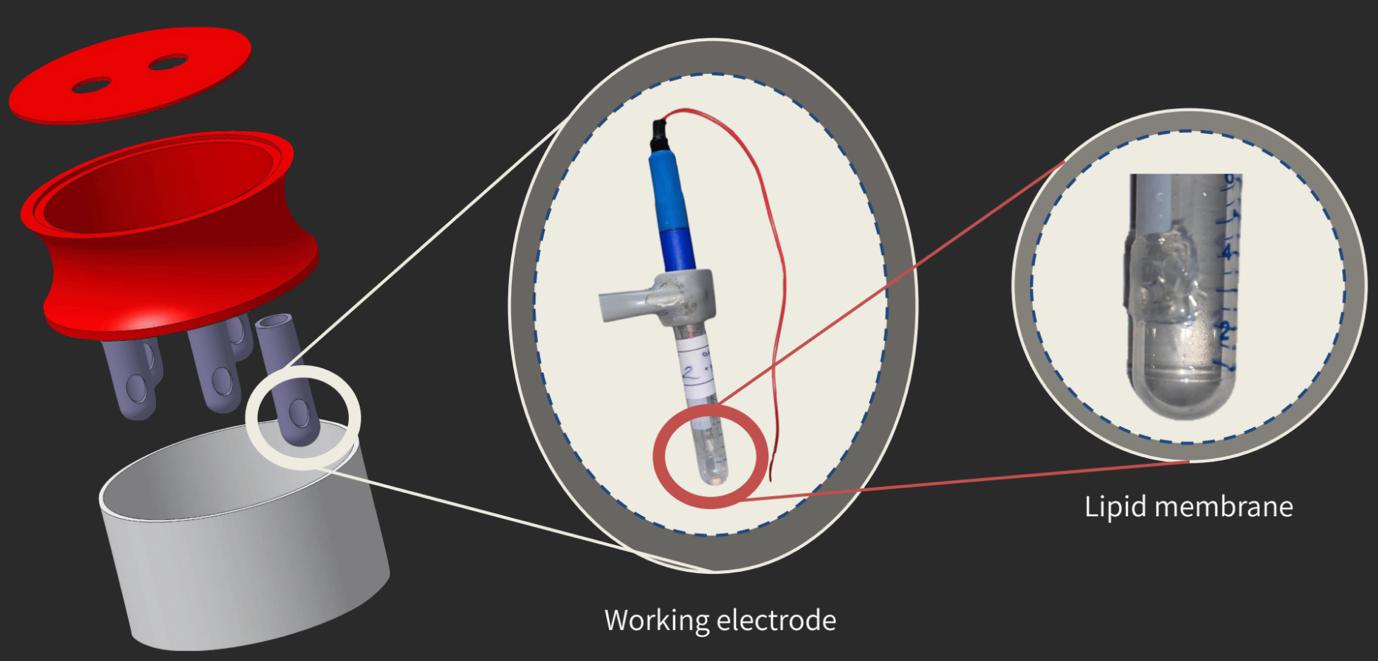 When it comes to the quality assessment of a product's properties, sensory evaluation plays a crucial role. Currently there is no all-in-one sensor that is portable, low-cost, user-friendly, and highly precise in the market, so Nestlé asked the students to help find a solution fulfilling these industry requirements.
The final device developed by the team was an e-tongue capable of detecting sweetness. Leveraging lipid membranes, the students were able to present a solution meeting all industry requirements.
Team 6: Smart Fitness Mat, in collaboration with Sequent
Students: Achraf Abdelhadi (EL), Pierre-Amaury Anton (MT), Eva Bouffard (CGC-ING), Gauthier Petitfrere (GM), Chengzhang Xu (GM)
Industry partner: Adrian Buchmann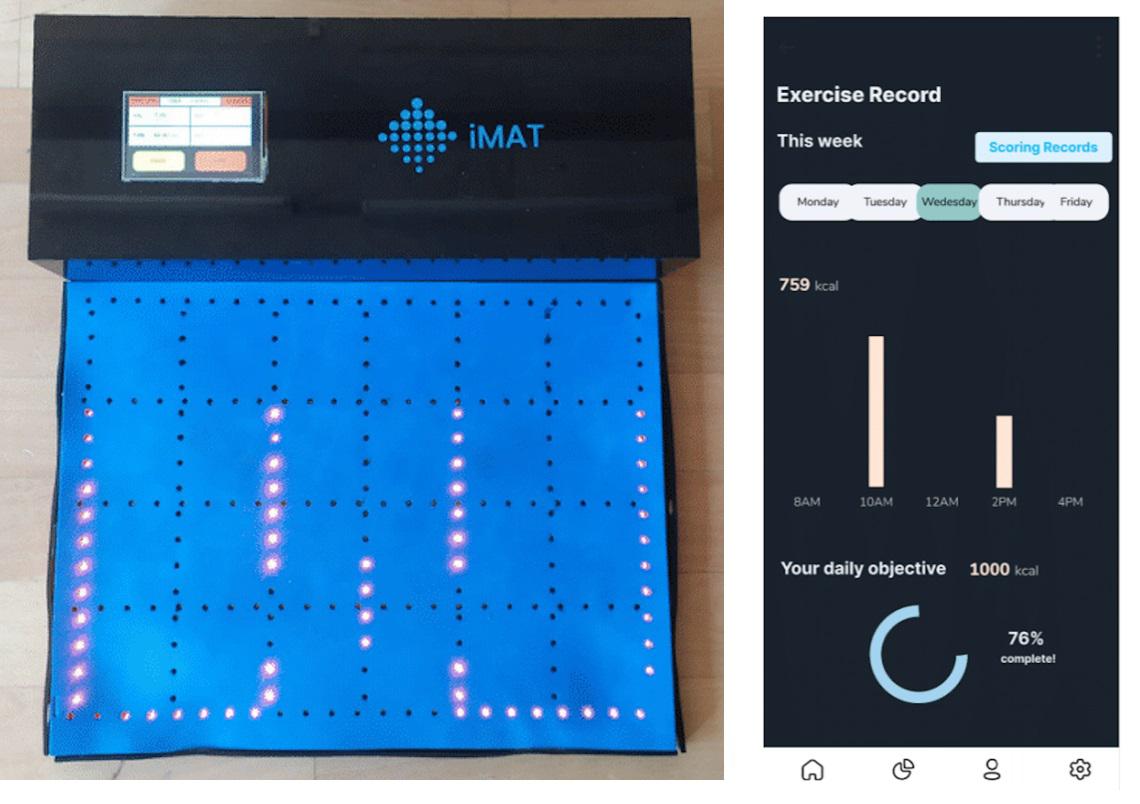 Obesity is a growing problem worldwide with tremendous consequences on public health and ecology. Sequent requested the students to come up with ideas for supporting people who aim to lose weight.
In order to help maintain the level of motivation and sense of control throughout the stages of weight loss, the team developed a product named 'iMat'. Key features of the product include: posture analysis and correction, visual interface with LEDs providing guidance through the exercises, activity monitoring (time, calories burnt), personalized training and support with an online community through an app connected to the mat.
Team 7: Watch Tracker, in collaboration with Vacheron Constantin
Students: Tobias Bachmann (GM), Yanis Bouadi (MT-RO), Mohamed Dhraief (SC-DS), Camille Dignac (CGC-ING), Mélanie Jeannin (GM)
Industry partner: Paul Bertusi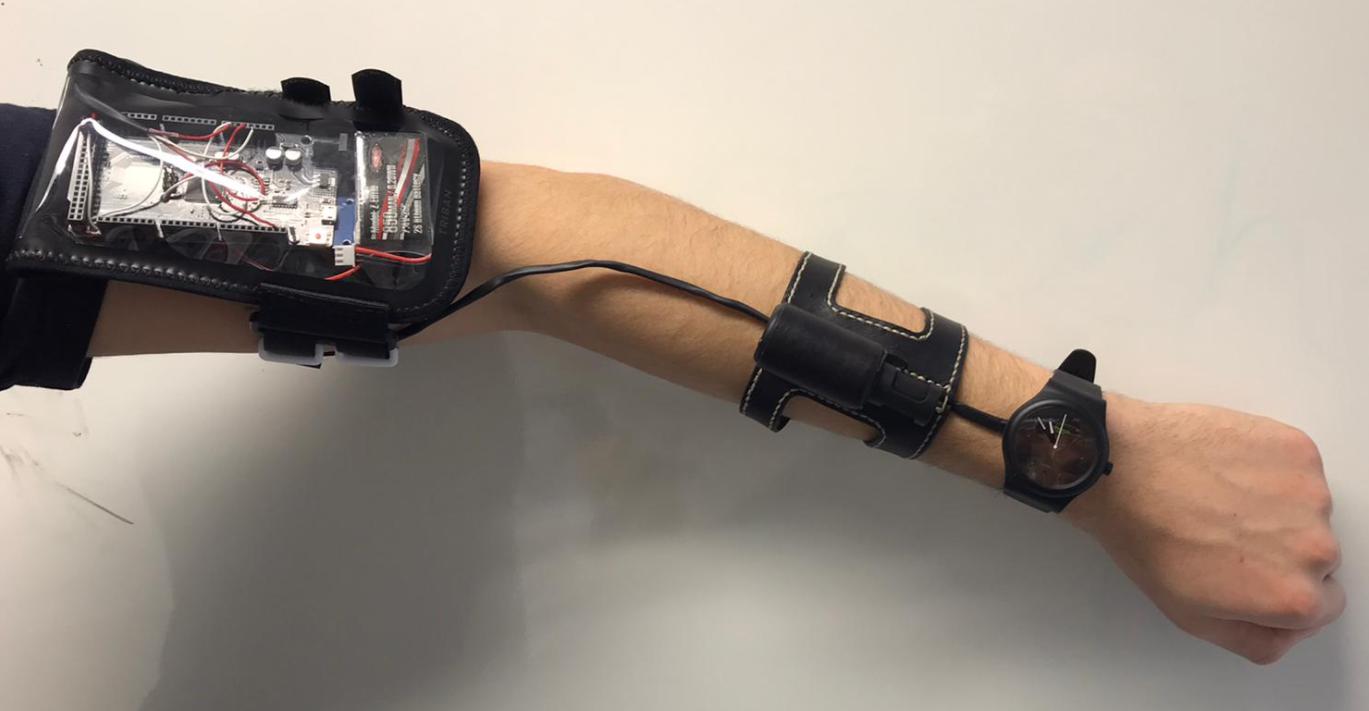 Vacheron Constantin was looking for a solution to measure key features of a watch, such as chronometry and winding velocity while a user is wearing the watch.
The team developed a wearable prototype showcasing the ability to measure chronometry, winding velocity and wrist movements. Understanding the correlation between the watch accuracy and the user's movements provides important new insights about the watch and supports future watch development. While the watch tracker is targeted initially for professionals within the Vacheron Constantin manufacture, it could be quickly rolled out to other brands in the Richemont universe, and to watch enthusiasts more broadly.
Team 8: Detecting Acute Stress, in collaboration with Wearin'
Students: Yann Bebene (EL), Sélim Kamal (MT-RO), Alexander Koux (MTE), Vianney Mellerio (GM), Eva Pierucci (GM)
Industry partners: Sakura Nussbaum, Adriana Arza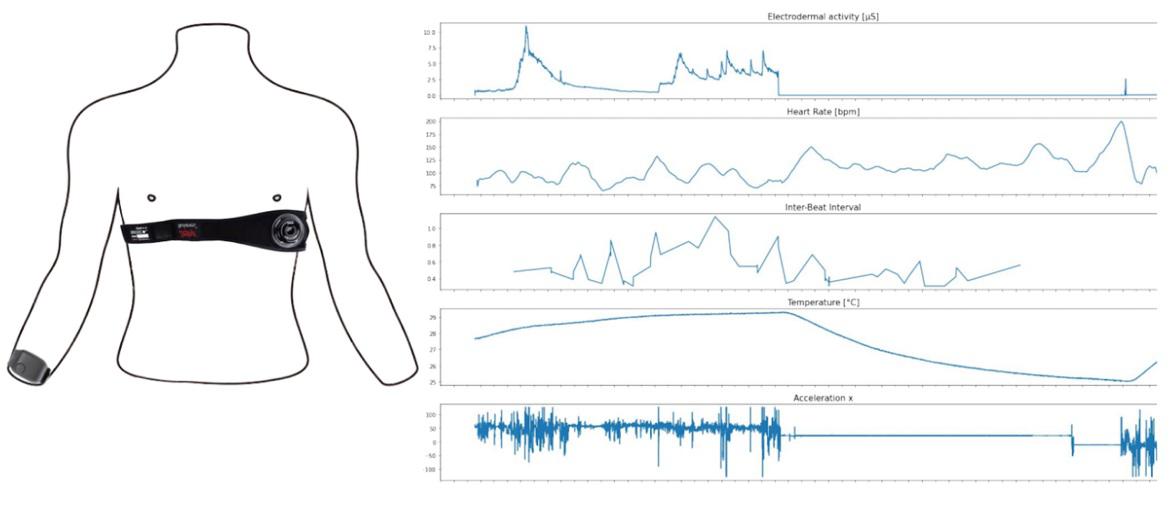 Wearin' was interested in finding a solution to measure acute stress in real time. The complexity mainly derives from an individual's characteristics such as age, height, weight, and gender. In response to the challenge, the team conducted experiments where users were exposed to acute stress via virtual reality. By monitoring the process using multiple sensors, the team was able to build an algorithm to detect acute stress.
Team 9: Sensors for Self-Medication Systems, in collaboration with Ypsomed
Students: Louise Bugnard (GM), Léa Damiano (MX), Arman Ehsasi (GM), Théo Hermann (MT-RO), Alexandre Yortholt (MTE)
Industry partner: Dr. Stefan Mangold

Diabetes is a chronic disease which requires strict self-therapy that will most likely last for the patient's entire life. Therefore, Ypsomed raised the question on what sensors are critical for designing a self-medication system for users. The students proposed a solution, which is comprised of an insulin pump, a continuous glucose monitor (CGM), a bio-sensor bracelet and a companion app. With such an autonomous system, the complex process of measuring glucose levels, calculating and administering insulin doses is simplified, making the self-therapy easier.
2021 IEE Prize – Results
Finding novel ways to generate value for customers by extending the sensing capabilities of sensors was a difficult challenge for all teams. Physical and design constraints pressured the students to come up with systematic solutions that are suitable to generate data for continuous learning. The jury was impressed by the creative ways the industry problems were addressed and the market opportunities identified with the solutions proposed. All presentations were rated by the quality of the business case, functionality of the prototype, and overall professionalism. The winner of the competition was Team 6 with their product, 'iMat'. By extending the classical workout mat with innovative features, the team demonstrated how to radically reinvent a product. iMat not only fulfilled the user needs ranging from posture correction during exercises, calorie monitoring to social interaction, but also highlighted what the future of exercise mats could look like. A subscription-based pricing model would enable recurring revenues whilst building a vibrant user community. Team 6 were therefore the winners of the 2021 IEE Prize for the best project in this academic year's course MGT 555: Innovation and Entrepreneurship in Engineering.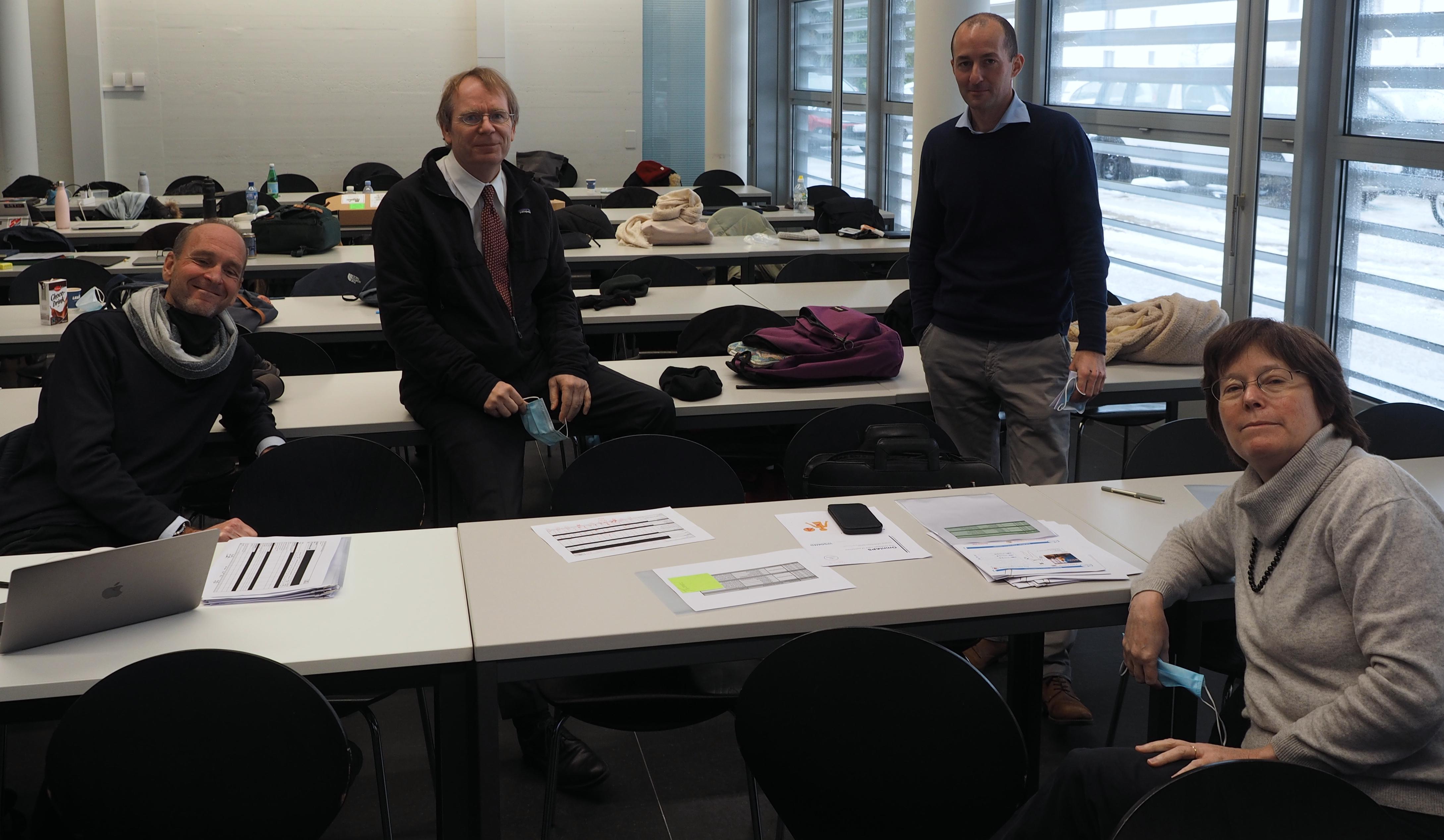 The course, given for the third time since 2019, was supported by faculty and experts, at EPFL and beyond, contributing their expertise in technology prototyping, economic evaluation, and sustainability assessment, including (in the order of appearance) Prof. Marc Gruber [ENTC, EPFL]; Prof. Chris Tucci [Imperial College London]; Prof. Carlotta Guiducci [CLSE, EPFL]; Dr. Christophe Salzmann [LA3, EPFL]; Prof. Fabien Sorin [FIMAP, EPFL]; Dr. Martyn Wakeman [LPAC, EPFL]; Prof. Colin Jones [LA3, EPFL]; Dr. André Catana [STARTUP, EPFL]; Dr. Jérôme Payet [ENAC, EPFL]. The course was coordinated by Philipp Schneider [OES, EPFL] and administrative assistance was provided by Ilona Ball [OES, EPFL].
The instructors are indebted to the Vice-Presidency for Innovation, in particular Liana Ugnat Mansour [VPI, EPFL] and Pascal Vuilliomenet [Discovery Learning Laboratories, EPFL]. Finally, the course could not have been undertaken without the strong support by Prof. Ali Sayed [Dean, School of Engineering, EPFL] and Prof. Dominique Foray [Dean, College of Management of Technology, EPFL] who shared the financial support for the student projects.
---
---