IC School honoured by EuroSys Awards 2016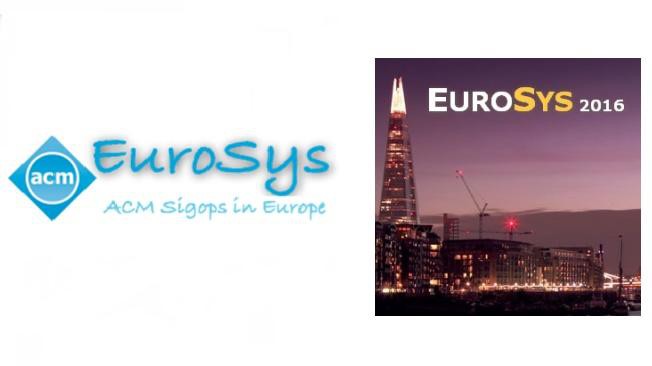 The European Systems Conference 2016 saw a number of distinguished awards attributed to IC School, namely three of the five awards were given to Professor Katerina Argyraki, Dr Baris Kasikci and Dean James Larus during this week's award ceremony.

Tenure Track Assistant Professor Katerina Argyraki, who is leading the Network Architecture Laboratory, received the Eurosys Jochen Liedtke Young Researcher Award 2016. The award is given annually to a researcher for an outstanding contribution to the advancement of computer science related to the development, design, architecture, deployment and operation of software and hardware systems.
IC alumnus, Dr Baris Kasikci, received the Roger Needham PhD Dissertation Award for his thesis entitled: Techniques for Detection, Root Cause Diagnosis and Classification of In-Production Concurrency Bugs​, elaborated under the guidance of IC Professor George Candea of the Dependable Systems Laboratory. The award is given to a PhD student from a European University whose thesis is regarded to be an exceptional and innovative contribution to knowledge in the systems area. 
The EuroSys Test of Time Award was given to Manuel Fahndrich, Mark Aiken, Chris Hawblitzel, Orion Hodson, Galen Hunt, Steven Levi and IC Professor, and Dean, James Larus on their EuroSys 2006 paper: Language support for Fast and Reliable Message-based Communication in Singularity OS.
EuroSys is the European chapter of the Special Interest Group on Operating Systems (SIGOPS) of the Association for Computing Machinery (ACM). The goals of EuroSys are to act as a focal point for researchers in the area of systems and to contribute to increasing the visibility of systems research in Europe. EuroSys operates exclusively for educational and scientific purposes to promote excellence in Computer Systems education, research and industry in Europe.
---