"I very much like the collaborative aspect of research"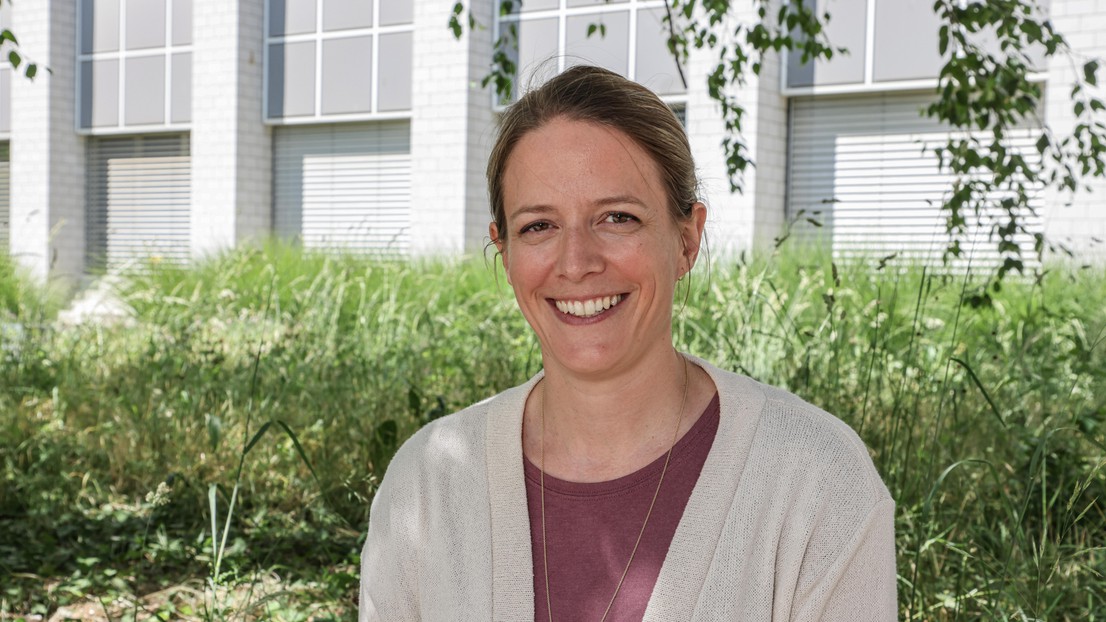 Marianne Liebi, a new tenure-track assistant professor at EPFL and the Paul Scherrer Institute, is setting up a lab at EPFL to further explore the structure of soft matter materials using X-ray scattering.

After working for several years at Chalmers University of Technology in Sweden, Marianne Liebi is back on her home turf. She has been appointed as a tenure-track assistant professor at EPFL's School of Engineering (STI) and at the Paul Scherrer Institute (PSI) – which is located in her home canton of Aargau.
Liebi's research consists of developing methods for investigating the structure of biological materials, like bone, using X-ray technology and other characterization techniques. "Bone is a highly hierarchical material," she says, "and traditional computed tomography can only provide limited information – such as grey values representing the material's density. But with X-ray scattering, we can observe the nanoscale structure of bones, down to the orientation of the collagen fibers. This can help us understand how the structure of bone changes following the onset of osteoporosis, for example." This novel approach, also known as multi-modal tensor tomography, could also be applied to other materials with a hierarchical structure, such as composites and polymers.
The Structure and Mechanics of Advanced Materials (SMAM) Group that Liebi leads at PSI uses the Swiss Light Source synchrotron – a giant, circular particle accelerator where electrons traveling at close to the speed of light generate a broad spectrum of electromagnetic radiation in the X-ray range. Researchers use this radiation to conduct experiments.
Liebi, who earned her Master's and PhD at ETH Zurich, is very familiar with PSI's research facilities. "I first started doing experiments at PSI while doing my Master's. Since then, I've always been enthralled by its large-scale equipment," she says. Using the synchrotron is an exercise in endurance, but it ultimately pays off. "When you get access to the synchrotron, you're given for example 72 hours to conduct your experiment. During that time, you run your experiment day and night – it's very intense!" she says. "You spend a lot of time preparing, and you have to coordinate the entire process with a team of scientists working in shifts."
At EPFL, Liebi has been tasked with starting her own lab – the Laboratory for X-Ray Characterization of Materials. She makes it clear that the research at her lab will be interdisciplinary in nature. "I very much like the collaborative aspect of research," she says. "I believe that, nowadays, the really interesting questions to be solved touch on numerous disciplines. That's why I'm looking to hire an interdisciplinary team of PhDs and postdocs – some with a computational background and others with more of a focus on experimentation, materials science or the basic sciences."
Imagining her lab in a few years' time, Liebi sees a close-knit team working together on developing promising new analytical methods. "My goal isn't to have a huge group, but rather one in which everyone knows each other very well and feels comfortable bringing in their ideas," she says. "Our aim will be to make new methods available to as many researchers as possible."
Liebi is an ERC Starting Grant holder and currently divides her time between three jobs, as she is still supervising three PhD students at Chalmers. "Because Covid happened before I left, none of my PhDs was surprised about being supervised via Zoom," she says. In spring next year, Liebi will teach her first EPFL class, "Materials Science at Large-Scale Facilities" – a title that gets to the heart of her research. "We will definitely try to take the students to PSI for on-site visits," she says. "That will be a great way of bringing EPFL and PSI closer and getting the students to make the connection between theory and practice."
For more information about the research group, visit: https://www.psi.ch/en/smam
---