"I've sought out justice ever since I was a child."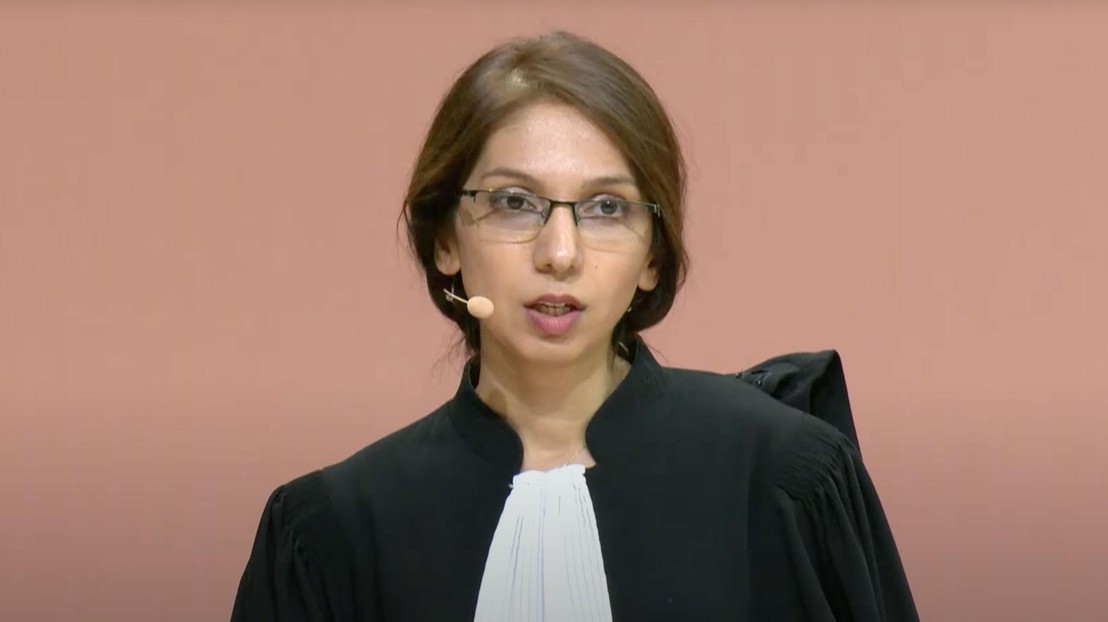 Maryam Meylan, legal counsel at EPFL and a Geneva Bar trainee attorney, has just won the prestigious Caen Memorial's international pleading competition. The Iranian delivered a moving account of the situation in her country, which also earned her the public award.

After a few opening remarks that could've been the start of a fairytale, Maryam Meylan warned the audience that they can no longer look away. "Whether you like it or not, you will be witnesses to a tale of 512 stolen lives. 512 disappearances.512 devastations. A million injustices."At the pleading competition held in Caen, France, on 12 March, Maryam Meylan was one of 10 French-speaking attorneys from around the world selected to plead a real case of human rights violation. Speaking on behalf of all victims of the Iranian regime, Maryam 's defense deeply moved the jury as well as the audience, winning her both the jury award and the public award.
Maryam, 36, titled her defense Femme, vie, assassinée ("Woman, life, murdered"), a powerful take on the Iranian uprising slogan Femme, vie, liberté ("Woman, life, freedom"). As an attorney, Maryam delivered the pleading, but as an Iranian woman, she is also one of the suffers. "I am Masha. I am Sarina. I am Kian. I am Javad. I am Nima. I am all and every single man and woman who was murdered or who will soon be."
Maryam Meylan doesn't mince her words, enumerating every horror inflicted on the peaceful protestors, every one of their rights violated, and every justice trampled on. "It'd be more appropriate to ask which human rights are not violated in Iran." Her voice wavered but didn't falter as she declared: "Mr. President, ladies and gentlemen of the jury and the audience, my dear colleagues – today I am not participating in a pleading competition. Today I am using this platform to give voice to the demands of the men and women who are begging for our help."
Her pleading deserves to be heard. When she finished, the audience was shaken, with lumps in their throats and tears in their eyes. "My heart was weeping," Maryam says. "I see this award as proof that the Iranian people's voice was heard." That was her goal in taking part in the competition, following a suggestion by her traineeship supervisor and attorney Nicolas Capt. "I was looking for a public platform to shed light on the situation in Iran. The media coverage may have died down, but the repression hasn't."
Dedicated to law
When Maryam first arrived in Geneva 10 years ago, it was to begin a Master's program… in English literature. She spent her first year taking intensive French classes, while her degree program was exclusively in English. Then she discovered law and had a revelation. "I've been seeking out justice ever since I was a child. I would always defend those who were being oppressed or accused. But in my country, studying law was never an option. It's impossible to practice freely. Today lawyers are thrown in jail." She admits she's encountered difficulties along the way: learning the language, of course, especially in a field where words carry a lot of weight. The level of commitment it takes, and the administrative steps for a non-European national. But she is undaunted. "I wanted to dedicate my life to this."
Maryam has been working part-time as a legal counsel in EPFL's Legal Affairs office since November 2021. She handles student issues and the legal aspects of EPFL's contracts with outside organizations. For the past nine months, she's also been interning for a Geneva law firm that specializes in new technology.In addition to them, she continues her work in a field that she is passionate about: humanitarian law.
In terms of her identity, Maryam admits she feels somewhat divided. "I fully identify with Switzerland and its values. Being able to practice law in a democracy like this is an incredible opportunity, and I want to keep going." But Maryam– who will apply for naturalization as soon as she meets the conditions – doesn't deny that she also feels homesick. "I miss my country enormously. Since moving to Switzerland I've been back only once, for a few days." Her fellow Iranians have been giving their lives to the cause for the past seven months, and Maryam trembles for them. She pleads once again, resolute: "Words are not enough. We need action. We need the international community to come to an agreement in order to achieve justice. We don't know how long the Iranian people can go without help."
---
---