"I had to act – my heritage was at stake"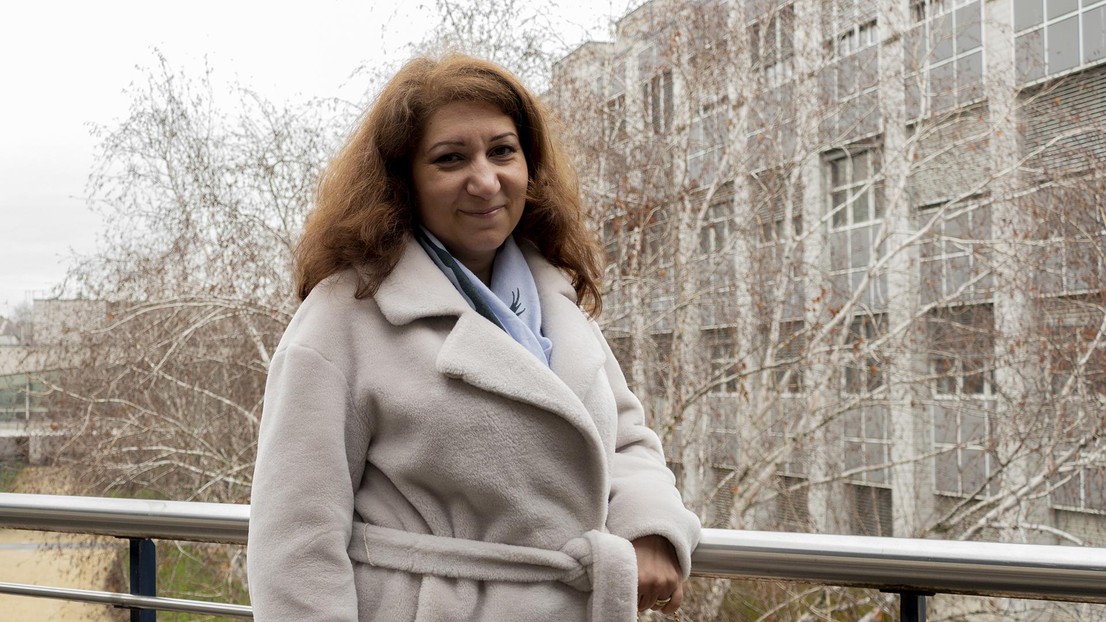 Hamest Tamrazyan came to EPFL in June 2022 under a Swiss National Science Foundation support program for Ukrainian researchers. After fleeing from Crimea and then from Kyiv, she made her way to Switzerland, where she joined EPFL's Digital Humanities Laboratory (DHLAB). Her work focuses on protecting Armenian heritage threatened by the conflict with Azerbaijan.

Hamest Tamrazyan has been caught up between two conflicts since early last year. First, Russia's invasion of Ukraine in February 2022, which forced her to flee Kyiv where she was working as an associate professor of linguistics. And second (and less well-known), Azerbaijan's attack of Nagorno-Karabakh, a disputed territory also claimed by Armenia and governed as the self-declared independent Republic of Artsakh since 1991. Azerbaijan currently occupies around 80% of the territory, which has a majority-Armenian population, and is attempting to rewrite its history. This second conflict began in September 2020 and is the current focus of Tamrazyan's research.
"In 301, Armenia became the first country to adopt Christianity as a state religion, a decade or so before the Roman Empire," says Tamrazyan, who is from Armenia. "It's home to many churches and gravestones dating from the 4th to the 19th centuries."
The Azerbaijan government is seeking to dispel the idea that Nagorno-Karabakh was ever Armenian. Their ruse is to attribute the area's religious monuments to "Caucasian Albanians" – a group of people who converted to Christianity in the 4th and 5th centuries and fell under the religious jurisdiction of the Armenian Apostolic Church in 705. This process of "Albanization" involves destroying inscriptions on churches and gravestones, which are written in the distinctive alphabet exclusive to the Armenian language. According to Anar Karimov, Azerbaijan's Minister of Culture, the aim is to remove "fictitious traces written by Armenians on Albanian religious temples." To date, 89 churches, 20,000 gravestones and over 5,000 funerary monuments have been damaged or destroyed.
On 9 March 2022, the European Union adopted a resolution expressing concern about the threat to Armenian cultural heritage in Nagorno-Karabakh. The resolution caught the attention of Tamrazyan, who at the time was still working as a linguist: "I had to act – my heritage was at stake," she explains. "The only thing I could really do was document known inscriptions and the scale of the destruction, creating a corpus of Armenian inscriptions in Nagorno-Karabakh."
Tamrazyan turned her skills as a linguist to epigraphy, or the study of stone inscriptions. But she faced a major obstacle: she couldn't travel to the region in person. Epigraphists usually work directly from stones, using a range of methods – such as rubbing ink on paper or feeling letters with their fingers – to decode inscriptions.
With time being of the essence, Tamrazyan had to improvise. "All I had were photos, and they were often of poor quality," she explains. The images she worked with came from books, Wikidata archives and documents from the 1980s, as well as from local contacts who provided updates on the condition of inscriptions. "For instance, I met with Armine Hayrapetyan, head of the Artsakh State Service for the Protection of Historical Environment, who provided me with photos from the department's archives," she explains.
Digital humanities and cultural heritage
Tamrazyan used software developed at DHLAB to annotate her vast collection of images. After completing a "diplomatic transcription" – a faithful record of the characters as they appear on the stone, including gaps and abbreviations – she then "translated" the text twice: first into modern Armenian and then into English. "My area of expertise is English historical linguistics, so even though I can read Classical Armenian, I also reached out to specialist epigraphists for support," she says. As well as recording the text of inscriptions, Tamrazyan added metadata for each image such as its location and date along with any relevant research literature.
"I consistently had tough decisions to make," explains Tamrazyan. "For instance, I had to think about how to indicate where an inscription is located on an object. The texts I documented came from church pediments, gravestones and khachkars, which are decorative crosses characteristic of Armenian culture. These crosses commemorate an event, a person, or a newly built site. The location of the text on a khachkar is a key piece of information for researchers."
Her corpus of cultural heritage will likely be of interest to medieval historians, historical linguists and architecture historians. The inscriptions are a treasure trove of dates, names, people and places, providing valuable insight into the history of Armenia and early Christianity. Ultimately, Tamrazyan intends to publish her research in open-access format.
"This is the first project of its kind in Armenian epigraphy," says Tamrazyan. "There are many similar initiatives in other languages, but Armenian remains heavily underrepresented in the linguistic corpus and in digital humanities in general."
The project was also an opportunity for Tamrazyan to sharpen her digital humanities skills. "I'm perfectly comfortable with history and Classical Armenian, but am a complete novice when it comes to coding and programming," she explains. "My colleagues at DHLAB were incredibly supportive. I generally knew what I wanted to do but didn't have the technical skills to make it happen. Fortunately, Frédéric [Kaplan, head of DHLAB] was always there to lend a helping hand!"
A life shaped by conflict
Tamrazyan says that moving to EPFL has given her some much-needed breathing space. "Life's been stressful since 2014," she explains. "My husband, children and I had been living in Sevastopol for 15 years when Russia invaded Crimea. We had to drop everything and start again in Kyiv. And we had no plans to leave Ukraine last year. We'd sent our children to study in Yerevan, the capital of Armenia, so they could connect with their Armenian heritage. In February 2022, we'd booked a week's holiday to visit them during a break in my classes at the university. As it turns out, we were on the last flight to Yerevan. We left Ukraine on vacation and never returned. Now we're in Switzerland – probably the most stable country in the world!"
This project has reoriented Tamrazyan's research interests: from now on, she plans to devote her time to preserving threatened heritage. She naturally has a particular interest in Armenian heritage, not just because of her own background, but also because of a unique feature of Armenian monuments: some 80% of them are located outside the modern-day state, in countries including Azerbaijan, Georgia, Iran, Israel, Russia, Turkey and Ukraine. "I've learned that many Armenian churches in Ukraine are also under threat – this time from shelling rather than a deliberate effort to rewrite history," she says. "I'd like my children to know what their ancestors built and achieved, which is why I want help preserve this heritage. It would be an honor to play my part."
---