How we leverage academia to uncover future innovation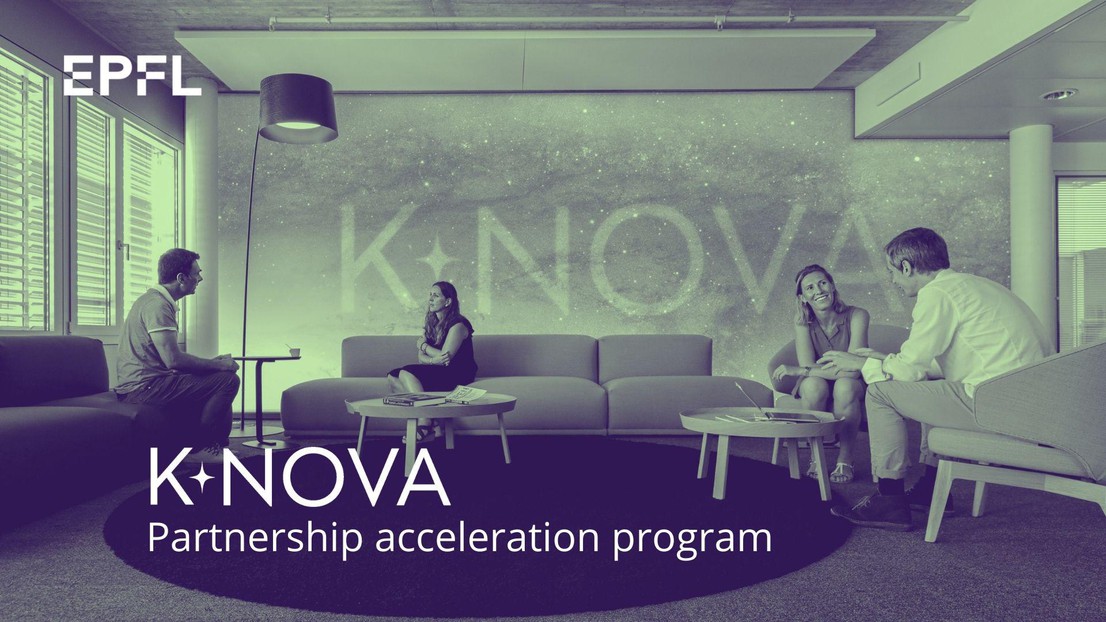 The new one-year immersive and accelerating program - KNOVA - launched and managed by the Vice Presidency for Innovation, allows companies to explore the potential of EPFL's innovation ecosystem and identify how they can use these new ideas to grow their business. The six companies that have joined for the year 2022 tell us about their choice and the reasons that motivated them to participate in the program.

Over the last 20 years, investment in research, development, and innovation has more than tripled [1]. In 2019, organisations (industry, governments, and academia) around the world spent a staggering $2.3trillion on R&D. Research from McKinsey suggests it's not just pharma and medical products who are investing. Companies from high tech to automotive to consumer are spending around 20% of their earnings on innovation and research[2]. But where are all these new ideas coming from?
More and more, industry is looking at research universities and their ecosystems of laboratories, students, startups, and companies for the answers. In the past, this hasn't been the easiest of relationships. Companies didn't know where to start, who to talk to, and the best way to get value out of the promising ideas coming out of universities.
KNOVA: a new accelerator enabling businesses to leverage academia and uncover future innovation
The Vie Presidency for Innovation has come up with a solution: KNOVA – the acceleration programme, a year-long immersive programme which enables industry to explore the potential of the EPFL innovation ecosystem and identify how they can use those new ideas to build their business. For a company to be part of the programme, they must dedicate the time of an employee (generally someone leading an innovation or business development team) to the experience. That employee will have access to a desk at EPFL Innovation Park and become part of a cohort of other innovation-focused companies. Together they will benefit from a curriculum of joint workshops on open innovation. They will also work individually as part of a cross-institutional team with a dedicated EPFL account manager on nurturing their innovation pipeline.
With a deep understanding of the participating company, the account manager will work to uncover new partnerships, identify interesting opportunities, and open up access to the value offered by EPFL's laboratories, startups, and companies. In return, the participating company will not only be able to learn more about EPFL and the benefits of a relationship, but also to build connections and exchange ideas and best practice on innovation with other companies from different sectors.
Meet the six companies in the 2022 KNOVA cohort
Chargeurs
Chargeurs is a multi-dimensional group of companies with 2,500 employees around the world. The company was founded in 1872 as a navigation company. More recently, it has focused on its four core businesses – textiles, luxury materials, museum management, and wellness. "We got a new CEO around 7 years ago," said Antoine Aminot, a member of the group's innovation department. "Since then, there's been a huge focus on developing innovation within the company – and this includes building partnerships with academia." Chargeurs were part of the KNOVA programme from the very start. For them, it's not just about working with the university, but also the workshops, presentations, and connections which help Chargeurs understand the environment.
Through our work with KNOVA, we're able to see the whole ecosystem at EPFL
"As well as working with new technology, we also get to exchange ideas and challenges with startups and corporates at the innovation park." By the end of the programme, Antoine hopes to have signed several partnership deals with different labs – particularly within materials and chemistry.
EDGE
EDGE helps their clients concentrate on their core business activities by taking away their day-to-day administration. From data management, to supporting geographical expansion, to certifications – EDGE works with a range of companies, from early-stage startups to vast multinationals. EPFL-alumni, Paul Gemperle, is the Chairman and CEO of EDGE and leading their involvement in KNOVA.
For me, it's simple: if you want to envision the future, you have to live in the future. There is no better place to do that than at universities!
For the EDGE team, this is a chance to sketch out the different opportunities and possibilities academia can offer. "I really wanted to go back to school! I had many ideas when I entered the programme," said Paul. "As I learn more about the school and the innovation there, different things are developing. I'm hoping that by the end of the programme, I'll have created new, exciting, and concrete long-term relationships."
IKEA of Sweden
The IKEA vision is well known: to create a better everyday life for the many people. For Stefan Rothmaier and Raffaele Giovinazzi, one of the ways they contribute to that is through their work with the KNOVA programme. The team of two work with both academics, early-stage startups and more mature businesses, well into commercialisation stage. "Innovation and entrepreneurship are part of our DNA in IKEA," said Raffaele. "We think that the combination of the ideas coming out of academia paired with the knowledge we have of people's life at home can come together to create a better everyday life for the many people." Stefan agreed with his colleague.
The real magic happens when we can connect the business, customers, and new technology to develop IKEA together – working in partnership
The IKEA team is particularly interested in sustainability and circularity. "How can we develop material that can be easily re-used, manufactured to avoid waste, and shipped in a smart way?" Stefan explained. The team will use the KNOVA programme to get better connected to academia ("Using our account manager as our anchor in Lausanne!") but also to connect and learn from other companies at the innovation park who share similar challenges.
Kistler
Kistler is the world's leading company in dynamic measurement technology. They help their customers understand the forces, pressures, and strains impacting their equipment allowing product improvement and cost savings. Gerrit Schatte is a business developer and project manager in Kistler's innovation lab. "Our company's purpose is to stay at the pinnacle of measurement technology," he told us. "As part of the KNOVA programme, we can get an overview of trends and, importantly, get to know the people who are developing these trends." Kistler's objectives for the programme are two-fold. They want access to brightest minds in engineering, but they also want to educate engineers on the practical application of piezoelectric measurement.
It's important for companies who want to be at the top of their game to be close to innovation at universities and not lose touch. Academia collaboration is an ingredient for constant innovation.
RUAG
RUAG is owned by the Swiss state, responsible for the life-cycle management, operation, and availability of Swiss Armed Forces systems. The company is a key partner of Swiss security and emergency actors and as such develops its cyberdefence cluster at EPFL. Yann Donon, a representative from RUAG's innovation organisation , is leading their work with the KNOVA programme.
We know there's huge potential in academia in general, and EPFL specifically
"We want to use the KNOVA programme as a starting point to get to know the academic environment, the different companies, and professors at EPFL," he said. During the year, they hope to get established on campus and start building the foundation for more long-term relationships. "It's got to be a two-way process," Yann continues. "As well as learning from startups, we want to be able to offer our expertise to the new innovations coming through the university."
Sensirion
Sensirion started life as a startup from ETH. Twenty years later, following a successful IPO in 2018, Sensirion now employs over 1,000 people across Switzerland, Asia, and US. The company manufactures microsensors – integrated sensors on silicon chips which can measure temperature, humidity, or liquid and gas flow. The company sells over 200m sensors a year. Lukas Bürgi is the head of sensor innovation and part of the KNOVA programme. "As a spin off from ETH, we already have a great relationship with academia in the German-speaking part of Switzerland," he said. "We'd like to strengthen our network in Suisse Romande." One of the benefits Lukas sees of the programme is the speed of connection.
We're on site, so it allows shorter, less formal meetings with professors and startups – there's a lower barrier to entry.
Sensirion's objectives for the year are to get a better understanding of the innovation coming out of EPFL and, hopefully, start a new collaboration.
Do you want to learn more about KNOVA?
If you're a researcher or if you work in an EPFL startup and you'd like to explore synergies with any of the companies in this year's cohort, get in touch with Federico Matteini, the KNOVA Program Director.
---
---