How to grow a building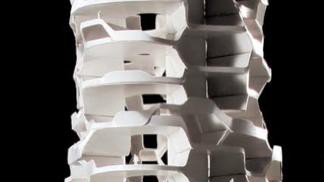 Architecture is coming out of the studio and into the computer room, generating exciting new organic forms based on scientific models of the natural world.
Walk into architecture professor jeffrey Huang's office in the computer science building, and the first thing you'll notice, once you've taken in the architectural models displayed on the long table that runs the length of the room, is a low, square table in the center of the room. Pull up a chair, and the table becomes an interactive graphical interface. Huang takes the earth in his hands, stretches it, rotates it, zooms in on the northern hemisphere. Together we find my mother's house on the outskirts of santa Fe; There's a car in the driveway. This is not architecture, but it speaks more clearly than words how computers and technology are changing the way we interact with information, how quickly the limits of possibility are being pushed back with every new discovery and development that emerges.
In his research and teaching, Huang explores how this unstoppable technological juggernaut could be leveraged in the world of architecture. Architecture, he explains, is rooted in the concept of the studio, a master-apprentice model that dates to the beaux-arts era and involves painstaking drawing and tracing, largely based on rectangular shapes, because that's what corresponds to the design and industrial tools that have traditionally been available. Here, computers play a marginal role – creating project renderings and doing the occasional calculation. Huang is proposing something completely different – nothing short of a studio revolution, where computers hold a pivotal role in the genesis of a new kind of design.
Using computers in the fundamental design process, Huang explains, opens up the possibility of new organic forms, shapes and structures that would be impossible to imagine or draw by hand. He's particularly interested in forms inspired by nature, because they are uniquely adapted to specific environments, something that is often important in architecture. Huang's ideas go a step beyond designing buildings that mimic natural forms, however. here, the design takes as its starting point actual biological models – of plant or crystal growth, genetic algorithms, or species colonization, for example – that have been developed by experts in those fields. These models are turned into architectural algorithms that can generate organic structures that meet specific constraints, and thus result in buildings that fit their physical context in a unique and sustainable way. Buildings can be designed like plants to maximize external surface angle and area to integrate photovoltaics, or designed to withstand specific wind or seismic conditions, while at the same time meeting internal space and flow configuration requirements. In his "Organicités" studio, master's students experienced this new way of doing architecture. Using bio-inspired geometrical models as a starting point, they wrote scripts and algorithms that caused buildings to grow from the ground up, like a plant or a crystal. By tweaking a single line of code, they could shrink, enlarge, deform and twist their structures, and the buildings would grow in real time, in the blink of an eye. They explored worlds of architectural form and structure that were completely new, but rooted in the natural world.
The final project was a "skyscraper engine", and the specific site for testing the structures was the former runway of hong Kong's decommissioned Kai Tak Airport. The results were intriguing – unique and functional, both inside and out. "Organicités" was invited as one of 20 selected international design studios to be exhibited at "Beyond Media," the 9th international festival for architecture and media in Florence in july 2009, and one of the main events worldwide dedicated to the most current visions on contemporary architecture. Students of the organicités studio exhibited four human-scale (1:100) models of organic skyscrapers, accompanied by an interactive media installation.
---
---