Giulia Marino: A career devoted to championing modern architecture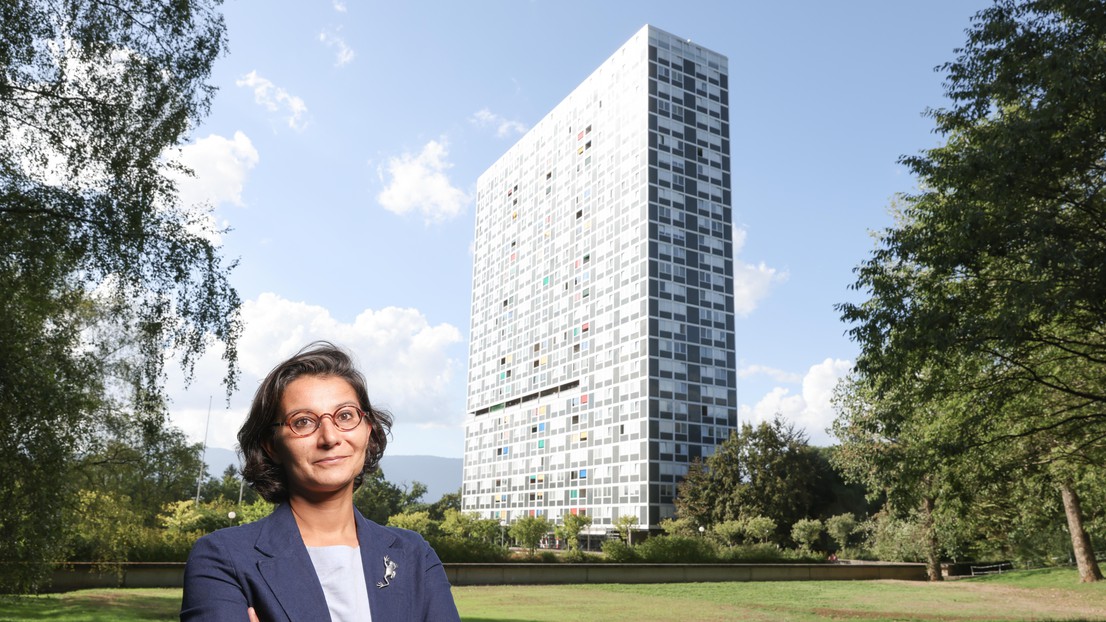 Architect and EPFL researcher Giulia Marino has received an award from an international non-profit organization in recognition of her many years spent renovating Le Lignon, an urban development to the west of Geneva.

Giulia Marino has devoted more than 20 years of her energy and know-how to dispelling the widely held belief that late 20th-century architecture is "ugly." Through her pure and applied research, she's consistently sought to push back against biases and champion architecture from this much-maligned period. Marino, a professor at Université Catholique de Louvain in Belgium and a lecturer at EPFL's School of Architecture, Civil and Environmental Engineering (ENAC), was born into a family of architects. From a young age, she had to learn how to make a compelling case and persuade her relatives of the merits of these buildings. "These buildings date from an era of profound societal change," she explains. "Observing how societal shifts are reflected in the architecture has always fascinated me."
Events later proved her right. Le Lignon, an urban residential complex in Vernier, to the west of Geneva, was designed in the 1960s by Georges Addor. Intended to house 10,000 people, it was long considered an eyesore, likened to row upon row of "rabbit cages." Forty years after its construction, the Canton of Geneva awarded the complex protected status as a listed monument. The site has been the focus of Marino's applied research for over a decade – an endeavor that's earned her a string of honors including the SIA-Umsicht Award and the Europa Nostra Award (both in 2013). Her latest accolade was the 2021 Docomomo Rehabilitation Award. This brand-new prize is given by Docomomo International, a non-profit organization that supports the documentation and conservation of modern architecture. Marino and her colleague Prof. Franz Graf, who heads EPFL's Laboratory of Techniques and Preservation of Modern Architecture (TSAM), will collect the award in recognition of their contribution at a ceremony in Le Lignon on Saturday, 17 September.

A complex set of specifications

Marino, who holds a Master's degree in architecture from the University of Florence, met Graf while she was studying for a Postgraduate Master's in preservation of modern and contemporary built heritage at the University of Geneva. She later moved to EPFL, where she joined Graf at the newly created TSAM lab.

In 2008, Marino and Graf were called on to assist with the renovation of Le Lignon. Specifically, they were tasked with preparing a complex set of specifications – taking heritage, energy-efficiency and cost factors into account – for the architects commissioned to carry out the modernization work. "Initially, we faced a huge uphill struggle," she recalls. "Getting everyone together around the table and agreeing on a way forward was an immense challenge." Now, 14 years later and with the work still underway, she's still involved as a member of the supervisory committee.

From Georges Addor to Le Corbusier

Alongside her work on the extended renovation project, Marino also embarked on a PhD, choosing a previously unexplored subject as her research topic: the history of heating and air-conditioning systems in 20th-century architecture. Her efforts earned her an EPFL PhD research award in 2016. "Nobody had ever documented this kind of detail before," she says. "I had to find my sources in whatever way I could, digging into the archives of contractors who were unaccustomed to recording the technical nuts and bolts. My work provided fresh insights into an area of research where so much remains to be explored."

Marino's main research interests all involve a delicate balancing act: bringing vestiges of the past up to modern-day standards without compromising their original character. "There's no handbook explaining how to go about it," she says. "You have to start with an open mind, treat problems as opportunities, and let science and evidence guide you in the most rational direction."

Marino's passion for all things late 20th century has taken her research in several directions – from the renovation of Le Corbusier's studio and apartment in Paris, to the revival of CROCS, a modular, low-cost school construction system initially employed in Vaud Canton in response to the 1960s population boom.

As if Marino wasn't already busy enough, she also happens to be a prolific author of papers and monographs. And now she's turning her energy to championing a new cause: preserving more recent, but nevertheless threatened 1980s architecture.
---
---