From running internships to running a charity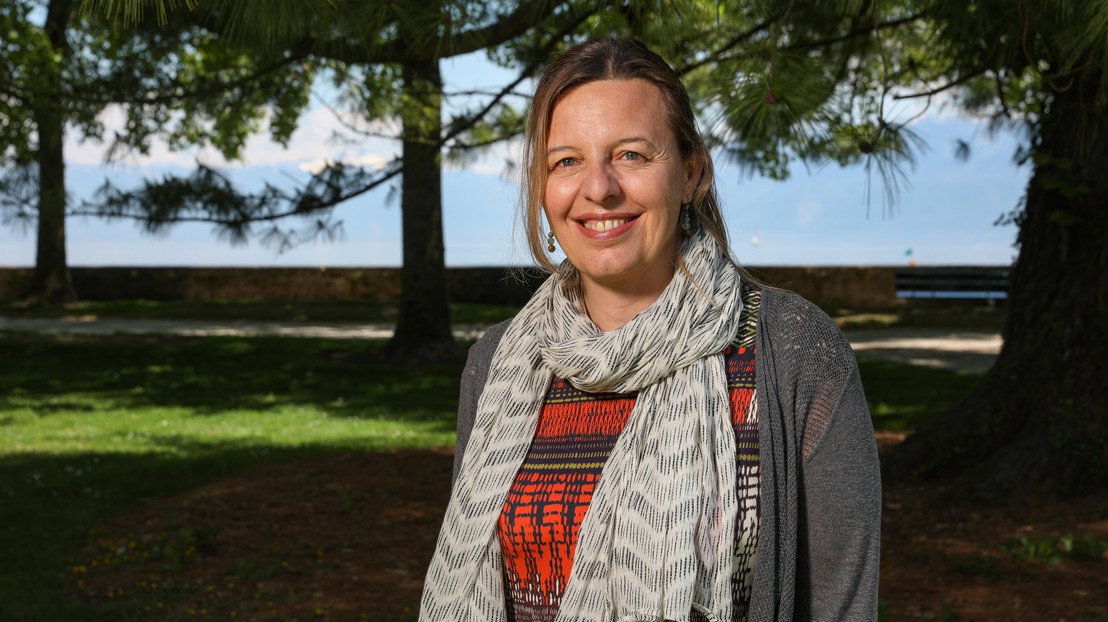 Catherine Marselli wears many hats. At EPFL, where she's been for ten years, she coordinates in-company internships and advises students in their search for jobs and internships. And in her free time, she volunteers for a charity that she co-founded.

Marselli holds an electrical engineering degree and a PhD from EPFL's Institute of Microengineering, as well as an MBA from the Neuchâtel School of Management. She worked in various project development and management positions at companies and universities before getting the chance to come back to EPFL ten years ago – not as a student, but as an employee. "I joined EPFL to set up an in-company internship program for the School of Basic Sciences. The program had just been created, and I needed to build everything from scratch. That included contacting companies and convincing them to take on our students as interns," she says.
Today the internship program has been expanded across EPFL. "All our Master's programs in engineering and architecture require students to complete a two-to-six-month in-company project or internship," says Marselli. "This requirement concerns all EPFL schools and colleges. In 2013, I was asked to coordinate the internship program on an EPFL-wide level, which has been a great opportunity. I like the cross-disciplinary aspect of my work and serving as an interface between EPFL and the outside world."
Sharing her experience
Marselli is just as comfortable teaching a class as she is coordinating a project. She gives a course for Master's students to help them find in-company internships, as well as a course for PhD students on finding a job and working in a corporate setting, as part of EPFL's Staff Training Service courses. "My goal is to help students make the transition from the academic to the business world. For that, I draw on my own experience working in a company to give them more personal advice. And this approach seems to be effective – we regularly get thank-you notes and positive feedback indicating that the courses really do help people find jobs," she says.
For the past few years, Marselli has been studying social cognitive neuroscience and incorporating these concepts into her courses and project-management work. "I'm fascinated by the brain's inner workings," she says. "If EPFL had a School of Life Sciences back when I was a student, I would've majored in neuroscience without hesitating. Today scientists are using recent discoveries in cognitive biases, the defensive circuit and limits on memory and attention span to take a fresh look at how people interact in the workplace. I'm using these kinds of discoveries more and more in my courses, and I'd like to go a little further in this direction."
Giving everyone the right to a break
When she's not at EPFL, Marselli spends her time volunteering for Charity Box – a non-profit organization she co-founded to help underprivileged members of the community go on short, relaxing getaways. Charity Box collects funds for the trips, which involve historic sites or scenic natural areas in French-speaking Switzerland. "I got the idea when I realized that relaxing in a calm, beautiful setting has become a privilege of the rich," she says. "With my family we try to get away occasionally for the weekend, either here in Switzerland or somewhere in France. This time is valuable for breaking out of the routine, recharging our batteries and opening our minds. It doesn't seem fair that not everyone has that opportunity. Charity Box lets you donate funds so that people who are in unbelievably difficult situations can take a step back and catch their breath, in a quiet, soothing place."
The Charity Box website – developed by Junior Entreprise EPFL – lists the getaways for which donors can make contributions. Once enough funds have been collected for a given destination, Charity Box contacts Caritas Vaud, which selects the individual recipient. "The recipient sends the donors a thank-you note with pictures from the trip. It's a gratifying and concrete experience. The disbursement of funds is managed carefully – the money is sent directly to the service providers for the trips rather than to the individual," says Marselli.
In addition to allowing her to give something back to the community, Marselli also finds that this type of volunteer work fits in well with her busy schedule. "I believe that we all have a civic responsibility and should do what we can for our society. Between my job and my children, I have very little time for volunteering. With Charity Box, everything I do is remote. I can easily send an email or make a phone call between meetings, for example. There's a lot of flexibility. And it essentially boils down to project management – which is my thing," she says.
---
---