Four new glass buildings to enlighten the Sion campus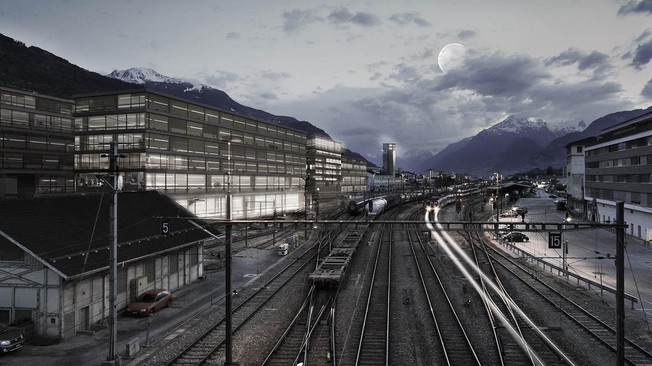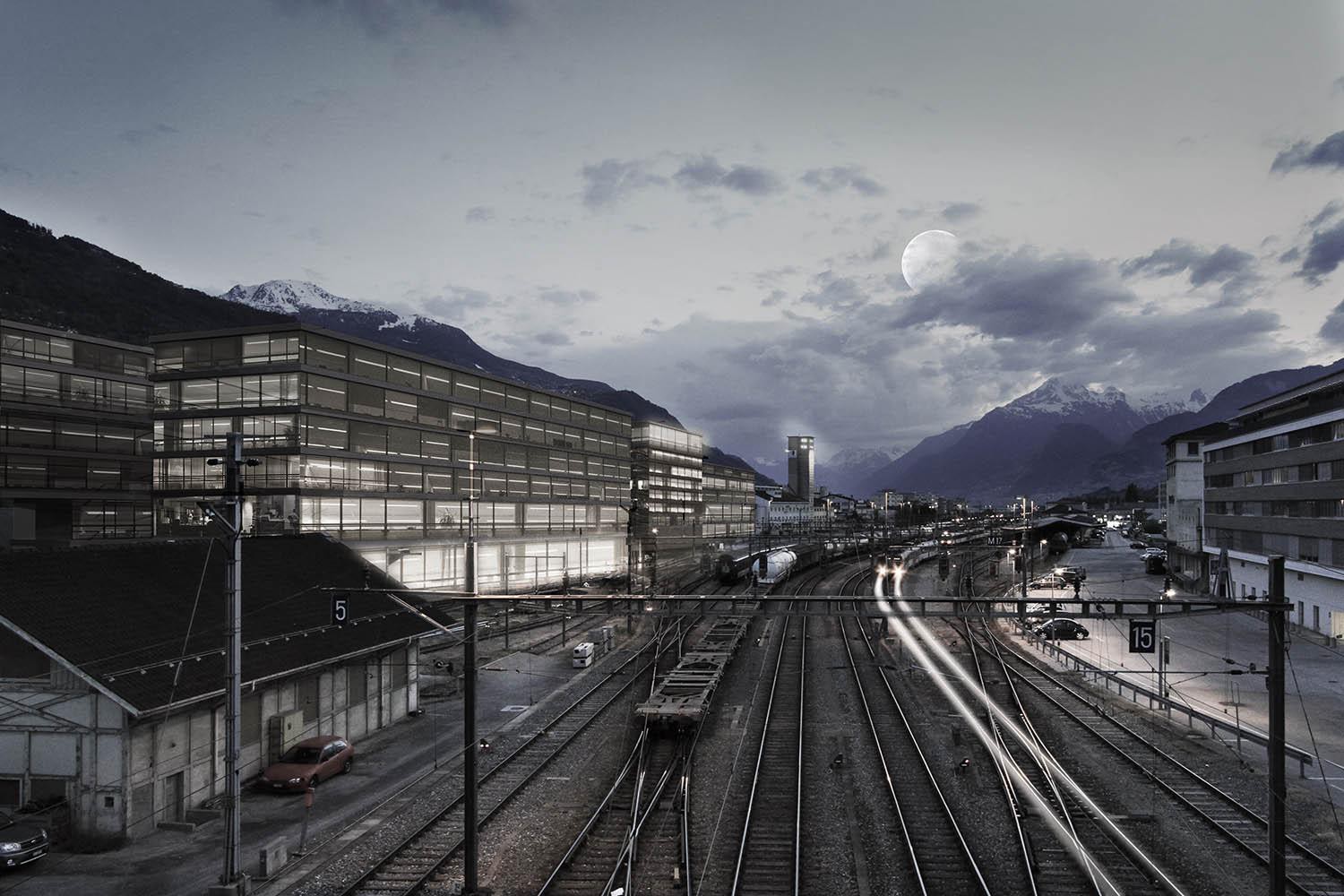 © 2013 EPFL
23.08.13 - Yesterday, the government of Valais unveiled the blueprints that won the architectural competition for designing the Valais Wallis campus. Nicknamed "Derailed", the project was conceived by the architectural firm Evéquoz Ferreira, based in Sion.
"This project appealed to us because it does not propose a building, but rather a place to live and work that integrates perfectly into the city of Sion." Yesterday, the Valais State Councilor Jacques Melly enthusiastically unveiled the project that won the architectural competition which was launched in February for designing the future campus of the EPFL Valais Wallis cluster and the University of Applied Sciences (HES).
The "Derailed" project, conceived by the architectural firm Evéquoz Ferreia in Sion, was selected among 63 candidates from all over Europe in an anonymous competition. Launched early this year, "Derailed" was already chosen by June. Four large buildings with glass facades will be built between the city's railway tracks and the road named "Rue De l'Industrie". Offset in relation to one another, of variable lengths, heights and widths, the buildings will create an environment encompassing transit and meeting spaces. "The ground floor level connects not only the buildings together, but also the North of the city - the train station's main square and the future station district, accessible via a new bridge - with the South, where our 21st century city will develop", says Marcel Maurer, mayor of the city of Sion.
First of its kind in Switzerland
Above all, such a facility will be "a first of its kind in Switzerland," according to State Councilor Jean-Michel Cina: it will bring together on a single campus researchers EPFL and HES-SO Valais Wallis. "This proximity is essential for stimulating the entire chain of innovation, from basic research to industrial applications through applied research," he explained. The technology transfer will be conducted by the TheArk foundation, stakeholder of the Valais Wallis Campus project.
The construction of the new architectural complex will take place in stages starting 2015. On 1 November 2013 five researchers from EPFL will already join the premises at the new SUVA clinic. In addition, renovations are already underway in the "Valrhône" building at rue de l'Industrie 17, so that several research groups from EPFL may move in next year. "We are not talking about a distant project: it is happening as we speak," says Marc-André Berclaz, operational director of the EPFL Valais Wallis academic cluster.
In the end, 11 EPFL research chairs will be either created or transferred to Sion, which represents about 200 people. The research areas are primarily energy (7 chairs are not only interested in energy production, but also in its management and storage, as well as CO2 capture), health (3 chairs are dedicated to rehabilitation, in partnership with the SUVA clinic in Sion) and biotechnology (1 chair). More information on the EPFL Valais Wallis cluster can be found at the website: valais.epfl.ch.