"Fluid mechanics is a fascinating field because it's very visual"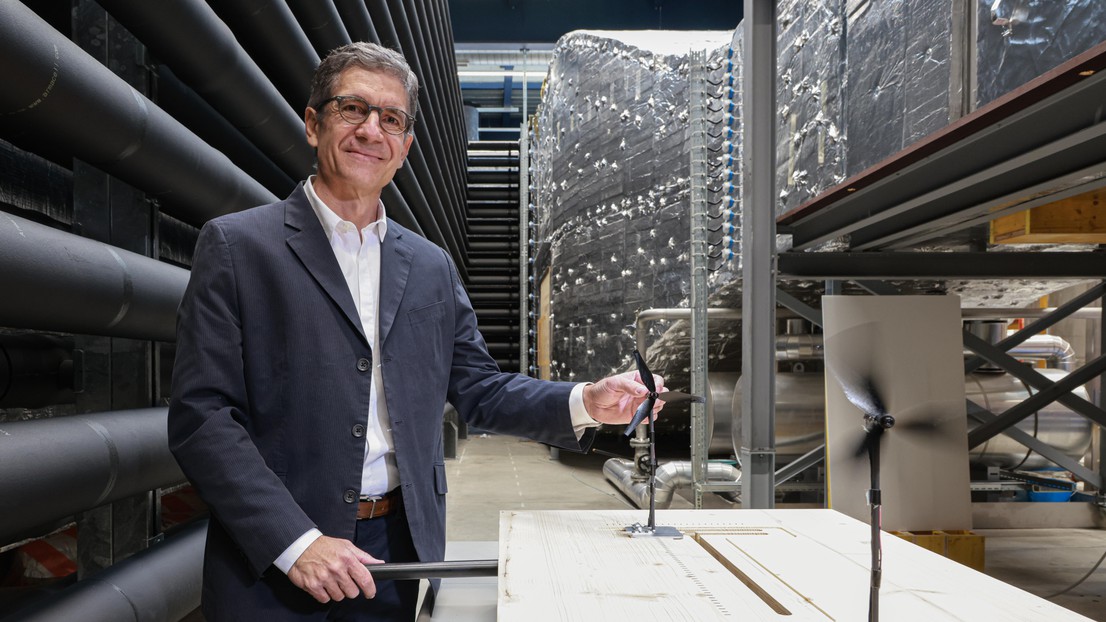 EPFL professor Fernando Porté-Agel has won the ENAC Polysphère Award for the second time in under a decade. He uses concrete examples and novel teaching methods to make fluid mechanics a fun, interactive topic to study. 

Porté-Agel's desk is studded with miniature wind turbines, books on turbulence and a coffee mug – an eclectic collection of objects that are not only effective teaching materials, but also sum up his main research areas in fluid mechanics. He has just won the Polysphère Award for EPFL's School of Architecture, Civil and Environmental Engineering (ENAC) for the second time in less than ten years. The Polysphère Awards are given out annually to the best teacher at each of EPFL's five schools.
My hours in the classroom are always the highlight of my week.

"This award is particularly gratifying because it was given to me by my students," says Porté-Agel. "I've got to admit, I have the best job in the world! I get to conduct research in a field I'm excited about, help develop responses to major scientific and environmental challenges, and share my knowledge with young people. My hours in the classroom are always the highlight of my week."

Sugar in a coffee cup
Instead of lengthy monologues, Porté-Agel prefers to capture students' attention with interactive lessons and concrete examples. "Fluid mechanics is a fascinating field because it's very visual," he says. "Just look at clouds moving across the sky or water flowing in a river. Once you understand the underlying mechanisms, you can quantify and predict the motion of a fluid. But water and air flows are constantly disrupted by turbulence – that's what makes them so difficult to predict." This is where the coffee mug comes in. "I use it to explain turbulence to students in an easy-to-understand way. I put a sugar cube at the bottom, cover it with water, and ask them to calculate how long it'll take for the sugar to dissolve and mix with the water uniformly. And then I ask them to consider what would happen if I stirred the solution to speed up the process." It's a question that paves the way to a host of experiments and lessons on theory.

Porté-Agel, who heads EPFL's Wind Engineering and Renewable Energy (WIRE) Laboratory, began his academic career by obtaining a Bachelor's degree in engineering from Universidad Politécnica de Cataluña in Spain. He was born into a family of farmers in an arid region in the northern part of the country. Watching his father work the land, the young boy became aware of how precious water is as a resource and how it needs to be managed. After obtaining his Bachelor's degree, Porté-Agel worked for an NGO in Kenya to develop irrigation systems for local farmers.

Wind turbine performance
He then went to the Netherlands to complete a Master's degree and to the US to complete a PhD, at Johns Hopkins University. He subsequently took an assistant professor position at the University of Minnesota in Minneapolis. Porté-Agel spent more than ten years in the US and learned about EPFL during a sabbatical visit to Switzerland in 2005. In 2010, he was hired by EPFL as a full professor and the head of WIRE. "This region offers an excellent quality of life and working conditions, and it's closer to Spain," he says.

The research done at Porté-Agel's lab looks primarily at the fluid mechanics of wind turbines and wind farms – how they interact with air currents and how turbulence affects their capacity to generate power. His group runs experiments out in the field and in a large hall on the Lausanne campus that they've converted into a wind tunnel. The data they collect are used to build more accurate models for predicting wind turbine performance. In the classroom, Porté-Agel places a heavy emphasis on renewable energy, which will play a key role in the response to climate change. "At EPFL, we're training the next generation of engineers," he says. "We have a duty to make them aware of these issues in as many ways as possible, since these students will go on to contribute to a sustainable future for our planet."
---
---