First in Human Recording of Brain Activities Achieved by Neurosoft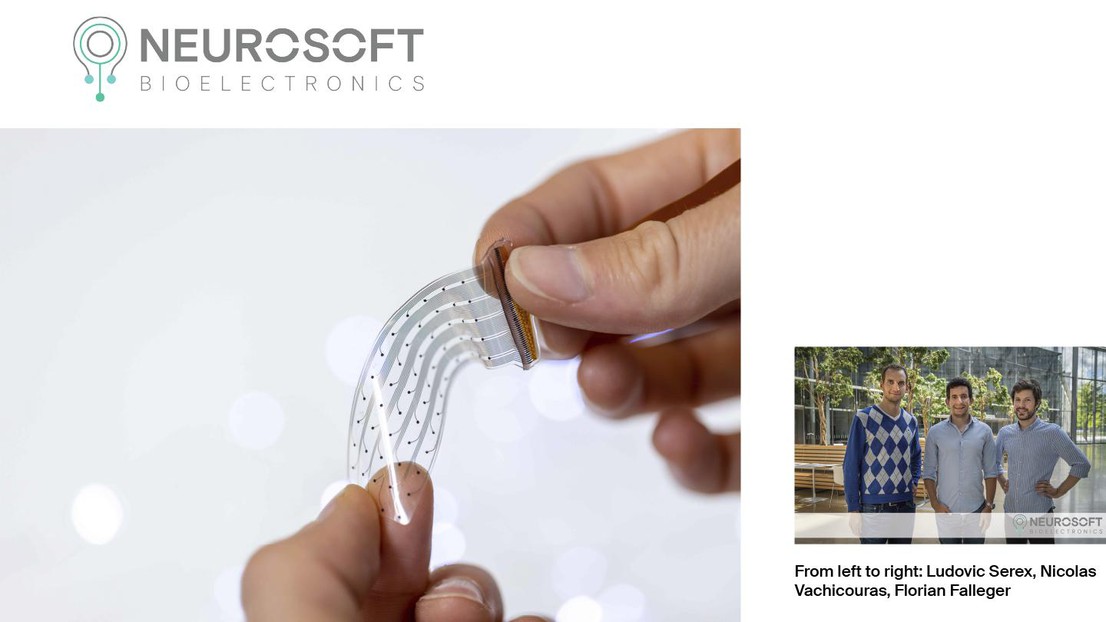 After a surgical first, Neurosoft Bioelectronics, a spin-off of the Laboratory for Soft Bioelectronic Interfaces, is getting closer to treating severe disorders with its unique electrode grid designed as a safe alternative to existing brain implants

Under the guidance of neurosurgeon Prof. Nitin Tandon, a clinical study conducted at Memorial Hermann in Houston has marked the inaugural testing of Neurosoft Bioelectronics' subdural electrodes as they were used for recording the human brain in the context of an epilepsy resective surgery. Two epileptic patients and one brain tumour patient have undergone a successful surgery, while detailed recordings were obtained in parallel from the surface of the brain. These results are very promising as the unique properties of these electrodes could allow for brain insertions in areas where no other implant can safely be inserted today, opening the door to treating indications such as severe tinnitus with no existing cure or validated treatment.

With the density of the electrode sites being 5 times higher and the entire device being 1000 times softer than standard electrodes, the usage of this new technology also holds the potential to address key challenges associated with invasive procedures, notably mitigating side effects such as brain compression, risks of hematomas, as well as scar tissue.

Specifically for the first resective procedure, a sequence of sentences were echoed across the operating room, with the objective of capturing distinct brain activity within the auditory cortex. In addition, specific brain patterns recognized as interictal spikes were recorded within the hippocampus. These atypical neurological discharges also hold tremendous potential as they can help in localising regions of the brain implicated in epilepsy, improving the potential effectiveness of an epilepsy resection as a result. Furthermore, the application of Neurosoft Bioelectronics' electrodes presents the possibility of uncovering supplementary biomarkers which could significantly help in providing more effective and safer treatments of brain disorders for future patients.

Invasive solutions presently employed for treating brain-related conditions pose substantial risks due to electrodes' stiffness and thickness. Amidst these challenges, Neurosoft Bioelectronics' soft and elastic electrodes present themselves as a promising alternative to existing invasive solutions.

The Neurosoft Bioelectronics team has also been studying how these electrodes could address indications like severe tinnitus. Despite approximately 50 million patients worldwide and an estimated 3.5 million related suicide attempts, there is no effective treatment for severe tinnitus.

"The maturity of our technology has been underscored through its initial human testing. With each subsequent trial, we edge closer to obtaining FDA clearance for some of our initial indications, thereby progressing towards potentially aiding millions of individuals." says Nicolas Vachicouras, CEO and Co-Founder of Neurosoft Bioelectronics.

Specifically for these first human interventions, "This milestone represents a great de-risking step for the company and is extremely important in bringing the concept of soft brain electrodes from academic laboratories to clinical applications." says Prof. Lacour, Co-Founder of Neurosoft Bioelectronics and Director of the Neuro-X Institute at EPFL (Swiss Federal Institute of Technology in Lausanne).

The study, led by Prof. Nitin Tandon, will continue to move forward in the coming months with additional electrode usage in up to 10 patients, potentially providing additional insights into potential applications of the technology.

"The preliminary findings of our study provide compelling validation for the trajectory of our technology, poised to enhance the safety and efficacy of brain surgery, while validating the ability to record specific information within the auditory cortex. Moving forward, we plan to widen our testing parameters and anchor our findings in a more comprehensive pool of data. Based on the first insights on the usability of our technology, applications for a wide range of treatments can be considered for development, among them tinnitus, deafness, traumatic brain injury and paralysis. In that regard, several other research projects leveraging our electrodes are currently ongoing both within our company, but also with partners at renowned Research Labs across the world." says Nicolas Vachicouras.
Funding
Neurosoft Bioelectronics is a spin-off of the Laboratory for Soft Bioelectronic Interfaces at EPFL, and is supported by the Wyss Center.
---
---