Explaining the synchronized chaos of atoms in three minutes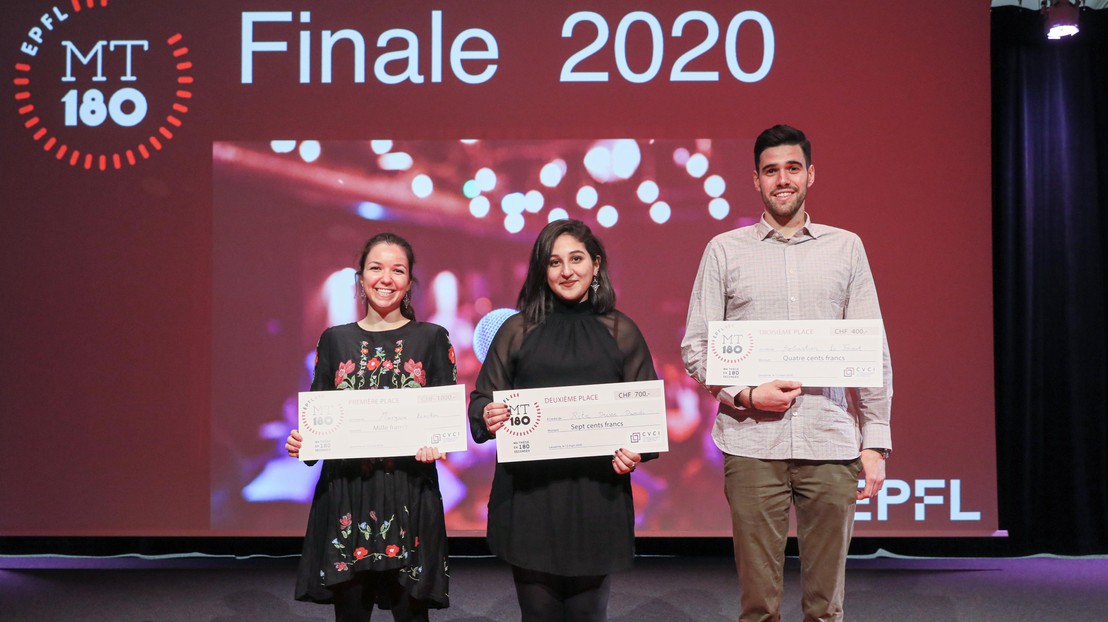 The fifth annual My Thesis in 180 Seconds competition was held behind closed doors last night because of the coronavirus. Out of a high-caliber field, two PhD students from the same laboratory took first and second place and will now go on to the national final.

What do marching soldiers, a children's playground and a paper clip have in common? The answer came in a lively presentation by Margaux Larcher, a PhD student at the Laboratory of Thermomechanical Metallurgy (LMTM), at the finals of EPFL's My Thesis in 180 Seconds (MT180) competition. Using just the right words, carefully chosen metaphors and a dash of humor, she explained how the seemingly random movement of atoms in the shape memory material she is studying is, in fact, synchronized. Larcher's presentation won over the jury and wowed the audience. Under normal circumstances, it would have drawn thunderous applause. But these are unusual times, and the 600-seater Rolex Forum was almost empty, with fewer than 50 audience members in attendance because of measures against the coronavirus. The event was live-streamed on Facebook to allow spectators to cast their vote for the audience award (voting closes at 6pm tonight).
Materials were the star of the show last night as Rita Drissi Daoudi, another PhD student from the same lab as Larcher, took second place for her presentation on a system that detects manufacturing defects by "listening" to 3D-printed parts as they're being made. Her audio detection method could one day be used to fix imperfections on the fly and stop defective components such as aircraft parts and hip implants from rolling off the production line. This year is the first time that EPFL will send two women to the national final, which will take place at the Rolex Forum on 26 May.
Third place went to Sébastien Le Fouest for his presentation on vertical-axis wind turbines, which are smaller and more versatile than conventional horizontal-axis versions but have the disadvantage of being more fragile. Le Fouest is a PhD student at the Unsteady Flow Diagnostics Laboratory (UNFOLD), where he is investigating ways to overcome this fragility by studying the formation of vortices. In his presentation, for which he'd already picked up an audience award, he used his body to show how the wind acts on the blades. The other audience winner was Alice Gillen from the Laboratory of Nanobiotechnology (LNB) for her research into sensors that could deliver a steady dose of dopamine, in just the right amount, to patients with Parkinson's disease.
High-caliber presentations
The jury was chaired by Professor Marilyne Andersen from the School of Architecture, Civil and Environmental Engineering (ENAC). She was particularly impressed with the caliber of this year's entries. "The presentations were of such a high standard that we thought each one was going to be the winner – until the next one came along and made us reconsider," says Prof. Andersen. The 14 PhD students who competed last night were able to successfully distill several years' worth of research into just three minutes. The audience, watching in person and online, was treated to a whirlwind tour that included cell transport mechanisms for Alzheimer's disease drugs, a magnetic probe for a nuclear fusion reactor, and a system for cooling hydrogen fuel cells. The students' hard work and public-speaking skills turned these otherwise dry subjects into clear and engaging presentations.





---