"Even on such a small scale, it feels like we're making a difference"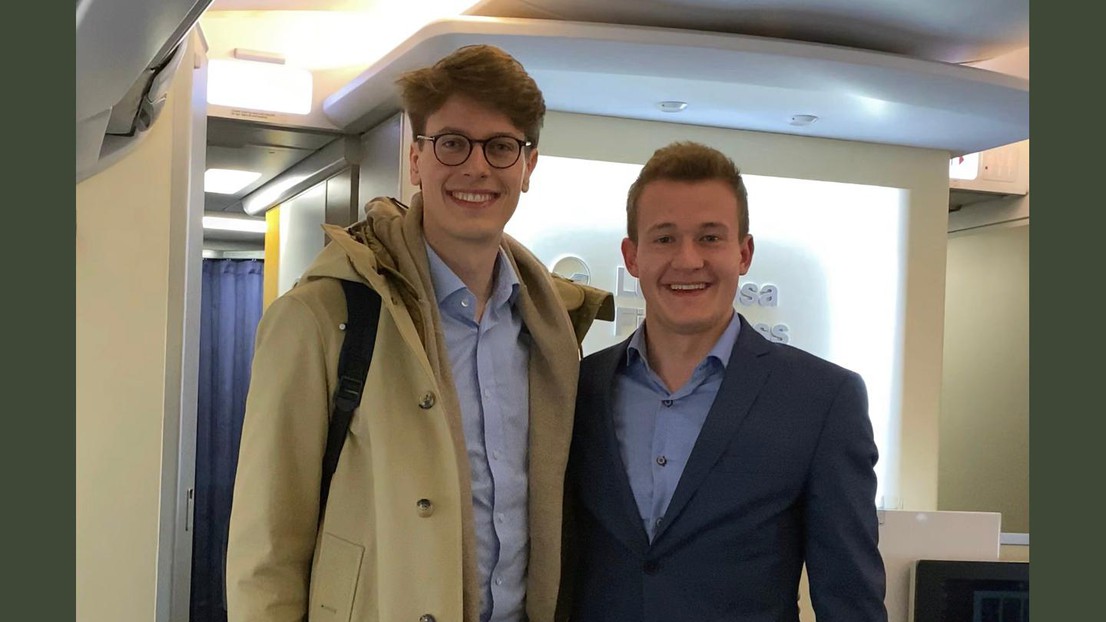 In the middle of the economic crisis caused by the COVID-19 lockdown, Samuel Bosch, EPFL student, and Alexander Sanchez de la Cerda, Computer Science graduate and Vice-President of the EPFL Quantum Computing Association, wanted to make a difference. So they founded a startup that will help create jobs.

They're not doctors, but Samuel Bosch and Alexander Sanchez de la Cerda still wanted to take action when the world came to halt due to COVID-19. "Doctors and nurses, alongside other essential workers ensured that we could keep living our lives. We wanted to be essential, but also help flatten the curve by staying at home!" So they focused on the economic impact of the public-health crisis. "I come from Croatia, where there was already an unemployment problem," says Bosch. "But things have gotten worse because of the public-health situation and the recent earthquake in Zagreb."
The two students felt that the best and most obvious solution was to create new jobs by connecting people and distributing work. But how would they go about doing that? On 25 May, they launched Assist-o, a startup that seeks out the best personal assistants for their clients. "Everyone said we were crazy to try and create a startup in the middle of a public-health crisis," says Sanchez. But he was convinced: "It's the right time." And to prove it, just one week after posting the first job ad, the company had already received 540 applications.
A fast-paced life
To understand were the idea came from, you have to go back to when the two entrepreneurs' paths crossed. Sanchez studied computer science and received his Bachelor Degree last summer. Bosch is a Master student in physics and data science. They first met through the EPFL Model United Nations and Debating Club, where Sanchez was president. The same summer, they founded the Quantum Computing Association at EPFL. After doing machine learning research together in the Integrated Systems Laboratory at EPFL, they accepted an offer from Harvard University where Samuel is writing his Master's thesis and Alexander is working as a research fellow.
The two students were very busy with their studies, their research, the work in the student clubs and their private lives, so they didn't have much time to spare. "Last October, I told Samuel that we should consider getting a personal assistant," recalls Sanchez. "He looked at me like I was crazy but eventually ended up posting an ad for an assistant in Croatia. And he found one!" Bosch adds: "When the lockdown started, I was juggling so many projects in addition to school that I couldn't have done it all without my assistant."
A 360° service
Yet the students realized quite quickly that they needed more: more availability, more responsiveness, more services and more skills. So drawing on their own experience, they came up with the Assist-o concept whereby the assistants don't work alone – they have a back-office team to help them meet a full range of requests. "If one of our clients needs a new logo, they contact their assistant, who will then pass the job on to our graphic designers," explains Sanchez. "We also offer secondary assistants who can step in when necessary", adds Bosch.
Another thing that sets them apart, is that Bosch and Sanchez only select qualified personal assistants with a wide range of backgrounds. "It is all about supporting education and helping people who are hard-working", says Sanchez.
An extremely ambitious duo
The loose borders between EU countries may have re-emerged during the public-health crisis, but Assist-o erases them by taking on clients and hiring assistants in many different countries. Sanchez was taken aback by the attitude that the pandemic brought out: "It became all about 'what my country can do for itself' and not about what we can do together. So quite honestly, it feels good to be creating links between people in Switzerland and other European countries. Everything is going virtual now anyways", says Bosch.
Assist-o currently employs nine personal assistants. Unsurprisingly, the two entrepreneurs have big plans for the future. This month they incorporated their Swiss startup – Assist-o GmbH – and established the subsidiary, Assist-o LLC, in the US for their North American clients. Their aim is now to provide a growing number of back-office services, such as legal advice, sports coaching and assistance with interior design – nothing is off limits. "We want to create a massive network of people and know-how," says Sanchez. "Say we have one client who just loves a particular restaurant in Geneva and another client who happens to be in town. The second client's assistant can check the database for restaurant recommendations and find this winner. The possibilities are endless!"
The two students turned their drive to create jobs into a very promising concept. Bosch will start his PhD at MIT this August but has no intention of giving up his role in the company. Sanchez, who will soon be heading up the Swiss side of things, sums it all up nicely: "Assist-o lets you live your life."
---
---