EPFLoop team unveils bold and ultralight capsule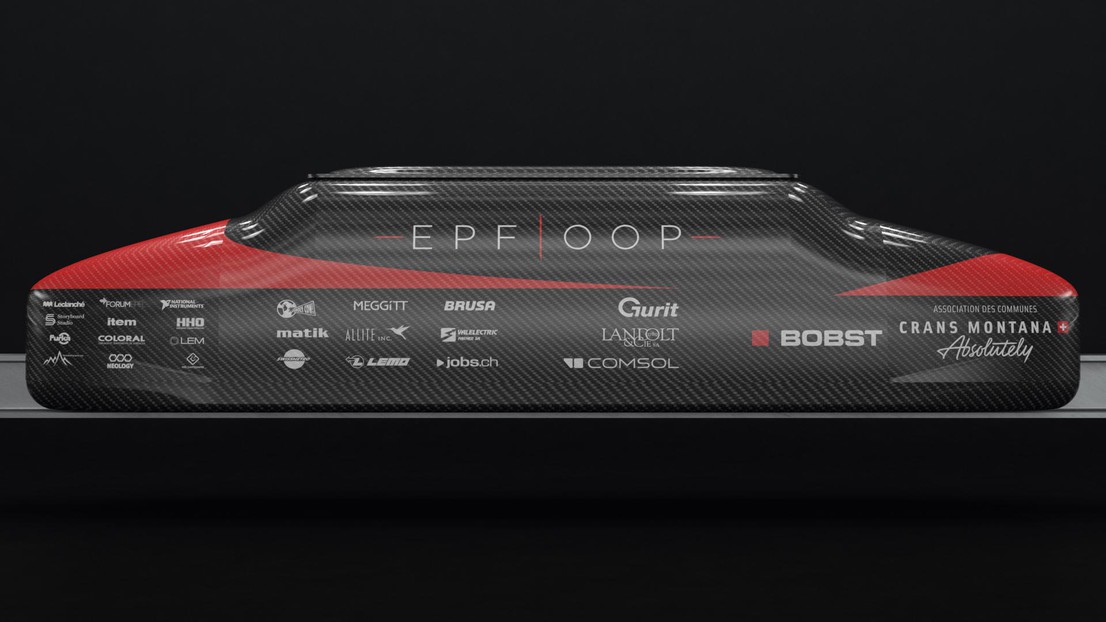 On Wednesday, 29 May, a team of EPFL students – who qualified for this summer's Hyperloop Pod Competition in Los Angeles – unveiled a prototype they hope will bring home a win.

It was with considerable pride and emotion that the students from EPFLoop presented their "baby" on Wednesday evening. The Bella Lui hyperloop pod is 2.1 meters long and weighs 170 kg. It is the product of ten months of intensive work by 25 EPFL students, who hope it will win them the big prize at the Hyperloop Pod Competition in Los Angeles this year.

"Bella Lui was developed based on experience gained from the 2018 Hyperloop Competition, when EPFLoop walked away with an amazing third place. This year, not only do we plan to improve on our previous result, but we also want to make an impact in the field of transportation," says Lorenzo Benedetti, the EPFLoop team leader. "The team has worked hard to create a prototype more cutting edge than any before seen in the competition."

From 500 to 0 km/h in two seconds
Confidence and daring went into Bella Lui's design. "This year's pod contains several courageous design choices: the propulsion system based on a high-speed linear induction motor, a completely re-engineered high-temperature battery pack, and a carbon-fiber structure entirely designed by us," says Professor Mario Paolone, the team's chief faculty adviser.

The pod is built around a U-shaped skeleton, with the motor on the inside and the battery packs on the outside. Atop the skeleton is a smaller pressurized chamber that protects the pod's electronic components, which would otherwise be damaged in the tube's vacuum during the competition. The entire pod is covered with a thin carbon-fiber casing that gives it its distinctive finish. The pod was named Bella Lui by the team's first platinum sponsor, the Association des communes de Crans-Montana, after the highest peak to the north of Crans-Montana municipality.

As per the competition rules, every piece of the pod was designed and built from scratch. The most remarkable improvement over last year's design is its weight: 170 kg, compared to more than 300 kg in 2018. The super light weight was achieved not only through the overall design concept but also through the choice of each individual component. Take the brakes, for example: a good braking system will be essential if the pod is to beat the current speed record of 465 km/h. This year's design features two compressed-air brake modules that weigh only 2.3 kg each (compared to 7 kg apiece last year) and provide 7 Gs of braking power. In other words, the pod can slow from 500 km/h to a dead stop in two seconds. As Professor Paolone put it: "Looking at the technological content of this pod, we should be proud of what our school and our students are capable of."
Humans over algorithms
Even if the team doesn't take home first place this year, they will have already gained something important: a great learning experience. "In a world where much of human activity will one day be carried out by algorithms and robots, it's essential that our students develop something that sets them apart from machines – human ingenuity. That's why we support interdisciplinary projects like EPFLoop, which allow students to apply what they've learned and develop their creativity and sense of innovation," adds Pierre Vandergheynst, EPFL's Vice President for Education, who promotes and provides support for project-based learning at the School.

The students now have to test their prototype – a challenge in itself, since they can't replicate race conditions on campus. The team will have to wait until 21 July to see their pod in action, in a 1.2 km-long vacuum tube at the SpaceX headquarters.
---
---