EPFL Xplore's space rover wins three awards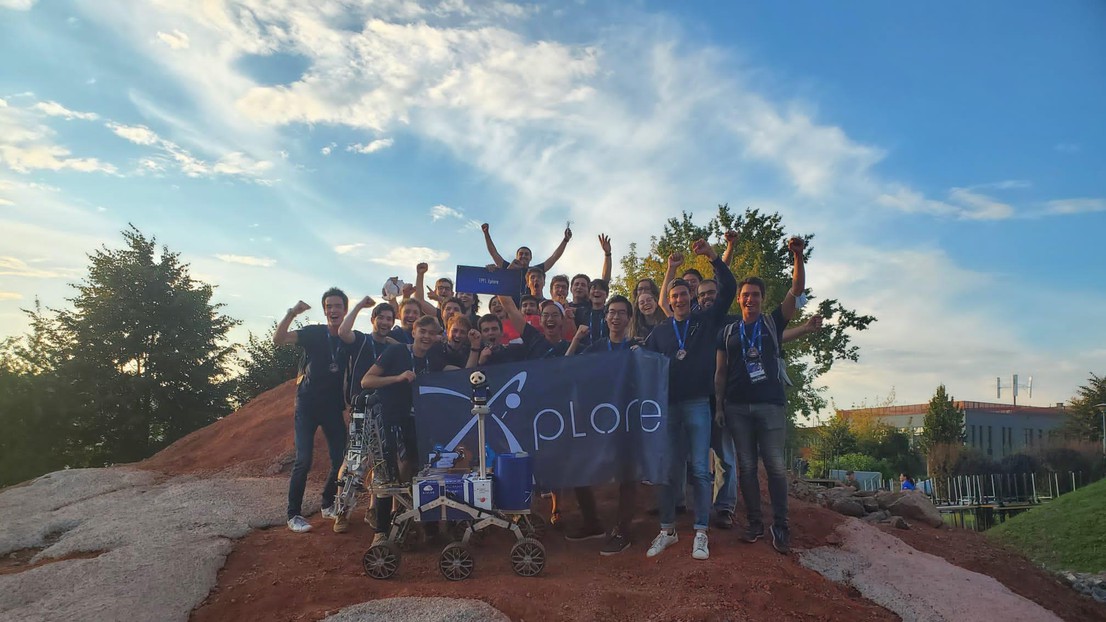 EPFL Xplore's space rover, Argos, took third place in this year's European Rover Challenge, held in Poland on 10–12 September. The team also won best performance in both the science and probing tasks.


"We honestly didn't expect it. It's an amazing achievement," says Quentin Delfosse, Vice President of EPFL Xplore, who spoke to us on the phone as the team made its way back to Switzerland. Argos was developed in just one year, and it performed exceptionally well in its first-ever competition, taking third place. The European Rover Challenge is Europe's most prestigious competition in space robotics. However, the conditions weren't easy. When the team arrived in Kielce, Poland, they were greeted with an unpleasant surprise – the competition terrain was not sandy Martian soil as they had been told to expect, but instead rocky soil.
Professionalism and flexibility
"We were already pretty stressed, and this brought it to a whole new level. We had to adjust our rover quickly to suit a different type of soil," says Delfosse. "For example, our rover didn't have a drill for collecting samples, so at the last minute we had to modify the control system for one of the wheels to make it turn on its own and dig into the rock. Probing is also different on a rocky surface. But we're proud of ourselves because we were the only team to place a probe."
It was an extremely rewarding experience. We're planning to develop a new rover for next year's competition. We'll make several changes to the design based on what we've learned.
Despite these challenges, EPFL Xplore won best performance in two of the competition's four technical tasks: science and probing. For the science task, the team had to submit a report before the competition, providing a geological analysis of the terrain and a detailed mission plan. They then had to submit a second report two hours after the rover's observation mission. For the probing task, the team had to reach a series of specific points on a map and place probes in each location.
The EPFL Xplore team, who were praised for their professionalism and ability to adapt, said that they have "learned a lot, especially from talking to the other participants." Delfosse remarks: "It was an extremely rewarding experience. We're planning to develop a new rover for next year's competition. We'll make several changes to the design based on what we've learned."




---
---