EPFL wins the International Physicists' Tournament 2013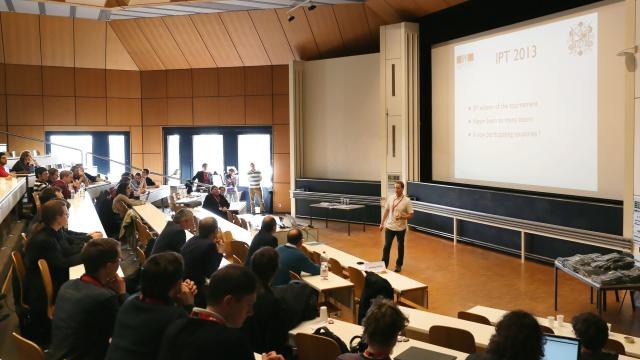 The fifth edition of the International Physicists' Tournament (IPT) took place in Switzerland from the 2nd to the 5th of April 2013. Teams from ten different countries met on the EPFL campus for the competition.

How does the tournament works?
Each team is represented by four to six students. The participants get several months to prepare the tournament and work on solutions to the published Physics problems being the object of the competition. Those problems are inspired by our everyday life and contain a certain dimension of fun. By exploring theoretical and experimental aspects of the concerned phenomenon, each team is asked to present their solutions at the tournament and defend them in front of the other teams as well as an international jury constituted of professors and PhD students. After selection rounds, the best teams meet again in final for an ultimate Physics fight!
The 2013 Edition
EPFL took part in the two last editions that were hosted in Russia by the Moscow Institute of Physics and Technology (MIPT). This year, the tournament was organised in Switzerland for the first time, by the "Irrotationnels", the EPFL association of Physics students.
The first two days of the competition proved that the level of all teams was very high. But style differences could be noticed, giving to each team a particular character. The Polish team, for example, impressed with its very structured approach while the British team seduced with a relaxed attitude. Due to the quality of its work and with the extra motivation given by playing on home field, EPFL took the lead after the selection rounds, qualifying for the final together with France, Poland and Russia.
That last day showed intense debates and tight scores. It is however Switzerland who ended with a victory (47.2 points), in front of Poland (45.4), France (44.2) and Russia (43.2). This was a first for EPFL, with its team lead by Csaba Forro (captain), Adrien Bolens, Thibaud Humair, Xavier Mettan, William Moreno and Gaëtan Wuilloud.
More important than scores and rankings, all team have enjoyed the chance to meet, debate and exchange ideas during the event. Like outlined by Professor Jean-Philippe Ansermet at the closing ceremony, the real winner of the tournament is in fact international scientific collaboration!
The organising committee would like to thank the sponsors who permitted the organisation of IPT 2013: EPFL and its International Relations Office in particular, the EPFL School of Basic Sciences and the Physics section, the Russian Honorary Consulate in Lausanne, IMC financial markets & asset management, Camille Bloch and the Société Valaisanne de Physique.
---
Authors: Nicolas Durussel, +SPE EPFL
---