EPFL through the eyes of three photographers in a book and an exhibit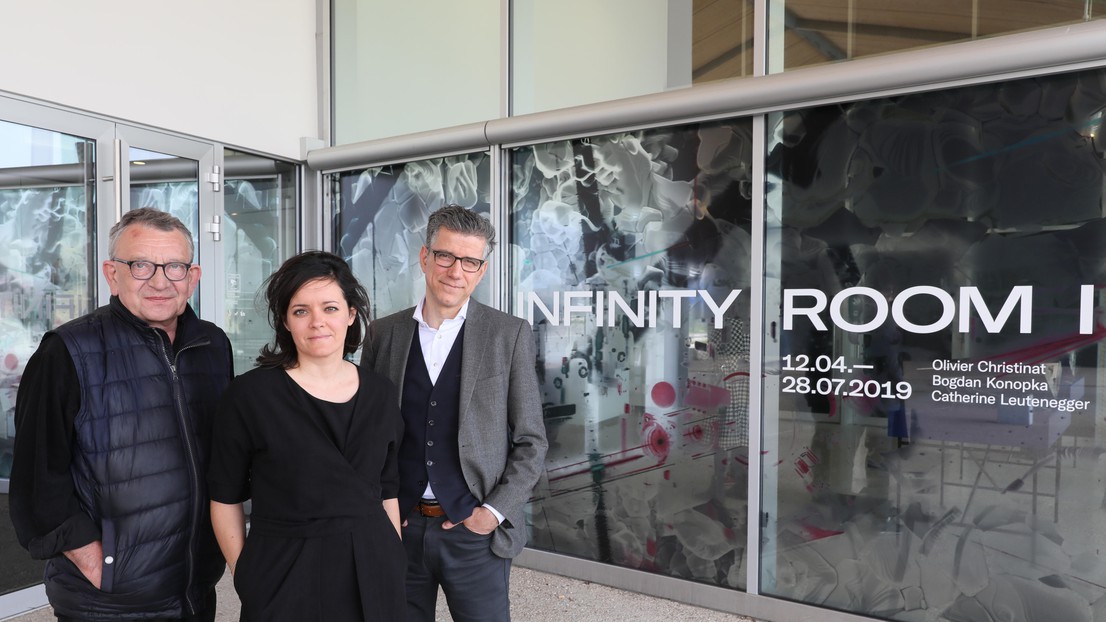 To commemorate EPFL's 50th anniversary, we commissioned three photographers and gave them carte blanche to portray our School as they see it today – and where it is headed. Catherine Leutenegger took stunning photographs of our science; Bogdan Konopka portrayed the architecture that makes our campus unique; and Olivier Christinat captured the men and women who make up our community. Their work has been published in a new book and will be on display in augmented form in ArtLab's Infinity Room I exhibition.

A number of books have already been written about EPFL, recounting our School's history and achievements. But EPFL President Martin Vetterli – as passionate about photography as he is about research – wanted to create something new: a sophisticated book of photographs, or rather photographers, that capture EPFL as it stands today. The result, Perspectives on EPFL, has just been published by EPFL Press, in association with EPFL and the Musée de l'Elysée. The museum's director Tatyana Franck chaired the committee that selected the photographers, and subsequently the photographs, for the book.
Free rein for three photographers
Leutenegger – originally from Lausanne and winner of the Prix Culturel de la Photographie (awarded by the Fondation Vaudoise pour la Culture) and Swiss Federal Design Awards – takes us behind the scenes for an unorthodox view of scientific research. Konopka, who in 1998 won the second Vevey International Photo Award given by Festival Images, took still-life images of EPFL's buildings. And Christinat – also from Lausanne – captured the simple, subtle gestures that constitute campus life. Christinat is known for being one of the 28 photographers featured in Photo Suisse, an international production by the Swiss broadcasting corporation (SSR SRG Idée Suisse) that included a series of artist documentaries, a book and a travelling exhibition.
These three photographers had free rein to depict our School as it is currently and how they see its future. Throughout 2018 they crisscrossed our campus, going behind closed doors and exploring all the angles to capture rare, revealing moments. In addition to the book Perspectives on EPFL, their work will also be presented in a contemporary exhibition titled Infinity Room I.
Infinity Room I: an augmented version of the book
Infinity Room I is inspired by the book as well as the mathematical concept of boundlessness, especially in the context of scientific exploration and innovation at our School. It will be held in the ArtLab building from 12 April to 28 July.
The exhibition will invite visitors to experience the three photographers' works from new perspectives, which spring both from the unique staging developed by Professor Sarah Kenderdine, director of ArtLab and head of EPFL's Laboratory for Experimental Museology (eM+), and from the visitors themselves. "The idea was not to take the book and put it on the walls, but to augment the book, and to work with each photographer to reframe their images," explains Kenderdine. "Infinity Room I opens up the space for interpretation and contextualization in different ways, but the real interpretation resides in the viewer."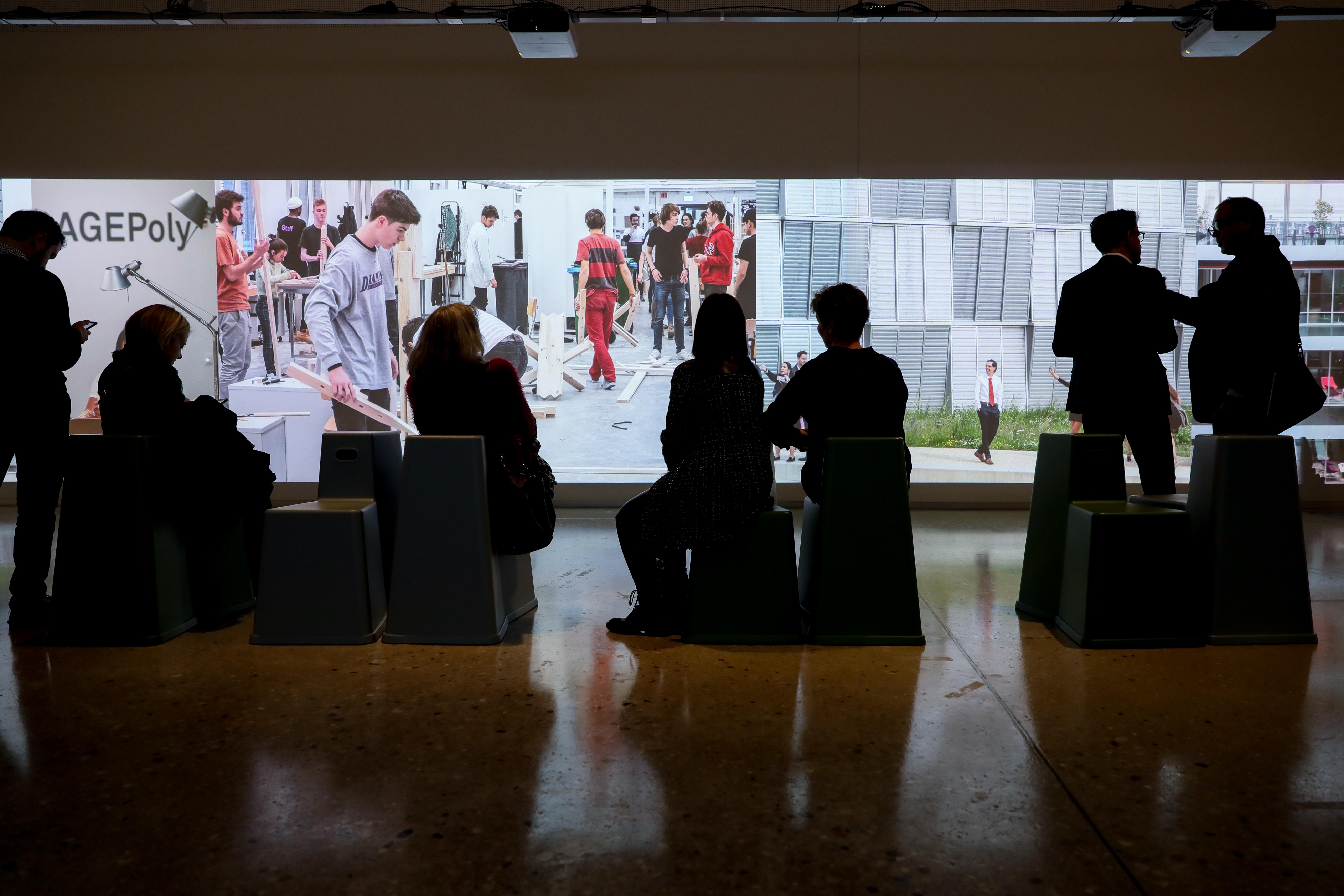 Three artists, infinite perspectives
Visitors will enter the exhibition by "walking through" the pages of a giant book. On one side will be displayed Konopka's black-and-white portraits of EPFL's iconic buildings from the Lausanne, Fribourg, Neuchâtel, Valais-Wallis and Campus Biotech sites. These photographs will be displayed in the wall-mounted format of traditional photography museums.
Further along in the exhibition, visitors will discover Christinat's images, which capture the energy and emotion of study, research and life at EPFL. To convey the complexity of campus life, his images will be presented on a 30-meter movie screen stretched along the ArtLab's southwest wall, like a window onto EPFL.
For her contribution to the book, Leutenegger ventured inside some of EPFL's laboratories to capture images – from the digital to the microscopic – that bring EPFL research into focus. To contextualize the complexity of research spaces, she employed augmented reality technology: a panoramic video, spherical gigapixel images that allow visitors to "explore" the labs captured in her photographs, and an augmented animation of a blood sample from Professor Vetterli himself. A walk-in "aquarium" will also provide information on the ethical implications of using animal subjects, such as zebrafish, in scientific research.
A second part of the exhibition, Infinity Room II, will open in September. This part will focus on EPFL research, and will feature interactive augmented reality installations and full-dome data visualizations, as well as an image archive in honor of our School's 50th anniversary.
Perspectives on EPFL
, published by EPFL Press, will be available at Librairie La Fontaine starting today and in all bookstores from 23 April. You can also order the book online
here
.
Infinity Room I
will be held in the ArtLab building from 12 April to 28 July. Open from 11am to 6pm, Tuesday–Sunday (closed on Mondays). For more information, click
here
.
---
---