EPFL student wins FameLab Switzerland final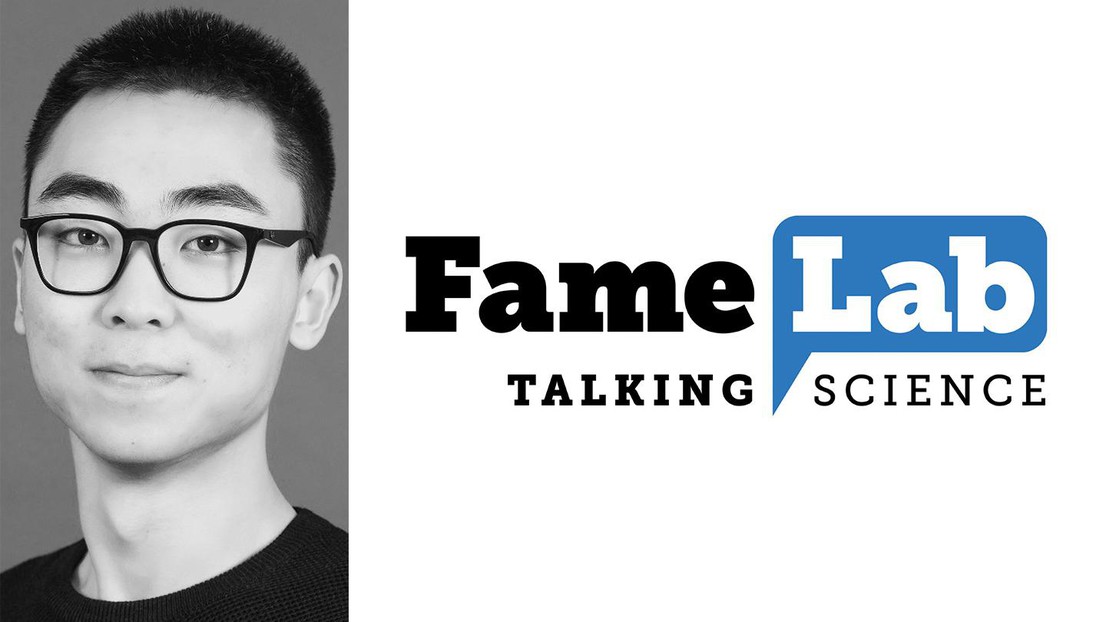 Hugo Cui, a PhD student at EPFL, has won the national final of FameLab Switzerland, one of the world's biggest science-communication competitions.

FameLab is an international competition where participants have exactly three minutes to present a scientific talk. Each talk is scored on content, clarity, and the speaker's charisma. The presentation can cover their own research or a broader scientific topic that they are interested in.
FameLab Switzerland is organized and sponsored by multiple Swiss institutions, including EPFL, ETH Zürich, the University of Bern, the University of Basel and others, in collaboration with the British Embassy and British Council in Switzerland.
The official 2021 Famelab Switzerland poster
The 2021 finals for Famelab Switzerland were held in Bern on September 17. Ten contestants, who won their respective regional competitions, competed with outstanding presentations on topics covering the life sciences, environmental issues, and physics.
Following the judges' verdict, the winner of the 2021 Famelab Switzerland final was Hugo Cui, a PhD student with EPFL's School of Basic Sciences and School of Computer and Communication Sciences.
Working at the lab of Professor Lenka Zdeborová, Cui's research focuses on machine learning. However, his winning presentation asked a more exotic question: Why do spaghetti almost always break into at least three pieces?
Cui received the congratulations of Henry Evans, First Secretary and Head of Policy at the British Embassy in Bern. In a speech, Mr Evans emphasized the importance of Swiss-British collaboration in science, pointing out that science communication is key in our times.
Cui had the opportunity to present his talk once again at the British Ambassador's residence, where a reception was held for the participants and organizers of the 2021 FameLab Switzerland competition. The reception was joined by the winner of FameLab International 2020 Sauradeep Majumdar, who presented his talk on how scientists are using carbon capture to combat climate change. Majumdar currently works at the lab of Berend Smit at EPFL Valais Wallis.
Having won the competition, Cui will now be participating in the UK-based Famelab International finals in November.
"It was a pleasure to be involved again in FameLab this year, and to see such a high standard of science communication in Switzerland," says Donal Hill, who won the 2013 FameLab Switzerland competition and hosted this year's event. "It was particularly nice to see EPFL so well represented; Joanna Ashok placed in the top three with a fantastic talk on chili peppers, and of course Hugo Cui delivered a superb winning talk on the physics of breaking pasta. I wish Hugo the best of luck for the international final!" Hill is currently a Marie Curie Fellow at EPFL's High Energy Physics Laboratory.
"FameLab Switzerland has been a very enriching experience, and it was a real pleasure to take part in it. I am definitely looking forward to the international rounds," says Hugo Cui.
---