EPFL startups raise more than CHF 285 million in 2019
2019 was the second-best year ever in terms of fundraising by EPFL startups, which attracted CHF 285.8 million in new investment. In addition, the 23 young companies officially created last year confirm that EPFL's entrepreneurial ecosystem is flourishing.

2019 was a great year for EPFL startups, which raised a total of CHF 285.8 million, the second-highest full-year figure ever. That new investment went into 33 young companies, including three that raised more than CHF 20 million. In addition, with 23 new spin-offs created in 2019, EPFL's ecosystem of innovation and entrepreneurship is in excellent shape; the only previous year to yield a higher figure was 2016, when 25 new companies were founded.
Funds raised by EPFL startups since 2010
10 spin-offs raised more than CHF 10 million each
2014 was the first year in which total annual fundraising by EPFL startups broke through the CHF 200 million barrier. Since then, they have stepped on the gas, raising more than CHF 200 million in four of the last six years, with peaks of more than CHF 390 million in 2016 and over CHF 280 million in 2019. This increase results from the growing number of startups being created and the various types of assistance available for those wanting to start a business, along with EPFL's entrepreneurial ecosystem and its participation in events such as CES in Las Vegas and Bits&Pretzels in Munich. More broadly, Switzerland's rise up the world's startup rankings is also playing a role. The Swiss ecosystem ranked among the world's top 30 according to Genome's annual Global Startup Ecosystem Report published in May 2019. It is also regarded as an ecosystem to watch in the DeepTech sector, where startups are based on disruptive innovations. In addition, the hub consisting of Lausanne, Bern and Geneva ranks sixth among the world's top life sciences ecosystems, ahead of those in the United States and London.
Looking more closely at the CHF 285 million raised in 2019, we see that three startups each raised more than CHF 20 million. Kandou Bus attracted the most investment: CHF 56 million, in its third funding round. The company specializes in very low-power connectivity, and the money raised will enable it to launch an essential component to make the world's first USB-C plugs that are compatible with the new USB4 standard that was officially announced in September. Anokion, which focuses on the treatment of autoimmune diseases, raised CHF 40 million. It was founded in 2010 and designs proteins that modulate the harmful inflammatory immune response in order to treat diseases such as multiple sclerosis, celiac and type-1 diabetes. Also among the top three fundraisers last year was Cellestia Biotech, which attracted CHF 20 million from investors. The money will enable it to continue clinical trials involving molecules targeting NOTCH-driven cancers, in which cells have a defect in their signaling pathway. Seven other companies raised more than CHF 10 million each, and another four raised between CHF 5 million and CHF 10 million.
This sort of funding is essential for the development of startups that use leading-edge research, which often do not become profitable until several years after they were created. Achieving profitability is often a long and expensive process, involving steps such as patent filings, clinical trials and prototyping. EPFL does not derive immediate financial benefit from its startups, and these companies are rarely bought out, but those that succeed are a real boon for the region. Not only do they create jobs, but they spur the ambitions of future entrepreneurs and attract the attention of other investors.
Funds raised across a very wide range of fields
Many innovative products nowadays rely on technologies from multiple disciplines. If one wants to breakdown of startup funding by its primary field of research area, we find that these areas vary from year to year. 2019 was a particularly good year for startups that are based on research in the wide area of engineering , which attracted almost CHF 130 million in investment including CHF 56 million for Kandou Bus, CHF 18.1 million for satellite antenna specialist Swissto12 and CHF 16.5 million for Bestmile. A combined CHF 40 million was raised by nine other young engineering firms. Biotech was next, with more than CHF 82 million raised, mostly by Anokion and Cellestia Biotech. IT and communications ranked third, with CHF 40 million raised by only three spin-offs: Cyberhaven, L2F and Artmyn.
Medtech-biotech is still the main sector among EPFL spin-offs founded in 2019, followed closely by engineering. There is also an increasing number of spin-offs offering sustainable products and services.
23 spin-offs were created at EPFL in 2019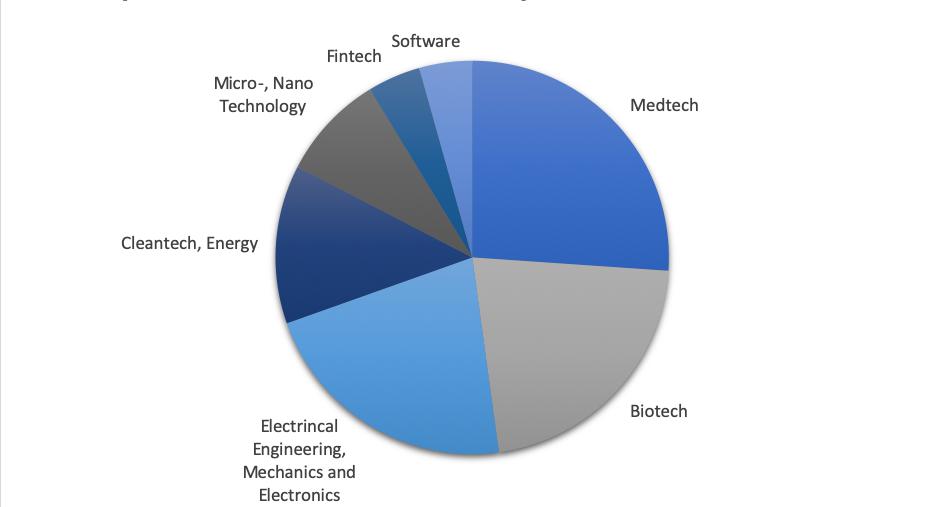 EPFL startups – figures and initiatives
Since 2000, 293 spin-offs have been created at EPFL. Of those, 116 are currently located at EPFL Innovation Park, while 31 startups are being developed in the La Forge co-working space. To foster entrepreneurship among students, EPFL is continuing its Innogrant program, which helps them create their own companies. Eleven new Innogrants were awarded in 2019, making a total of 145 since the program began in 2005. Since 2017, the XGrant program, which encourages and supports startup plans developed by EPFL Bachelor's and Master's students, has developed a solid pipeline of projects. It awarded 13 grants in 2019, making a total of 30 since it was created. In late 2018, two programs were set up to fund initiatives that have a positive social or environmental impact: YGrants, for Bachelor's and Master's students, and PlayGrants, for EPFL researchers. In 2019, six YGrants and five PlayGrants were awarded.
In terms of events, EPFL's first Investor Day took place in November 2019. It featured 78 startups and was attended by more than 200 investors from Switzerland and around the world. Looking ahead, Marc Gruber, Vice President of Innovation at EPFL, indicates that the school will launch several new initiatives in 2020 that intend to further strengthen the entrepreneurship and innovation ecosystem.
---
---