EPFL's Technicians Training Laboratory turns 20
01.09.17 - The Technicians Training Laboratory at EPFL's Institute of Chemical Sciences and Engineering (ISIC) has trained more than 100 chemistry lab technicians since it was opened in August 1997. Its guiding principles: to train up young EPFL technicians, continually improve its training program and stay one step ahead of the industry's needs. While most trainees opt to go straight into a job after completing the course, around 40% get hooked on studying.

Twenty years ago, each research laboratory within the Chemistry Department trained its own technician, which was a drain on resources. So it was decided that a joint training unit for preparative and analytical chemistry would be created in order to improve efficiency and ensure consistency. Francis Perritaz, now head of technician training at EPFL, was put in charge of setting up the training lab. Four budding young technicians made up the first class in 1997, and each year since 2006 there have been 24 trainees across the three years of the course.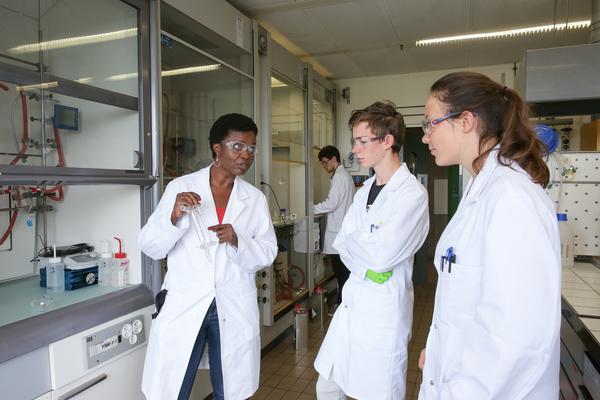 Céline Henzelin runs the Training Laboratory now and also trains the first-year students. "They're taking their first steps as lab technicians – they're rookies, so they're curious and have a fresh perspective. They can easily get hooked very quickly and go far." Her colleague, Luke Harris, takes the second-year trainees under his wing, while the third years work with the various research groups.
Henzelin studied at the University of Lausanne. She completed her doctoral thesis at EPFL before going to work in the pharmaceutical industry. Later on, she did a teacher training course and then applied for the job at the Training Laboratory six years ago. "What first interested me about this job was being at EPFL and the importance placed on practical training."
Being a chemistry lab technician is a very demanding job that requires great rigor and strong technical skills. Trainees specialize in preparative and synthetic chemistry. They have to be able to synthesize and characterize known and new molecules for therapeutic or research purposes. They also have to be able to use their know-how in other laboratories, which is what they learn when they work with the research groups for their third-year internships.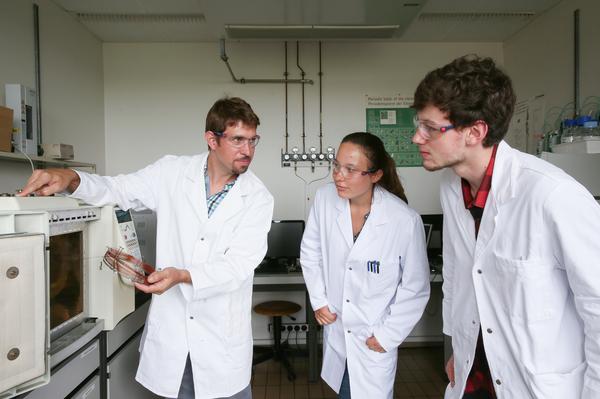 "Our relationship with the professors, doctoral students and post-doctoral students is very important. We are in regular contact with them so that we know what they'd like us to improve in our training. That way, when the trainees arrive in the laboratory for their final year, they are already autonomous and prepared to further strengthen their skills," explains Henzelin. Trainees come out of the course with versatile skills and the know-how they need to work in the chemistry industry.
And even if the training is conducted in an academic setting, the two trainers are always thinking ahead to what the industry will need: "Both Luke and I know that world well because we came from there."
So what do the trainees do once they've finished the course? It may sound surprising but the Training Laboratory is also a stepping stone to further studies: a third of trainees end up enrolling in an engineering school and around 2% go on to EPFL or another university – some even finish by doing a PhD. "One of the first trainees who went through the program is now a research and teaching associate in the School of Architecture, Civil and Environmental Engineering," says Henzelin. "In each year, there's at least one trainee who goes on to study at the university level."
The Training Laboratory's 20th anniversary is also an opportunity to look to the future. Starting this September, the laboratory will offer new training prospects for young lab technicians. They will be able to do an in-company internship lasting between six months and a year in the UK, Ireland or elsewhere in Europe to fine-tune both their linguistic and their technical skills once they've earned their qualification.
So what's next? Céline Henzelin has a ready answer: "Keep training motivated young technicians who love their work. And here's to the next 20 years!"
Alec Gagnebin, Sarah Mikami and Xavier Volet are in their second year. Their week is divided up into two days of classes and three days in the lab – they all say they prefer the practical training to the theory.
Alec enjoyed math and wanted to learn more about chemistry. He couldn't really see himself staying in school, sitting in class five days a week. What does he like best about the training program? Making new things and contributing to research.
Sarah decided to follow the training program after doing a chemistry internship. Once she's qualified, she hopes to spend a year doing an internship abroad. She then wants to go to engineering school to become a biotech engineer.
Xavier is hoping to go straight into a job in the industry.