EPFL's Center for Digital Trust holds its first General Assembly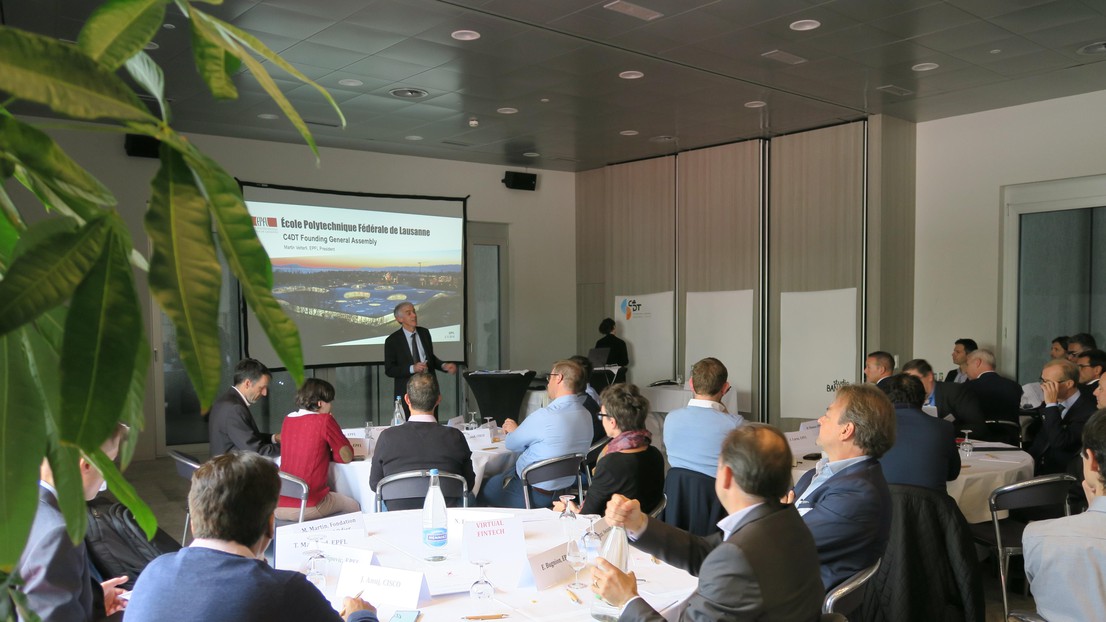 The founding General Assembly of EPFL's Center for Digital Trust (C4DT) was held on Friday, 2 November at the Starling Hotel. Martin Vetterli, President of the Ecole polytechnique fédérale de Lausanne (EPFL), Edouard Bugnion, Vice President for Information Systems, Andreas Mortensen, Vice President for Research, and James Larus, Dean of the School of Computer and Communication Sciences were among the attendees. 

The event was attended by over 50 guests, including CEOs and senior directors of the Center's partner institutions and businesses, as well as EPFL professors representing all ten thematic domains of the center.
EPFL President Martin Vetterli kicked off the afternoon assembly by highlighting how data is the new oil in this digital era. He went on to emphasize the important role the Center for Digital Trust (C4DT) and Switzerland will play in setting standards and providing a service platform that builds digital trust through expertise and technology – one of the central objectives of the center.
A high potential for improvements in digital protection and security
The Lausanne University Hospital (CHUV), the International Committee of the Red Cross (ICRC), the Lombard Odier Foundation, Byzen, Cisco, ELCA, Nagra Kudelski Group, SICPA, Swiss Post, Swiss Re, Swisscom and Swissquote confirmed their commitment to the Center and being part of this community. Eager to apply the Center's research to their business needs and regulatory requirements, each partner talked about how digitalization is affecting aspects of their mission or business. They also addressed their privacy and security challenges. How do we protect data in a highly connected environment? How do we insure trustworthiness in technology, or as some of the partners put it, in the invisible? 
"Trust is fundamental", explained Jean-Pierre Hubaux, the Center's academic director. "There is a high potential for improvements in digital protection and security – compared to the technological solutions deployed today. By building on the EPFL's renowned expertise, we're working on applying new systems and methods in response to the challenges you're facing", continued Hubaux.
A hub with services in four domains
The C4DT team revealed the center's recent developments – a reinforced team, a new corporate identity and strategic structure. "As a result of the discussions and needs expressed by the academic and industrial partners, a new structure with four domains of services has been developed", said Olivier Crochat, executive director of the Center. "This structure will serve as a hub that connects research, industry and government". 
The Factory will facilitate technology transfer through a "proof of concept" software platform
the Academy will exchange knowledge through courses and training for a deeper understanding of digital trust
the Embassy will create a community through workshops, seminars, talks, events and build the center's advocacy
and the Agency will help discover and setup projects between laboratories and industry partners.
A cross-disciplinary approach
Through concrete examples and projects, EPFL professors underlined the potential for improvements in digital protection and security. Ten contributing faculty members presented technologies and application domains – demonstrating what digital trust looks like in fields such as blockchain, machine learning, health, democracy & humanitarian, finance, and software verification. Over 30 labs are involved with the Center's research and are mostly within the School of Computer and Communication Sciences, as well as the Schools of Basic Science, Engineering and of Life Sciences and the College of Management of Technology. 
The C4DT, which was unveiled by EPFL in December 2017, is a partnership between research institutions, industry, the public sector and civil society. It seeks to develop digital systems based on data-protection, encryption, machine learning and blockchain technologies in order to facilitate interactions with policymakers and social institutions and offer digital protection and security in various fields.
Find out more: https://c4dt.org
---