EPFL Master's students join the ranks of alumni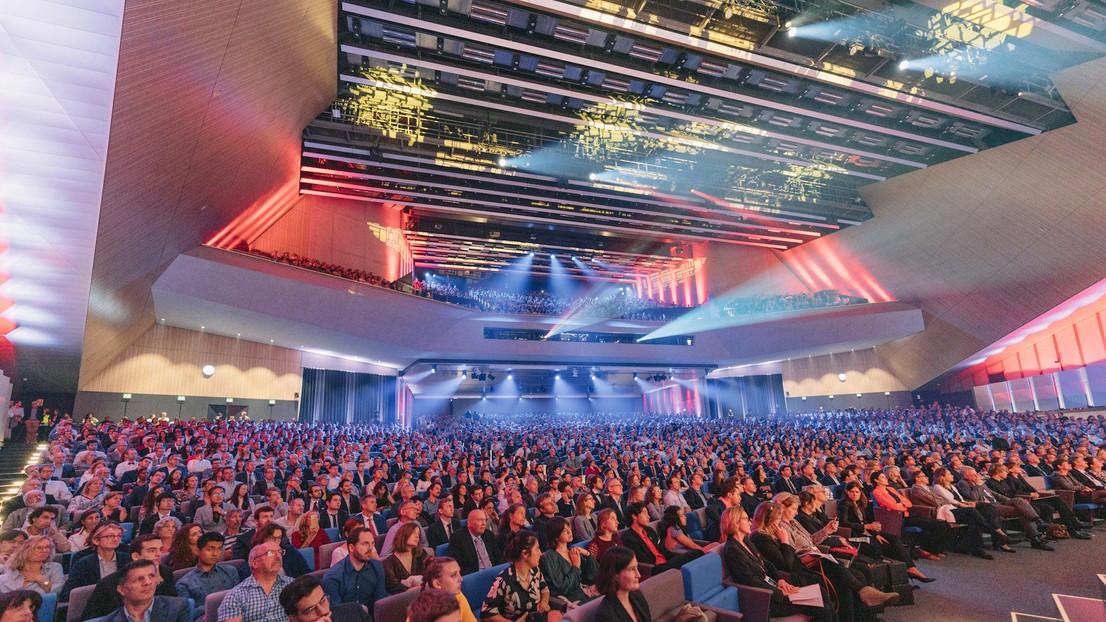 At this year's Magistrale – EPFL's annual Master's graduation ceremony – the School honored 1,240 new alumni.

Today, a new cohort of students joined the EPFL alumni community at the School's annual Master's graduation ceremony, in the presence of friends and family members. It was a unique and unforgettable day for the 3,000-or-so people packed into the SwissTech Convention Center, who were treated to a performance by French classical guitarist Thibault Cauvin.
While artificial intelligence cannot compete with the skill of a trained musician, EPFL president Martin Vetterli opened the ceremony by suggesting to the audience that his remarks may have been written by ChatGPT rather than a human being. He also reminded those present of their responsibility to society, emphasizing the many challenges posed by new technologies, climate change and other global developments. And of course, he congratulated the graduating students on their accomplishments, adding: "You will achieve great things, but I know you will also do the 'right' things. And for that, I am already grateful."
Mirjana Spoljaric, president of the International Committee of the Red Cross, then took to the stage with a moving speech. "We need your ethical compass to leverage new technologies for the good. Our humanitarian principles – humanity, neutrality, impartiality, and independence – resonate with the do-no-harm oath that scientists take. Have the courage to always put humanity at the center of whatever you do."
Numerous awards
Around 15 graduating students were called up on stage to receive their awards, to rapturous applause. The annual graduation ceremony is also a chance to honor the School's dedicated and hard-working teachers, to whom the students owe a part of their success. This year, the Credit Suisse Award for Best Teaching was presented to Tanja Käser, a tenure-track assistant professor in computer and communication sciences. The EPFL student association, AGEPoly, handed out the PolySphère awards, which recognize the best teacher in each school and college.
At this year's ceremony, the EPFL community also celebrated the achievements of two Doctor Honoris Causa laureates for 2023. Demis Hassabis, founder and CEO of DeepMind and Isomorphic Labs, received his distinction from Martin Vetterli at his Campus Lecture in May this year. Jennifer A. Lewis, Professor of Biologically Inspired Engineering at the Harvard John A. Paulson School of Engineering and Applied Sciences, will collect her honorary degree when she delivers her own Campus Lecture in December.
The Outstanding Commitment Award, a new honor created in 2022 by EPFL's upper management, recognizes an employee's exceptional contributions to the EPFL community. This year, the award was presented to two staff members: Aurore Nembrini, the School's Sustainability & Operations Manager, and Pascal Vuilliomenet, a project manager for the Discovery Learning Labs (DLL) and the Sportech initiative.
Shining examples of success
Four former EPFL students received Alumni Awards at this year's graduation ceremony. The laureates, Ghita Mezzour, Assia Garbinato, Metin Arditi and Madiha Derouazi, were honored for their brilliant careers and the positive impact of their work, which shows the wide range of career paths available to EPFL students. After picking up their distinctions, they took part in a panel discussion moderated by AGEPoly co-presidents Baptiste Lecoeur and Jan Frybes.
Martin Vetterli ended the ceremony by asking all the graduates to stand up and be recognized, bringing the occasion to a fitting close. And who knows? Perhaps one day, one or more of them will be back to pick up their own Alumni Award.
Awards for students
Youth award:
Pierre Amaury, born on 24 November 2001 (computer science)
Sports award:
Emma Lise Boehly, golf (neuro-x)
Highest first-year GPA (tied):
Patrick-Cristian Dan, 5.98 (mathematics)
Sandro Pfammatter, 5.98 (mathematics)
Highest Bachelor's GPA:
Third-highest GPA: Nicolas Ettlin, 5.76 (computer science)
Special commendation for three students who also attained 5.76 but with a lower first-year GPA: Tim Frey (electrical engineering), Bryan Gotti (computer science) and Elio Moreau (physics)
Second-highest GPA: Zaid Alhaj Kaddour, 5.78 (microengineering)
Highest GPA: Julie Bannwart, 5.99 (mathematics
Highest Master's GPA:
Third-highest GPA (tied): Alexandre Luster, 5.90 (life sciences) and Zeno Tecchiolli, 5.90 (physics)
Second-highest GPA: Matteo Pariset, 5.92 (computer science)
Highest GPA: Gaëtan Mancini, 5.94 (mathematics)
Merit award:
Julien Neuhaus (mechanical engineering) – Federal VET Diploma in auto mechanics, Federal Vocational Baccalaureate in technical science, and Bachelor in applied science (work-study program) at Vaud School of Engineering and Management (HEIG-VD)
Awards for teachers and staff
Credit Suisse Award for Best Teaching: Tanja Käser
PolySphère d'Or award and School of Architecture, Civil and Environmental Engineering: Andreas Schüler
School of Basic Sciences: Peter Wittwer
School of Life Sciences: Wouter Richard Karthaus
School of Engineering: Tobias Schneider
School of Computer and Communication Sciences: Jamila Sam
College of Management of Technology: Daniel Kuhn
Outstanding Commitment Awards: Aurore Nembrini and Pascal Vuilliomenet











---
---