EPFL inspired technology helping Swiss COVID-19 Vaccination Campaign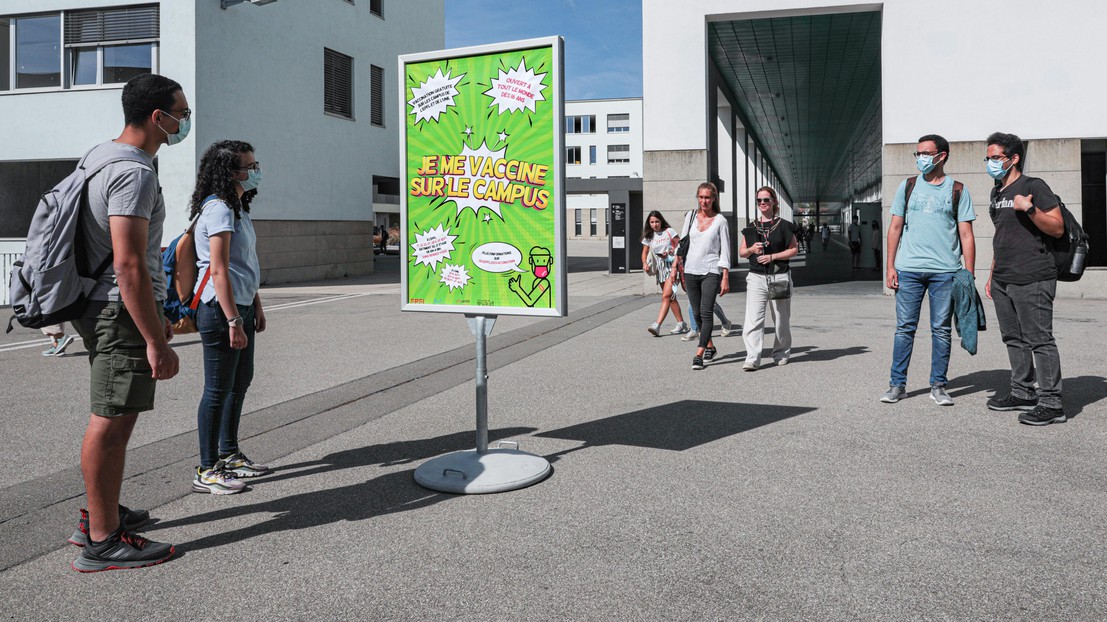 Two EPFL alumni bring their OneDoc platform 'home' as a COVID-19 vaccination center is to open on the Ecublens campus.

As Switzerland's COVID-19 vaccination roll-out widens, from this coming Friday a vaccination center will be established at EPFL's Ecublens campus to help in the fight against the pandemic. EPFL staff and students, and anyone from the general public over the age of 16, can 'walk in' for their first dose, free of charge and with no appointment needed.
Following the initial vaccination nurses will use OneDoc, the first online booking platform for medical appointments in Switzerland, to reserve on campus 2nd appointments for the beginning of November, and automatically send SMS reminders for, and email confirmation of, the second dose.
Founded in 2017 by Arthur Germain and Alexandre Curreli, two graduates from of the School of Computer and Communication Sciences (IC), OneDoc is a patient focused platform driving digitalization in healthcare management in Switzerland.
"We always had a passion for entrepreneurship and we saw a big opportunity in healthcare simply because the sector was very slow in transitioning to today's digital world," says Germain, CEO of OneDoc. "We started with the appointment process, a patient's entry point into the system, and now we offer many different digital services at different levels in healthcare."
Today, OneDoc works with more than 4,000 healthcare professionals, including large medical organizations, hospitals and smaller practices in a bid to transform the Swiss health system to be more patient focused. "We had a lot of convincing to do at the beginning. It was difficult to persuade a doctor with an assistant to use a solution like OneDoc, even if for patients it's a huge change because, instead of having to call a doctor 20 times and to be on hold for half an hour, they can just go online and book their slot with a few clicks."
As for many other online and digital platforms, COVID-19 has been a turning point for OneDoc, with hospitals and doctors realizing that without such a platform, managing the sheer volume of appointments would not have been possible. For COVID-19 tests or vaccination appointments, for example, a clinic isn't dealing with 20 patients a day but sometimes many thousands. This is no longer manageable by phone.
"The onedoc.ch platform was ready and well used before COVID-19 started, and when the pandemic arrived we were able to quickly adapt our offering to help health professionals manage these new challenges. We developed a fully integrated solution for COVID testing, a video consultation functionality so health professionals could still see their patients with a Swiss based secure solution and a COVID-19 vaccination module to record vaccinations and generate QR code certificates," reflects Germain.
He completed his Master in Communication Systems in 2013 with a minor in Management of Technology and Entrepreneurship, which he believes has given him the broad perspective needed to grow OneDoc to where it is now, "We had to be very flexible and capture the opportunities that came - with lots of small and nimble decisions that have allowed us to be where we are today." OneDoc is now based in Geneva and Zurich and employs 25 people in Switzerland.
---
---