EPFL inaugurates its new Bike Center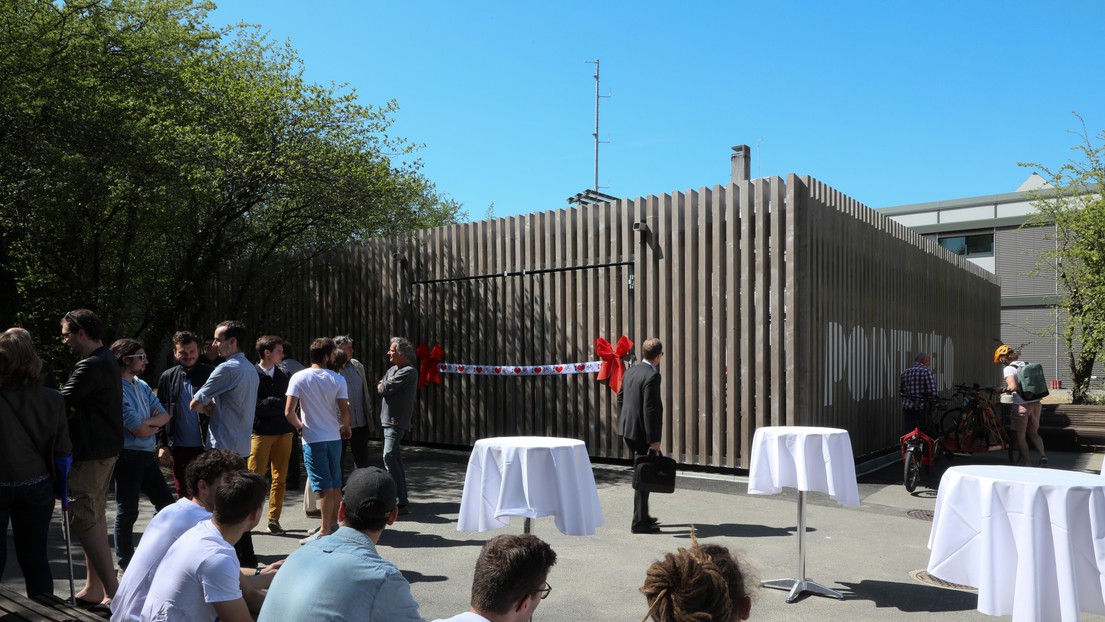 Today EPFL is inaugurating a new structure designed to house the Bike Center. The Center, which provides the EPFL community with bicycle repair services and buys and sells used bikes, was initially set up in 2005 in shipping containers. It has since become the focal point of the school's cycling promotion policy, and this led to the construction of its new home: a simple, functional and elegant pavilion.

Located right in the center of the campus, the new Bike Center serves the entire EPFL community. It provides bike repair services, sells new bikes and equipment, buys and sells used bikes, and offers free classes on bike mechanics. People can also go there to wash and even fix their own bikes.
The Bike Center's new home is a simple and functional structure that came out of the "Sustainable is Beautiful" architecture competition run by Professor Emmanuel Rey, the director of the Laboratory of Architecture and Sustainable Technologies (LAST). Micael Lopes and Antoine Vauthey's winning design, which beat some thirty other entries, was then developed under the guidance of the LAST with support from EPFL's Real Estate and Infrastructures Department. The new Bike Center was built by a local carpentry firm using Swiss-certified wood sourced exclusively in forests close to EPFL in the cantons of Vaud and Fribourg. Funding was provided by the Students Foundation (FEE), the Mobility Fund, and the Real Estate and Infrastructures Department.
Human-powered mobility on the rise
EPFL, in conjunction with the municipal and cantonal authorities, has put in place a number of measures to encourage human-powered mobility – including cycling – as part of an effort to ensure long-term and eco-friendly access to the campus. The annual mobility study, which was first run in 2003, shows that the number of EPFL students and staff members riding their bikes to campus has risen over the past 15 years. The proportion of respondents who commute by bike rose by 8 percentage points to 24% in 2017, while the number of people driving fell by 12 percentage points to 18%. There are now more bikes than cars on the EPFL campus, and more bike parking spaces than car parking spaces as well.
This change is the result of a focused effort to encourage human-powered and shared transports and to discourage the use of individual motor vehicles. The various strategies and action plans were bolstered by the establishment in 2016 of EPFL's Mobility Fund, which has been funded by the increase in parking fees, and the creation of the permanent position of sustainable mobility manager.
The new Bike Center represents an important step forward in the area of sustainability at a time when EPFL is aiming to become the first university campus in Switzerland to be carbon neutral by 2020. The Center will help facilitate the energy and social transition in the region through the key vector of mobility.








---
---