EPFL hosts first conference on performance art in higher education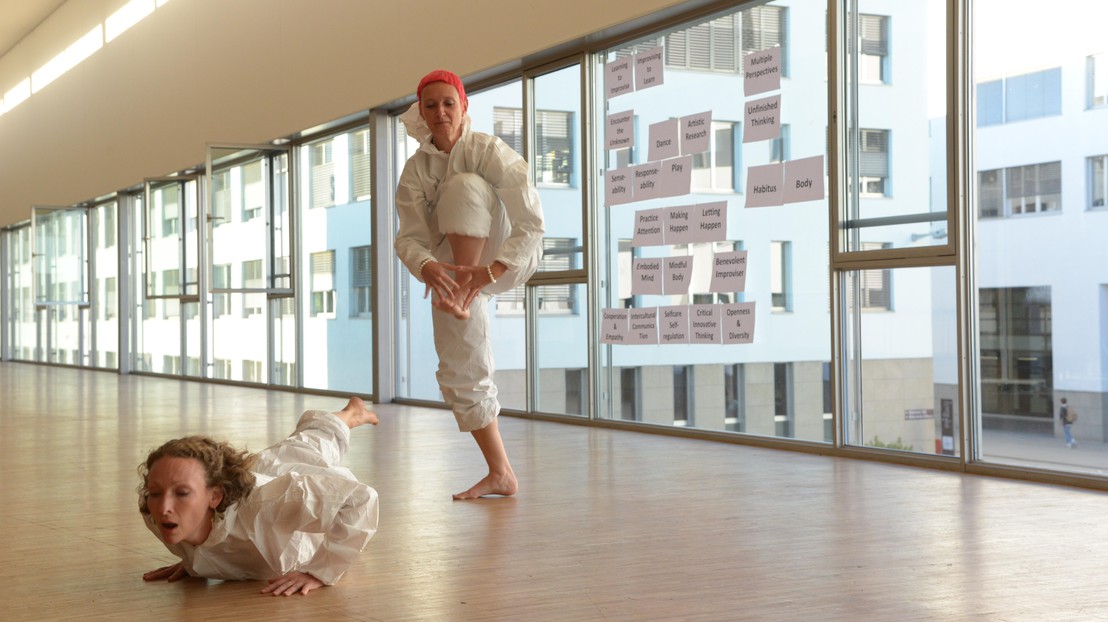 On June 13th and 14th, EPFL and the University of Neuchatel (UNINE) organized the first Symposium on Higher Education Learning through Performance Practices on the EPFL campus. The event offered an opportunity for exchange on applying performing arts and improvisation methods to higher education, with a focus on Swiss academics.

The conference was initiated by EPFL professor of microengineering Simon Henein and UNINE professor of sociocultural psychology Laure Kloetzer, with postdoctoral researchers Susanne Martin (EPFL) and Ramiro Tau (UNINE). The subject of the symposium was chosen based on their joint research project, "Performing Arts as Pedagogical Tools in Higher Education" (ASCOPET).
The two-day event welcomed some 25 participants from academia and the performing arts, who came together to explore the practical and theoretical aspects of using performing arts practices in higher education, including engineering education.
"There is a powerful tradition of using performance to communicate research, but I don't think it has been systematically applied to teaching," Kloetzer said. "Our goal here is to build bridges inside and outside the university, and to bring the body – the bodily experiences of students and teachers – back into higher education."
"This is about the future of education," Heinen added. "EPFL has a distinguished reputation, so I believe our work can be inspiring for many people worldwide."
In addition to lectures from international experts, workshops and group discussions offered opportunities for participants to view – and participate in – practical demonstrations of educational methods drawing on principles from fields such as dance, theater, and performance arts.
"There are all these different forms of theater and drama pedagogy, but here we are looking not just at applying performing arts as a tool, but as a way to experience learning," noted Jenny Rogers, who is studying applied theater in research and education as part of a PhD program at University College Cork, Ireland. "This is the first time I've become aware of this level of immersive learning in a Swiss university."
Collective creation
Simon Henein, head of the Micromechanical and Horological Design Laboratory (INSTANT-LAB) at EPFL's Institute of Microengineering in Neuchatel, presented one of two courses within the framework of the ASCOPET project. Entitled Collective Creation: Improvised Arts and Engineering, this first-year master's level course is part of the EPFL College of Humanities (CDH) Social and Human Sciences program (SHS). Students from all academic fields are introduced to improvisation techniques used in theater, music and dance, and they explore how these techniques can be applied to engineering. This year's class recently held public stage presentations of their final projects at the Arsenic Theater in Lausanne.
"Engineers as well as artists are creators. Within this course, we compare and contrast improvised versus planned actions in the creation of artifacts," Henein said.
Kloetzer, who teaches the other ASCOPET course Psychology and Migration at UNINE, lectured about the importance of the "collective creation" process in education. In addition to learning theoretical concepts, students in Kloetzer's course engage in group theatrical exercises using biographical and poetic accounts to "bring to life" experiences of migration. "At the university we teach numerous concepts – but how alive are they for the students? We wanted to overcome the barrier between theory and practice," Kloetzer explained.
Learning to improvise; improvising to learn
Henein used his experience as artistic director of the L'Âme-de-Fonds dance company in Neuchatel to highlight the similarities between art and engineering. He pointed out that the artistic and engineering creative processes begin in a similar way: with the definition of a need based on a specific context, which is followed by the imagination and expression of ideas. Traditionally, engineering education emphasizes the formalization, realization and optimization stages of the creation process, as opposed to the imagination and expression stages, Henein said.
"In my course, we teach improvisation, which is about producing something out of nothing – the only source is yourself. When I became professor and started building my team and courses, it was most akin to an improvised stage performance. I was in an unknown situation and didn't have time to reflect or ask for assistance. These improvisation skills will be very useful for students handling such situations in the future."
Having the confidence to allow oneself to be spontaneous, he said, is often overlooked in academia, where education traditionally focuses on maximizing technical preparation.
"Sometimes, less preparation gives better results, because planning is impossible. If you don't have the whole set of capabilities, you miss out on significant potential," Henein concluded.










---
---